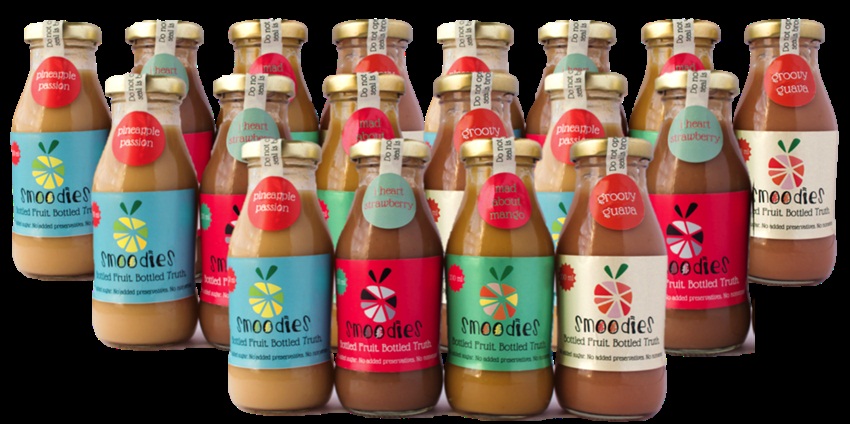 Photograph via smoodies.in
It's a pity that these vegan-friendly all fruit smoothies are only available in Bengaluru as of now. Launched by  Bengaluru-based company Smoodies, these drinks are a great way to kickstart your day or for a quick snack break. Each smoothie is made with a blend of atleast four fruits and without any water, dairy, sugar or preservatives. For instance the Groovie Guava smoothie, one of their most popular flavours, includes guava, grapes, pineapple and banana.
The best part is that it also includes fruit pulp and not like a regular juice, where the nutrients are all strained out with the pulp. So the fibre in the Smoodies is also great for digestion and allows for slower absorption of fructose or fruit sugar into the blood stream. The smoothie from Smoodies is also gently pasteurized so it keeps for a month.
Smoodies are available in four flavours including Groovy Guava, I Love Strawberry, which is a mix of strawberries, apples, orange juice, grapes and bananas, Mad About Mango, which includes mangoes from South India, pineapple, grapes and bananas and Pineapple Passion, which is a combination of pineapple, orange juice, coconut and apples. A bottle costs Rs 50 each, but you can also pick up a subscription for four weeks (28 bottles) or 8 bottles. The bottles are also available to order on Big Basket in Bengaluru.
But this would be a good time to get the four-week subscription on smoodies.in since they have an ongoing sale.