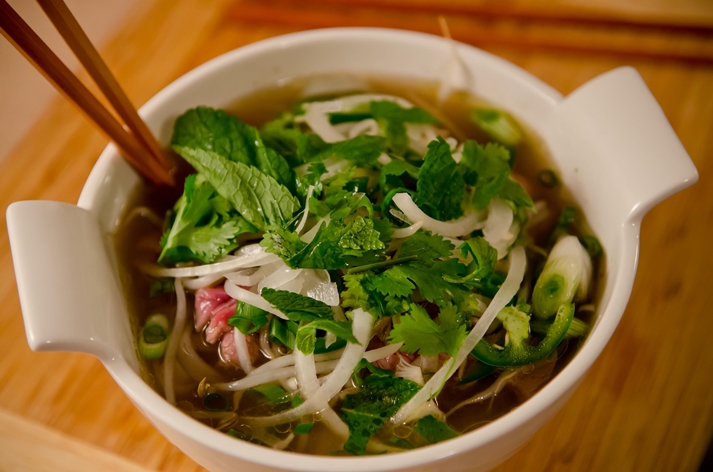 Pho is a popular broth-based soup with slippery rice noodles, meat and veggies from Vietnam. Source: DeaShoot/Flickr
Pho is marked by a rich, savoury taste that comes from a warmly spiced beef broth. Pronounced correctly as 'fuh', this wildly popular broth soup from Vietnam is a breakfast or late-night snack favourite.
The broth contains slippery rice noodles and a fair amount of meat including thin cuts of beef (steak, fatty flank, lean flank or brisket). Chicken pho is made using chicken meat and bones, as well as offal including heart and gizzard for added flavour. Spices like ginger, coriander, black cardamom, fennel seeds, clove, star anise, cinnamon and roasted onions go along with bones and meat to make the broth that is left to simmer for several hours. A squeeze of lemon and coriander is used to finish the soup.
Although there is much debate over the origins of the dish, the broth soup is said to have derived its name from the beef-stew pot au feu brought to pork-eating Vietnam by the French in the middle of the 19th century. The most popular version is made using beef (pho bo) and was first made in the capital city of Hanoi in the early 20th century using beef bone broth as the base. Soon it became popular all over the country and traveled to different parts of the world after the end of the Vietnam War with war refugees. Almost all restaurants serving Pan Asian food will have pho on the menu and Mumbai eateries are no exception:
 Fatty Bao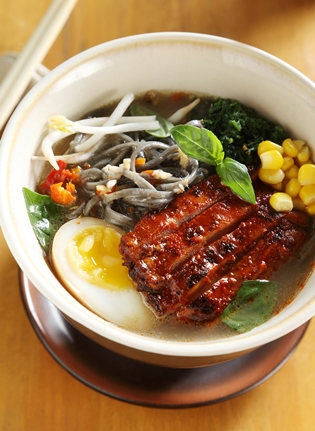 Photograph by: Sanjay Ramchandran
The Fatty Pho at Bandra's Fatty Bao is a chicken version of the classic. Aromatic chicken broth with smoked chicken pieces is laced with ginger, fried onions, eggs, broccoli and black noodles. Definitely makes for a comforting start to a meal.
Lemon Leaf
At Lemon Leaf, the flavourful pho is loaded with veggies like carrots, broccoli, baby corn and mushrooms you can choose. For the protein, there's room for customisation, and choices include tofu with shitake mushrooms, chicken or beef.
By the Mekong, St. Regis
At By the Mekong, the noodle soup is served in both chicken and vegetarian broth variants. Heaped with rice noodles, the soup includes bean sprouts, onions and cinnamon. Finished with sriracha, bird's eye chillies, lemon, coriander and mint, a bowlful of pho here packs in a fair amount of heat.
Pa Pa Ya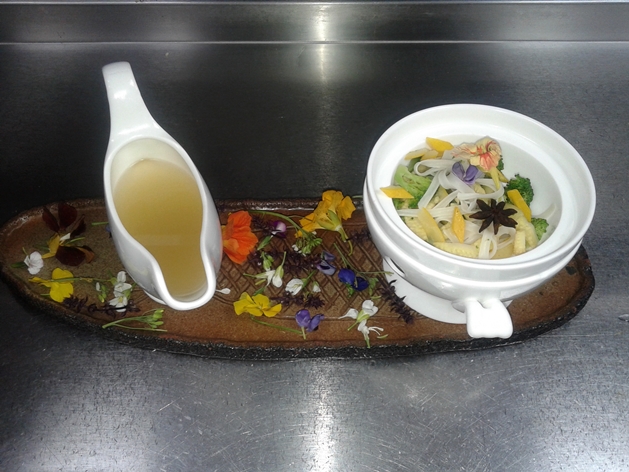 Vegetarians can take heart in Pa Pa Ya's pho. A bowlful here serves colourful veggies and flat rice noodles with a clear vegetable broth spiced with herbs and is marked by the prominent, sweet-spicy flavour of star anise.
BusaGo
Busago is a favourite with the city's Vietnamese and Thai food loyalists, and their pho is everything you'd expect from the dish. Clear, fragrant broth spiced with aromatics and bird's eye chillies, basil and generous handfuls of coriander and mint are the order of the special addition to the menu. Bean sprouts add a pleasant crunch to warm, spicy mouthfuls.