The Bombay Canteen's spread includes Kheema kababs, Jardaloo ma Gos
and Lagan nu Custard ice-cream sandwich
Mumbai's restaurants are pulling out out all stops when it comes to celebrating the Parsi New Year, or Navroze. Quite naturally, there will be a lot of Sali Chicken and Russian Cutlets going around. Here are some of the more interesting options.
The Bombay Canteen has got together four bawis who cook like a dream, and the restaurant's 'Canteenwalla Menu' has been orchestrated by caterer Shirin Adenwalla, home chef Katy Billimoria, Perzen Patel of gourmet food delivery company Bawi Bride, and Kainaz Contractor of Rustom's Bhonu, in New Delhi. The spread includes Russian Pattice Pav Sandwich (chicken and cheese pattice); Bawi Bride's Grandpa's Kheema Kababs, and Adenwalla's Jardaloo Ma Gos (slow cooked lamb shanks with apricots and potato salli), among others. Other offerings include TBC's Chutney Eeda Farcha (fried potato pattice stuffed with soft cooked egg and kairi coconut chutney) and Lagan Sara Istoo Per Eedu (yam, carrots and potatoes in sweet–sour tomato gravy topped with crispy bhindi and soft cooked egg). For dessert, there is the Sitaphal Parsi Ravo (custard apple flavored semolina kheer with toasted almonds) and a Lagan nu Custard ice-cream sandwich! August 17th – 31st 2016, for lunch and dinner
Prawn Dhansak at TBC
At San:Qi, at the Four Seasons, a grandmother's cooking has inspired chef Shehrezad Kapadia's Navroze menu. The feast will have, among others, topli paneer and berry pulao. Until Aug 26
At the Cafe at the NCPA, chef Farrokh Khambata's spread will include, apart from classic Parsi non-vegetarian dishes, will also have Patra nu Paneer, Pankho crusted Cottage Cheese, and Titori in Green Masala. Aug 17, Rs 1950 per head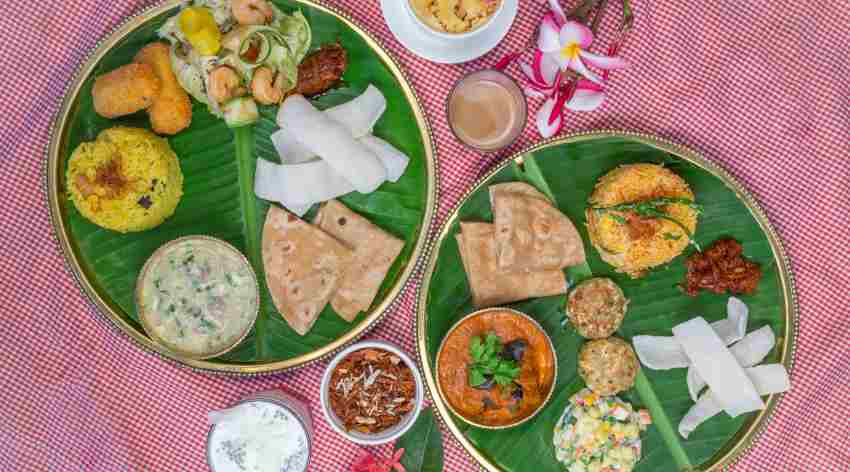 SodaBottleOpenerWala's non-vegetarian bhonu includes a sweet and sour brinjal pickle, Saria, the Parsi papad, a classic Salad Shirazi, Chutney eeda na pattice (egg pattice with a dab of green chutney), Masala ni dal and Kachumbar and Jardaloo chicken among others. The Vegetarian Bhonu has Beetroot cutlet, Vegetable Pulav and a Brinjal and drumstick curry in place of the non-vegetarian items. In Mumbai, they are getting a mother-in-law to face off with her daughter in law (on Aug 20). The 'saas' is journalist Bachi Karkaria and the 'bahu' is Akshata Karkaria, the bakery and R&D chef at SodaBottleOpenerWala.
Pala Fala's Parsi wedding inspired spread features, apart from classics such as mutton dhansak and patra ni machchi, chicken cheese cutlets. Until Aug 11.