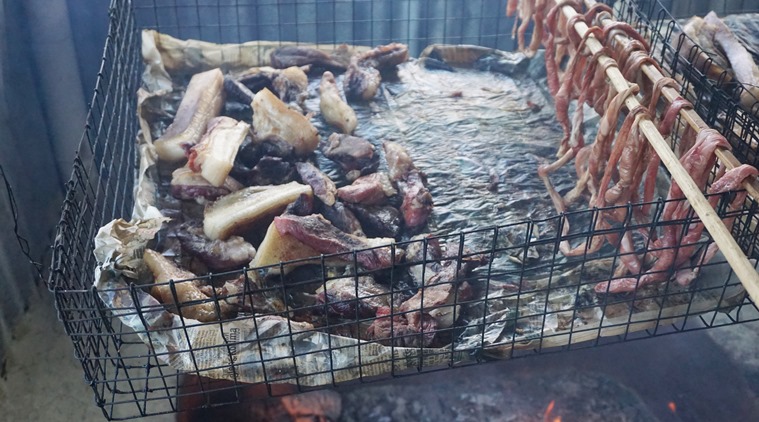 Raghavan's degustation menu will feature smoked pork with axone (fermented soybean) from Nagaland
Aditya Raghavan is a physicist turned cheesemaker who divides his time between Canada and India. In India, the 35-year-old worked with The Cheese Collective, in Lonavala; and The Farm, in Chennai, among others. Raghavan also leads mostly food-focused tours to the North East and Sikkim, and his 'Sikkim Food Trail' will take off next month. Raghavan is also an excellent cook, and has cooked for a living. Starting next month, he says, he is on a mission to bring pork to the fore in India. Raghavan considers pork an under appreciated and under utilised protein in India. "When you think of Indian food, you don't really think of pork. It has always been had in small pockets across the country, mostly by Christians, and in the North East. I've been looking to do my bit to change that," says Raghavan.
The 'bit' he is talking about is a 'Pandi Degustation Menu', which will be served next month at Bandra, in Mumbai, and which he hopes will get more people introduced to the pleasures of pork. Raghavan's eight-course meal is an ode to both some of India's most iconic pork dishes and some little known delights. "These are all dishes I have sampled in places of their origin.  The sorpotel and the Pandi Curry will be there, of course; but I'll be also making a paya soup made by Anglo-Indians in Tiruchirappalli; smoked pork from Nagaland and so on. The idea is to create a nose-to-tail experience, and take advantage of the versatility of the meat." Raghavan's meal, which will also include momos from Sikkim, will be based on Indian recipes, and he will be using different cuts — belly, shoulder, loin as well as jowls and ears — to create his dishes. "I'll be adding my own twist to some of the courses. There is this Naga chutney that is made of galangal leaves, dried fish and liver, and I'm thinking of make a pate out of it." The degustation menu will be paired with four beers, including an IPA, Saison and mead. Tickets for, and more details about, the meal are available on instamojo.in. And, you'll have to hurry because there are only 12 seats.