Grant House's Red Masala Bombil is a Andhra-Malvan hybrid. Photograph by Isha Shah
Hotel Grant House
Shreedhar and Shekhar Varma's Hotel Grant House is more famous for its legendary kheema, but their 
bombil
 fry is, in our opinion, as good. Especially, their Red Masala 
Bombil
, which, according to the brothers, is a Andhra-Malvan hybrid that is coated with a besan-based batter.
Next to Haj House, near M.R.A. Police Station, Mumbai – 400001; Price: As per catch
P: 022 22617059
Pradeep Gomantak Bhojanalaya
Dashrath Amonkar was originally a dabbawallah. About forty five years ago, he borrowed some money from his friends and started Pradeep Gomantak Bhojanalaya, on Rustom Sidhwa Marg. His daughter Manisha runs the place now, but old timers insist that the bombil is still made the same it was years ago. Not surprisingly, nearly everyone orders the soft bombil fried in crispy, salty batter here, along with their chicken or fish thali.
Sheri House, 15 Gunbow Street, Fort, Mumbai – 400001
Price: Rs.90
; P: 66310761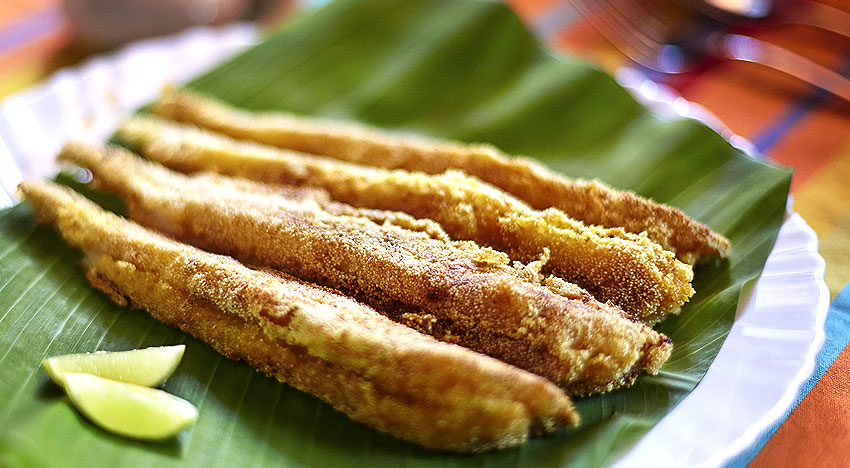 Fresh Catch's owner claims that Sachin Tendulkar is a frequent visitor — just for his bombil fry. Photograph by Isha Shah
Fresh Catch
Francis Fernandes claims that whenever Sachin Tendulkar visits his little eatery, he has entire plate of 
bombil
 all by himself. Fernandes started Fresh Catch, located in a tree-lined bylane near Mahim's Sitladevi Temple, about 15 years ago. He uses his mom's recipes and "gives them a good twist". The 
bombil
 fry, coated with rava, is tawa-fried to perfection and is served with a liquidy green chutney.
144/C, Diman Cot, Mahim West, PN Kotnis Road, Mahim; Price: Rs.325 (4-5 pieces)
P: 24448942/32968981
Highway Gomantak
This eatery, off the Western Express Highway near Bandra, is iconic for many reasons: the no-nonsense attitude of its owners,  Mr and Mrs Potnis; the wide variety of seafood on its menu, and also for its bombil fry. But, there's a reason why the bombil fry here is as good as it is. According to its owners — Mrs Potnis keeps an eagle-eye on the kitchen at all times, by the way — the water in the bombil is retained, and the fish is then fried in crispy, salty, flaky batter. The duo claims to have pioneered the technique.
44/2179, Behind Maratha Store, Service Road, Gandhi Nagar, Bandra East; Price: Rs.350 (Around 7-8 pieces); P: 26409692/26453120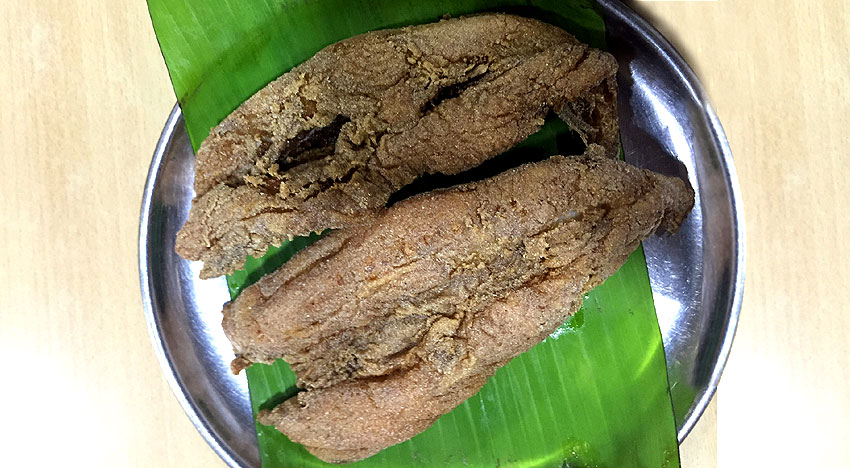 Saddicha's bombil fry hits the spot. Photograph by Team Express Foodie
Saddicha
Gaurish Deshpande's Saddicha, located bang opposite MIG Club, was a favourite with Sachin Tendulkar and Vinod Kambli during their cricketing days. The 
bombil
 fry at the 17-year-old eatery is served with a delicious red coconut chutney that goes perfectly with the soft and crispy fish.
Near New Saibaba Temple, Opposite MIG Cricket Club, Gandhi Nagar, Bandra East; Price: As per catch; P: 26510175/26419932
Gomantak
Gomantak is located on the bustling Kelkar Road, near Plaza Cinema. Helmed by Sudhir Borkar, the 63-year-old eatery serves a 
bombil
 fry that is deep-fried in dark-brown batter. It's a crunchy delight. Have it with a squeeze of lemon and some onions on the side, as people in the know do.
301, Miranda Chawl, NC Kelkar Road; Price: Rs.120 (around 2-3 pieces); P: 24305631/24311377
Satkar Rice Plate House
Abhishek Gavankar used to run a 'khanawal' or eatery in Girgaum by the same name over 50 years ago. Sometime back, he shifted to Goregaon, and his eatery serves a homely, perfectly fried 
bombil
 that comes with a lip-smacking coconut chutney.
Shop No. 15,Dreamland Building, Opp. Goregaon Railway Station, Next to BEST Depot, Goregaon East; Price: Rs.120 (2 pieces); P: 022 6572 9257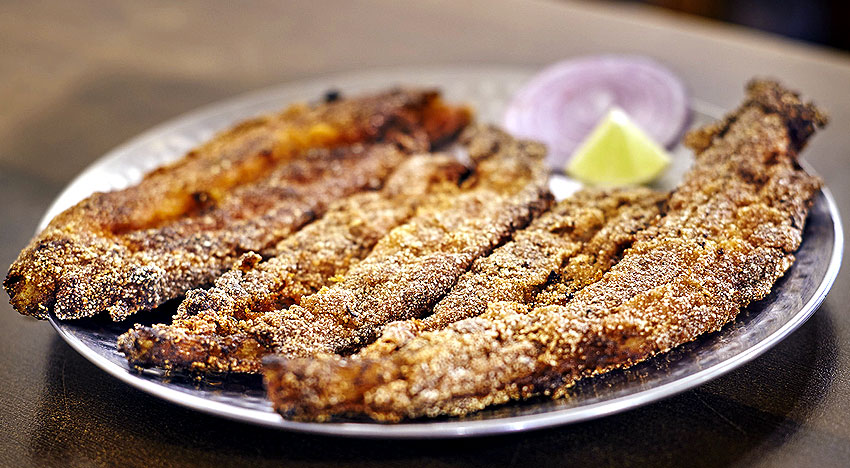 The folks at Chaitanya believe that a bombil should be shallow-fried. Photograph by Isha Shah
Chaitanya
Surekha Walke's Chaitanya chain is HQ-ed in Malwan, and has branches in Dadar, Thane and Sawantwadi. At the Agar Bazaar outlet, the 
bombil
 is shallow-fried. According to Walke, the fish loses its character if it is deep-fried. The crispy rice flour batter has a hint of tamarind, and a plate or two of Chaitanya's 
bombil
 fry is a meal in itself.
Agar Bazaar, Dadar (West); P: 022 24372242
Malwani Aswad
This hole-in-the-wall eatery is located on Shahaji Raje Road, in Vile Parle east, close to the Koldongri fish market. The 12-year-old eatery is run by Nitin Kambli and Kamal Karkera. According to Karkera and Kambli, their surmai is popular, but the 
bombil
, too, flies on a good day. And, it should. We had it with a mild green chutney.
Shahaji Raje Road, Parle Colony, Vile Parle East, Near Bhuta High School; Price: Rs 80 (2 pieces)
P: 26845842/ 022 26837386