The Raj kachori is, in fact, is a fine example of a product that caters to multiple desires of the customer. Photograph: Wikimedia Commons
The two stars that shine brightest in the constellation of Indian street food are undoubtedly the samosa and the kachori. The samosa is believed to have originated in the Middle East, and the filling that goes into a samosa changes with cuisines and the choice of local ingredients, but, interestingly, it has always retained its triangular shape. A samosa becomes a kachori if it changes its shape. But once a samosa becomes a kachori, it remains a kachori forever, irrespective of the shape it takes, the lack of stuffing, or even if the stuffing is sweet, hot or tart. I find that interesting. Today, we might have malls and street food served in posh environments, but thankfully, the kachori has retained its individuality.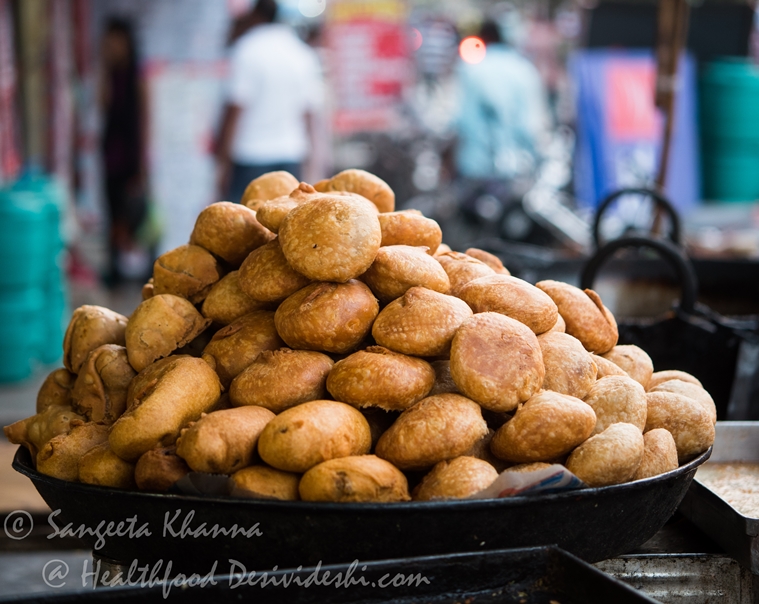 Kachoris, like all street food, evolved around the bazaars. Photograph by Sangeeta Khanna
The kachori was created by the Marwaris, who settled across the country and were the pioneers of trade and commerce. All street food evolved around bazaars where traders needed to eat and drink while dealing with their business. Recently, I found myself in one such bazaar while travelling from Jaisalmer to Jodhpur. My driver halted at a kachori shop in the Pokhran market area, and recommended the snack to me. It was unbearably hot outside and I was not keen on kachoris, but soon I found myself talking to the man who was deftly stuffing the kachoris and rolling them before slipping them into moderately hot oil. The kachori he was making is possibly the mother of all kachoris, I thought. In my humble opinion, kachori was most probably invented around there, in the heart of Marwar.
Ancient trade routes have always passed through Marwar, and the Marwaris have always had access to the best produce passing through their region. Marwaris are vegetarians, and they know how to spice up their food even with limited local produce. The kachori in the desert has spices that are usually known as 'thanda masala', essentially dhaniya and sounf along with some haldi, making these kachoris well-suited for the climate.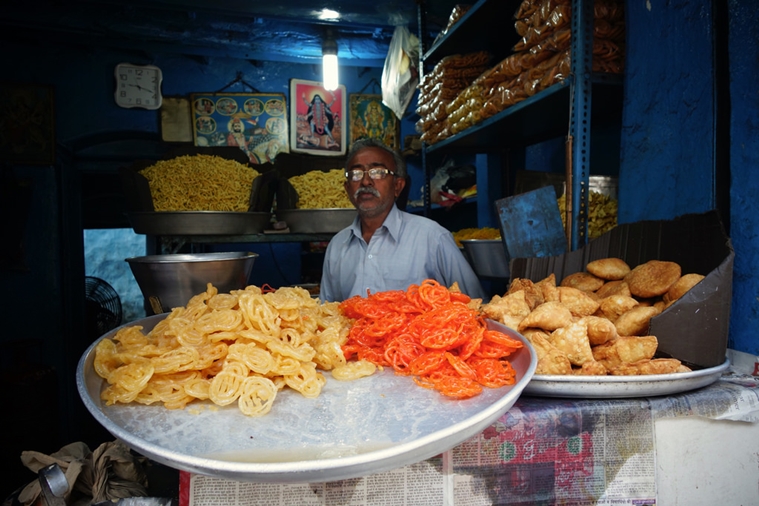 Kachori was probably invented in Rajasthan. Photograph by Rajesh India/Flickr
One of the best examples of Marwari kachori excellence is Jodhpur's Mogar kachori that doesn't use any fresh produce and can be made in the desert any time of the year. It is stuffed with skinned mung beans (mung dal) in the form of a crumbly paste and spiced with local spices and souring agents. The outer pastry is always maida with loads of shortening, and it is kneaded in such a way that it becomes flaky when deep-fried on low heat for almost half an hour. A Delhi version of this kachori, served with a tangy, hot aloo subzi, is sold in a humble shop outside the Press Trust of India building, on Parliament Street. Jodhpur boasts of another kachori. The Mawa kachori, often covered with silver varq, is like a mildly sweet mithai comparable to journey cakes, and designed for long journeys.
Even the pyaaz kachori that is made all over Rajasthan, Madhya Pradesh and some parts of UP is made with ingredients that are not dependent on seasons. Onions are always stored for the whole year and the tiny amount of potato that is used in the kachori endures well for the whole year.
The heeng kachori from the north has travelled to Bengal too, and despite the urad dal (black gram) stuffing, it retains its name due to the generous lashings of this uniquely aromatic spice, which is sort of an Indian umami. The urad dal stuffed heeng kachori is usually served with a curry that may be potato- or pumpkin-based depending on its geographical location. The urad dal stuffed kachori took another turn, became bigger and more crisp to become bedmi poori in some parts of western UP and Delhi. Bedmi poori is made of coarse wheat flour and not maida.
While these kachoris can be made at home, they are more of a marketplace snack. Until about 50 years ago, breakfast was rarely cooked at home as LPG connections were rare, and people depended on either kerosene or firewood for kitchen fuel. An elaborate breakfast was usually not in the picture, and it was kachoris and pooris that nourished several generations along with dahi and jalebi.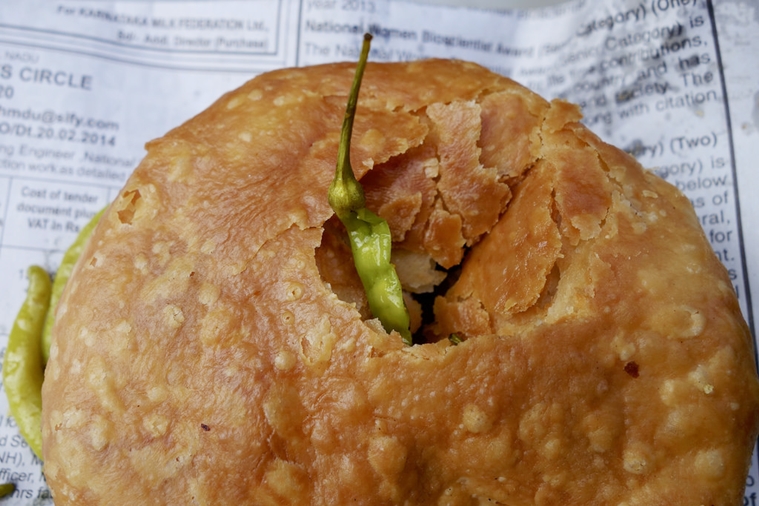 The good thing about these kachoris is that, despite being fried foods, they are not as bad as they are made out to be. Photograph by Rajesh India/Flickr
Banarasi kachori is softer, made with whole wheat flour and with very little stuffing, and takes to subzi so well that the subzi becomes an equal counterpart on the dona of the kachori. You will find seasonal vegetables such as spinach, pumpkin, parval and even baingan in the subzi in a Banarasi kachori, which is sometimes sprinkled with a good measure of peas or black gram.
Nagori kachori does not contain a stuffing, is lightly salted, very crisp and served with a sweet halwa that drips with ghee. In fact, Nagori halwa could be the most unique combination of sweet and salty being served together. Caramel tart sprinkled with sea salt came much later.
Maharashtra's Shegaon kachori is a cousin of Bikaner's Mogar kachori, but it has carved a niche for itself as it is served in a unique manner.
The other kachoris that have made a mark on the Indian culinary scene are mostly home-cooked and seasonal. Bengal's delicate matar kachori is a treat along with aloo dum. Bihar's sattu kachori, served mostly with an array of chutneys and chokha, is derived from litti, but has earned a good enough following to stand on its own.
Lilva kachori gets its name from tender pigeon peas or lilva, which hits the market for a short period in winter. Gujaratis make lilva kachori and lilva na ghugra. Both these snacks use the same ingredients but are different in shape. The lilva na ghugra is a delicious crescent-shaped kachori, while the lilva kachori strikes a perfect balance between sweet and salty flavours in an earthy way.
The Gol kachori of Banaras is a variant of samosa but the shape does make a difference to its overall taste. It is crushed lightly and is served drowned in aloo subzi and green chutney.
Another 'seasonal' kachori from UP is Badiyon ki kachori. Badiyan are sun-dried lentil dumplings, made with grated vegetables. They were most popular in the monsoons when fresh vegetables were not easily available. Fried and crushed badiyan are used as a stuffing in this kachori that packs a wonderful flavour.
The good thing about these kachoris is that, despite being fried foods, they are not as bad as they are made out to be. Use traditional oils or ghee, and you could eat them without having to worry too much about clogged arteries. Of course, you should always keep portions in check, but remember kachoris keep you full till the evening, balancing the total calorie consumption of the day naturally.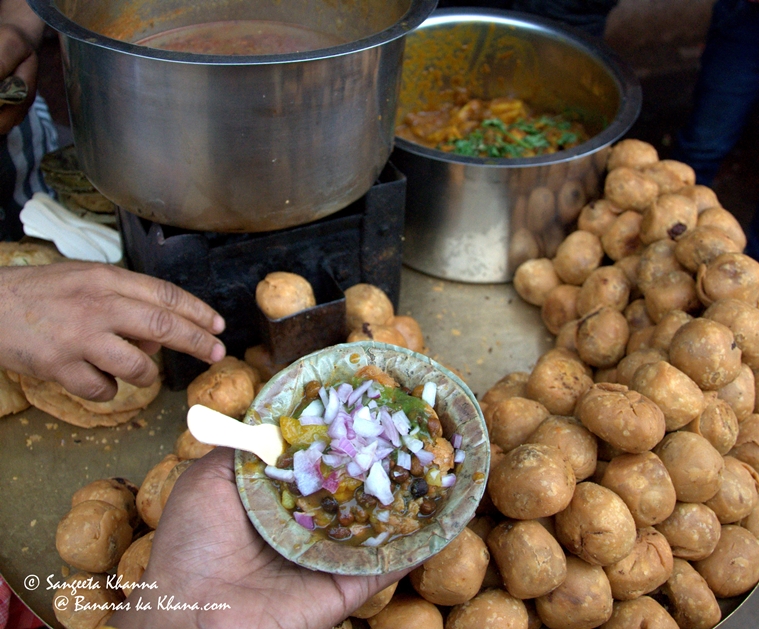 The Banarsi kachori is soft, made of whole wheat flour and contains very little stuffing.
Photograph by Sangeeta Khanna
An article about kachoris would be incomplete without the Raj kachori, the king of all kachoris. Raj kachori is a massive, puffed up, crisp snack that looks like a blown up gol gappa. It houses a variety of chaat ingredients, dripping all over the globe-like kachori. The Raj Kachori originated in Bikaner, probably in a quest to make kachoris more decadent, and can now be found across the country thanks to sweet shop chains doing brisk business.
The Raj kachori is, in fact, is a fine example of a product that caters to multiple desires of the customer, without depending on chemical intervention to enhance taste and texture — as long as you don't ask for some ketchup to go along with your kachori.