Deccan Achar, the largest shop in Nampally, Hyderabad's pickle stop, sells 30 kinds of pickles. Photograph by Sanjay Borra
Nampally, in Hyderabad, is a snapshot of a city being destroyed and created at the same time. Road-widening has meant that towers of rubble dot the terrain. Pillars for the under-construction Metro spike up like a set for an apocalypse-themed film. In the narrow streets behind the station, platoons of burqa-clad students emerge from the colleges nearby. The pavement has given up the unequal fight with hardware sellers flaunting vast spreads of hammers, spanners and screwdrivers, watermelon vendors and "antique" furniturewallahs. This colourful sentence of a street ends with the exclamation point of the Ek Minar masjid. Just past that comes the Café Aristotle and a nondescript stretch of shops. This is pickle central, with names like Hyderabad, Awam, Yousufain and so on. I step into the largest, "Deccan Achar", the signboard proudly emblazoned with the legend "We have no branches".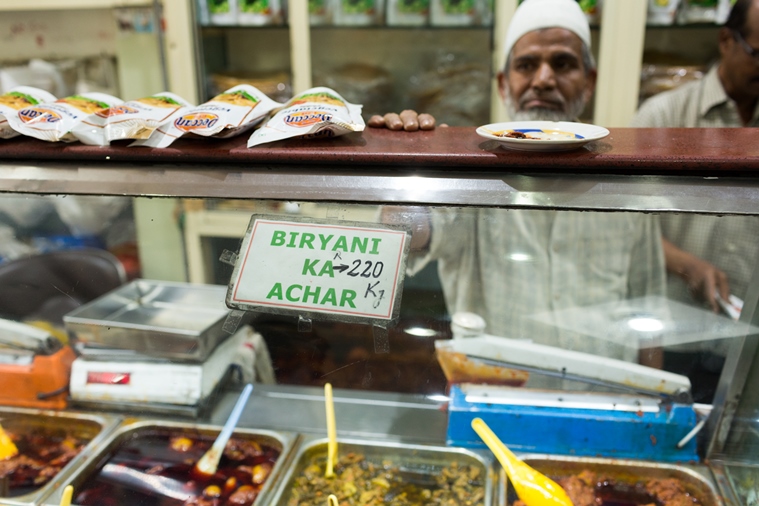 Biryani ka Achar is Deccan Achar's house specialty. Photography by Sanjay Borra
Inside is a hive of activity as patrons browse over a long L-shaped salad-bar counter. Business is brisk and the hard-pressed staff hurry to refill the basins, scooping up buckets from aquarium-like containers at the back. The bespectacled owner Sadeq bin Mahfooz presides at one end. While the shop was formally established in 1961, he explains that they have been in the business since his great-grandfather's time. Sadeq's father handles the production facility in the Old City.
"We have 30 types of pickles" he says, "from Tamarind to Ambada", conducting me through the flavours, which include usirkaya (amla), karela and kari patta.
What is your top seller, I ask.'Sab items running mein rehta' he says. But Mango, of which he has six sub-varieties, including "Green Til" and "Bareek", is always a hit. Meanwhile, some indecisive customers ask for a tasting plate. A grizzled salesman promptly throws in dollops of pickles onto a small dish and passes it over. The customer runs a finger through and licks it – can't be beat as an assessment tool. A water cooler and candies await those who have bitten off more than they can chew, so to speak.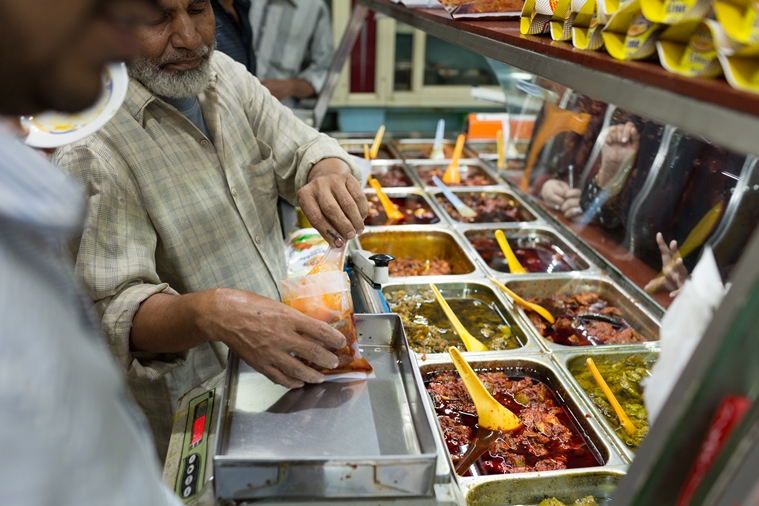 The suburb of Nampally, in Hyderabad, is pickle central, and hosts a variety of pickle stores. Photograph by Sanjay Borra
Staffers occasionally pour groundnut oil into the jars to keep them "fresh" – I think of them presiding over a menagerie of tastes and feelings. It is no surprise that some of their biggest customers are NRIs, especially from the Gulf and the U.S – nothing evokes home than the tang of a pickle from long-lost youth. This also means that, over the years, the sellers of the street have developed a special expertise in packing pickles that can negotiate the Byzantine rules of air travel. A customer nervously asks, 'Yeh leak nahi hota?'. The staffer chuckles and shows off their special triple-layer sealed method. Now they also do "outside pickle" packing i.e. you can get your own and they will make it airworthy for a small fee.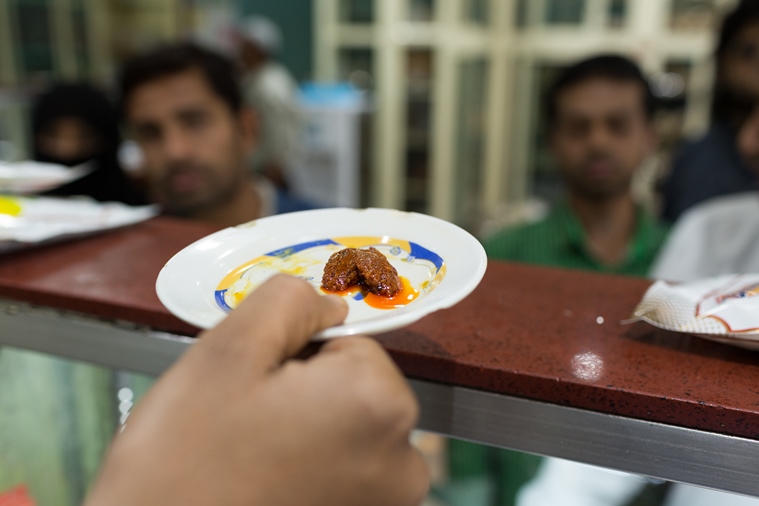 Red chilli and Mango Strong are pickles with the most 'vigour'. Photograph by Sanjay Borra
Seeing as we are in Telugu-land where eating ultra-spicy food is an extreme sport, I ask him what has the most "vigour". He says apart from the Red Chilli, they have a 'Mango Strong' that can make grown men cry. At the other end of the spectrum, they also stock sweet and khatmeet achars, which even contain sugar and dry fruits. They also have a flourishing side-line in papads, a natural concomitant with pickles, with more than 15 varieties, including gabia (made of urad dal), rice and sabudana papads.
While we talk, an entire auto-load of burqa-clad women enter and buy up a storm; they are for "bahar", to be given as gifts for friends and family. One of the salesmen chimes in to say that movie stars who are in town for shoots, and MLAs when the assembly is in session are regulars, with the especially busy season being Ramzan.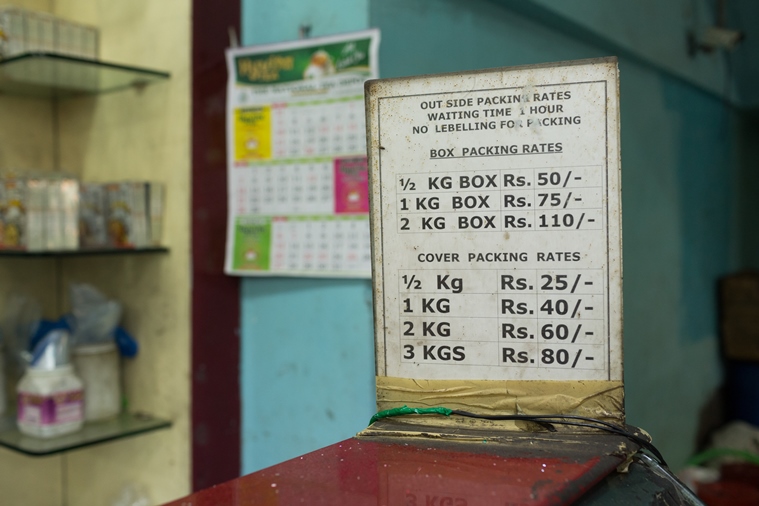 NRIs never fail to visit Nampally each time they are in Hyderabad. Photograph by Sanjay Borra
What is the house specialty? He shows off "Biryani Ka achar". "It's vegetarian" he says, "with mango pieces, biryani masala, onion, red chilli, ginger, turmeric, cashewnuts". What does it do? "You can mix this with white rice and get a biryani flavour". An emulation, I think, a culinary innovation worthy of a city which has come up with vegetarian haleem.