The Sev Mixture at Jain Chappan Masala is great with beer. Photograph by Anurag Banerjee
It's easy to get lost in the maze of bylanes in South Mumbai's Zaveri Bazaar. The city's massive jewellery, gold and diamond hub is bursting at the seams with shops owned by old-time jewellers and the little food stalls that have mushroomed around them. "This is where working class people get good food at cheap prices after a hard day's work," says a hawker, tossing a dosa. During teatime, the bazaar is practically impenetrable. There are scores of craftsmen and traders out on the streets, devouring freshly cooked vegetarian snacks such as kachoris, chaat, samosas and pudlas.
On one such busy afternoon, 28-year-old Vinit Shah, who works in the diamond trade, takes me for a gastronomical walk through these lanes. As we walk around Zaveri Bazaar, Shah, an obsessive foodie, doles out nuggets of trivia about the stall owners. The owners of eateries and food carts, who have been making a living feeding the traders for over five decades, tell me that the 'khau galli', which is what the lanes are collectively referred to, is as old as their establishments. They are now accustomed to seeing the same faces such as Shah turning up at their doorstep day after day.
Yet, there have been many significant changes. After the 2011 bomb blast that claimed 27 lives, the city's civic body drove away several hawkers to ease the congestion in the area. Some stalls cropped up again after a while, but many were never seen again. Also, several diamond merchants have shifted to the more secure Bharat Diamond Bourse, in Bandra Kurla Complex (BKC), and that means the stall owners have lost some of their most loyal patrons.
Shah, too, shuttles between BKC and Zaveri Bazaar for work. But at lunch time, he often makes a dash for the thali at good old Bhagat Tarachand and packs kachoris from the stall outside his workshop. Here, he lists some of his favourite haunts in the area.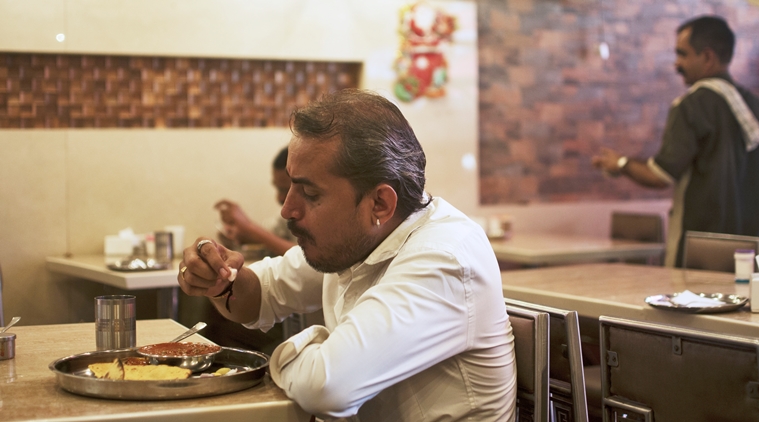 The Bhagat Tarachand outlet at Zaveri Bazaar is packed at lunch time. Photograph by Anurag Banerjee
Bhagat Tarachand
There are multiple outlets of Bhagat Tarachand across the city, but getting a table at their Zaveri Bazaar branch at lunch time is no mean task. They have an extensive vegetarian menu that also includes Jain delicacies. Their most popular offering is the special thali (Rs 200) that comprises, among other dishes, chapattis, dal fry, a subzi and a chilled glass of chaas to wash it all down. "I love coming here for lunch with my father. They make the softest rotis ever and top it with a huge slab of butter. We usually have to order another plate of plain rotis to soak up some of the butter," says Shah.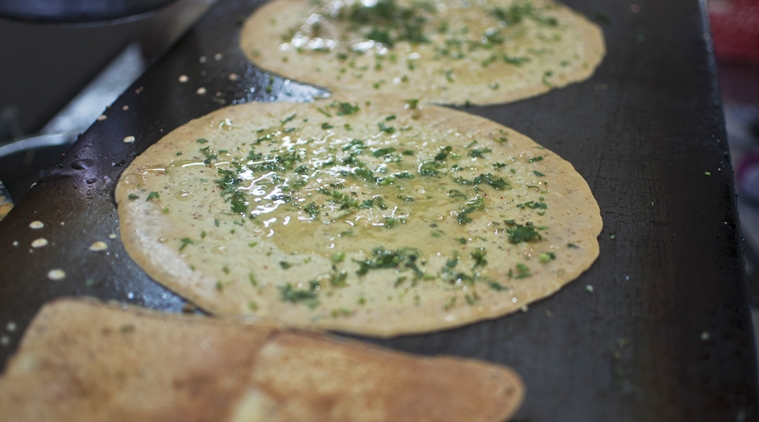 Pudlas, a Gujarati snack made of chickpea flour (besan), at Mohanbhai Pudlawala. Photography by Anurag Banerjee
Mohanbhai Pudlawala
Mohanbhai has been travelling from the suburbs to his Zaveri Bazaar shop for the past 48 years. He started out with a small stall where he made pudlas — a Gujarati snack made of besan and topped with vegetables. Today, he runs a runs a shop at the same spot with his son and the duo serves various versions of the pudla — with grated cheese, toasted bread and tomatoes. The wholesome evening snack is served on steel thalis with generous helpings of pudina, imli and garlic chutney. Mohanbhai, who is fondly called 'Pudlawala', greets customers at the cash counter, while his son serves hungry customers at lightning speed.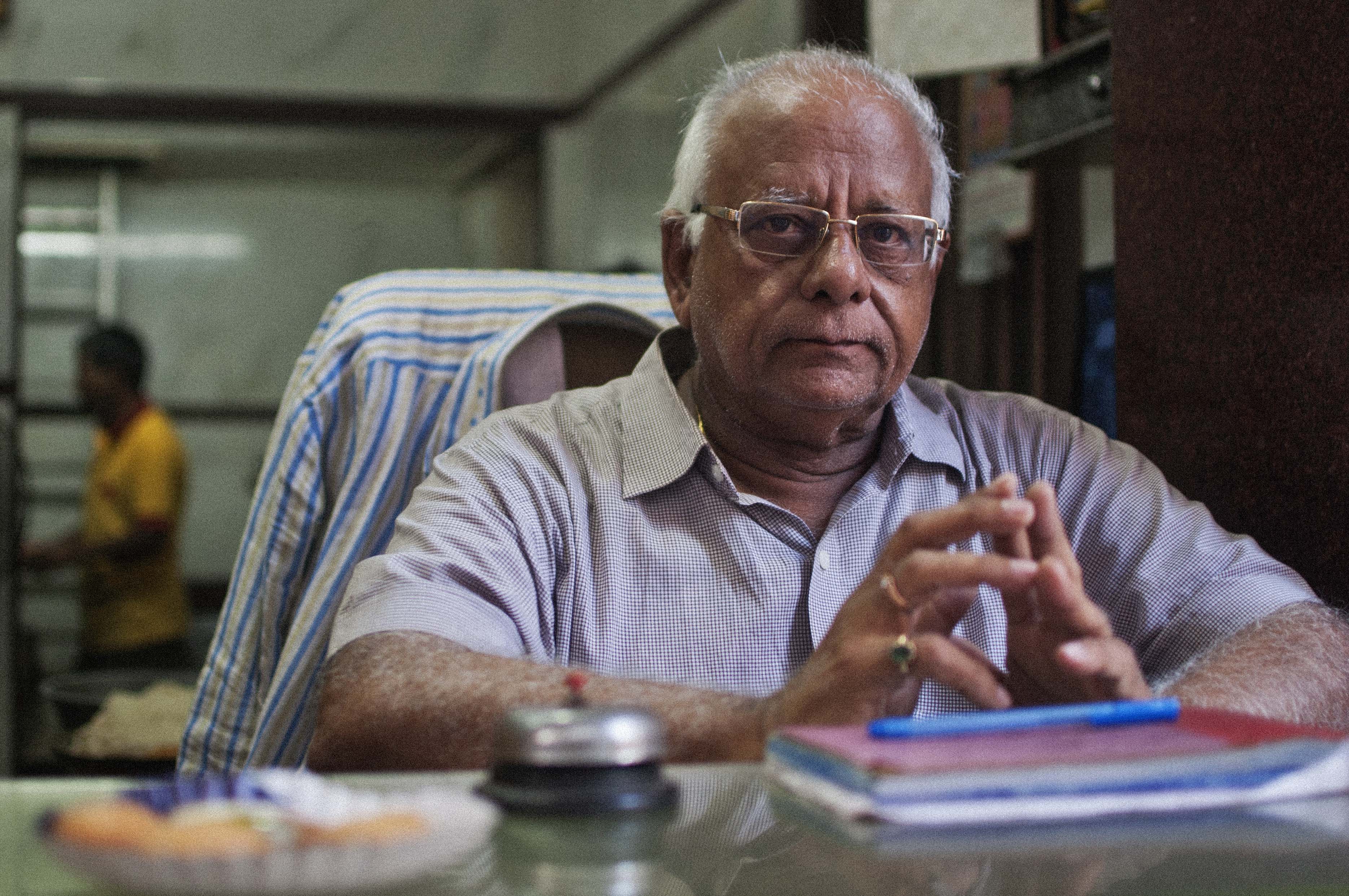 Manish Upadhyay's grandfather set up Jagannath Chaturbhuj in the late 1800s. Photograph by Anurag Banerjee
Jagannath Chaturbhuj
Manish Upadhyay runs this 121-year old halwai that was set up by his grandfather. "My next door competitor is a farsan shop that has been around for 50 years, but there are others around here that have been around for longer. But we are the oldest shop in the area. When my grandfather started it, this bazaar was mainly a residential area," says Upadhyay, as he serves hot kachoris to his customers. Fondly referred to as 'budhha marwari', this shop stands out for its unique kachoris, papdi and moong dhal bhajiyas, which are cooked in pure ghee.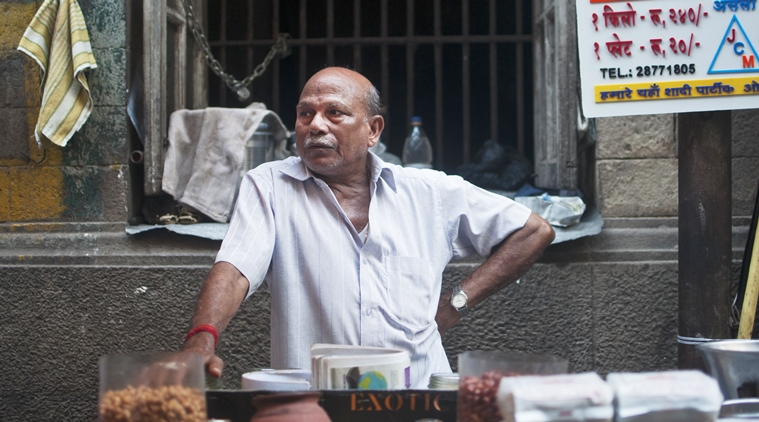 BS Gupta's Jain Chappan Masala is much sought after by traders in Zaveri Bazaar. Photograph by Anurag Banerjee
Jain Chhappan Masala
This tiny roadside stall, run by an elderly man named BS Gupta, is easy to miss. Originally from Varanasi, Gupta has invented his own mixture of roasted peanuts, chana, sev and chivda which he sprinkles with a bright red masala he prepares at home. You can either have him prepare it fresh to go with your evening chai, or pick up a sealed pre-mixed packet. Shah says he usually stocks up on packets of this masala before an evening out with his friends. "Add some chopped onions and lemon juice to this, and it makes for an awesome snack to go with drinks," he says.
Prahlad Pattice Centre
A little outside the Zaveri Bazaar khau galli, towards Princess Street, is this 45-year-old stall is run by Uday Prahlad. Prahlad is especially known for his farali pattice — a Gujarati snack that has an outer coating of potato and a sweetish mixture of grated coconut, dry fruits and peanuts at the centre. "This is a special Gujarati snack for those who are fasting during the month of Shravan," says Prahlad, adding that it is equally relished even by those who are not observing a fast.