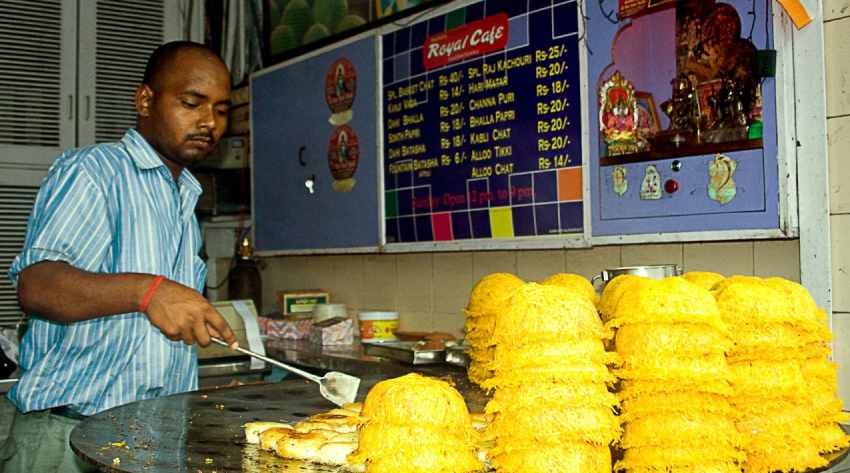 Tikki and Basket chaat, Royal Cafe, Hazratganj, Lucknow. Shashwat Nagpal/Flickr
The Bombay Canteen's Thomas Zacharias is one of the Mumbai's most well-liked chefs. He is one of the men behind TBC's highly engaging take on food. The affable youngster, who hails from Kochi, in Kerala, has been in the kitchen at TBC ever since it launched early last year. Last week Zacharias, who has contributed to this website here, travelled to Lucknow. Now, a food trip to Lucknow is always a good idea, and the little time we've had in the city some years ago, we spent it eating and eating. Before he travelled to Lucknow, Zacharias called friends/well-wishers/Bombay Canteen patrons and asked them for reccos.
Check out this vid of Tunday Kababs in Lucknow
By the time he left for the city, he had a long list of places to eat at (we counted at least 30, thanks to a pic of the list he posted on Instagram). And last week, he was doing just that. Zacharias had Malai kulfi at Chanakya, galouti kababs at Tunday, Dahi Matar Chaat at Shukla House, kheema at Alamgir, imartis at Netram, Matar papdi chaat and a nihari and pay lunch with sheermal and kulcha at Mubeen's.  We followed him virtually to check out the kind of stuff he has been introducing his tastebuds to, and a quick look at the insta-pics below will make you want to stop whatever you are doing right now, and head to Lucknow. And, we won't be surprised if we see dishes inspired by Zacharias' Lucknow trip on The Bombay Canteen menu soon. The buzz is that the guys at TBC have also visited other cities such as Kolkata and explored the food scene, and all of these excursions should produce more delights from across the country on the TBC menu.