Blame it on the weather, but we're addicted to all things crisp. We know you are too, so plough through some chia pudding gloop for breakfast and gnaw away at that iceberg lettuce, if you must, for lunch, but remember that snack time is sacrosanct. But don't get us wrong. We're not endorsing irresponsible eating. We're just saying: Live a little (today), once in a while. You can go back to your bag of mixed nuts. There's always tomorrow.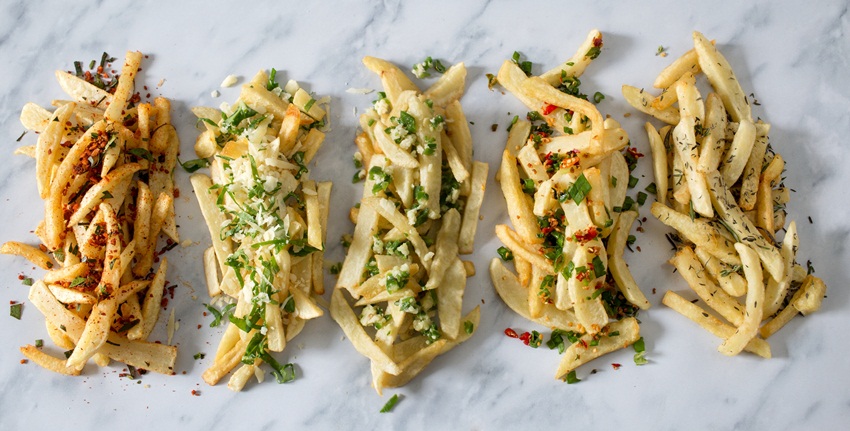 Fries at Kaboom
There are fries and then there are Hunan Fries by Kaboom, the multi-cuisine food truck that recently launched in Lower Parel. Topped with Hunan seasoning (includes Sichuan peppers, garlic, ginger, mustard seeds, cayenne pepper, sesame seeds and cilantro) and cheese, these fries are just the thing for that mid-evening rush.
This next snack at The Bombay Canteen may just make us believe that the cauliflower can redeem itself again. OK, so we're partial to gobi paratha as well, but otherwise, the vegetable doesn't make it on our menu. Now the crisp cauliflower snack, as the name suggests, Chapati Karari Gobhi, deserves special mention because it brings together two rather unusual ingredients, both of which are our favourites – milk powder and red chilli garlic chutney.
We haven't returned to pan Asian restaurant, One Street Over, for their fantastic Dan Dan Noodles, but what will take us back is their new menu. One of the dishes on it that sounds like a must-try is the grilled chicken burger. It could even be a meal, but we have a good appetite. How different can a burger get, you think? This one doesn't do regular burger buns, but is served with butter brioche, cheddar cheese, caramelised onions and peppers. We were won over at butter brioche.