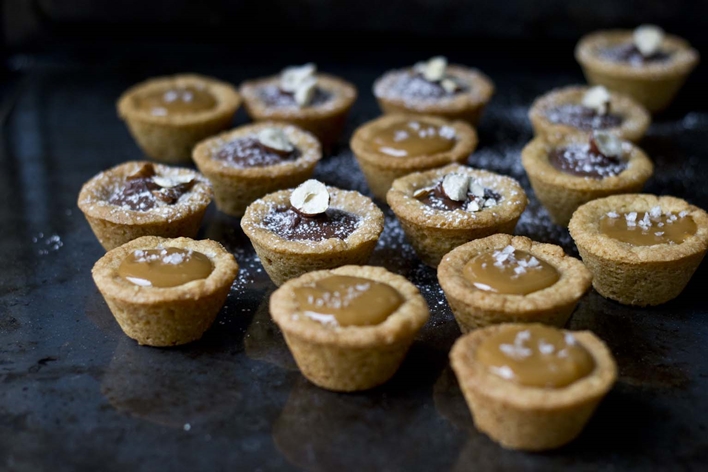 Cookie cups made using cookie dough are filled with mousse and cream. Source: Eva Holm/Flickr
Pastry chef Dominique Ansel, the man behind the creation of the cronut (croissant doughnut hybrid) has another hit dessert to his name. True to his style, he took the classic American pairing of cookies and milk to create a trend that has taken Instagram timelines by storm. Presenting the cookie shot, tiny cups made entirely of cookie dough. The dessert gets its name from the shot glass size of the cookie cup and looks rather dainty, making it a hit across social media channels.
Since its introduction earlier this year, Ansel's creation has travelled to London and was also served as part of the menu at the Cookies for Kids' Cancer 3rd Annual Chefs for Kids' Cancer Gala in N.Y.C. And now, several versions of the cookie shot exist, in eateries across the world, including CupCake Factory in Bandra. Famous for its cupcakes, The CupCake Factory serves a slightly different version inspired by Ansel's creation. The cookie cups are filled with mousse, available in Belgian Chocolate and Nutella flavours. They also have another version filled with an ice cream flavour of your choice such as classic vanilla, salted caramel, mocha fudge, dulce de leche, among others. Decorated with sprinkles, these CupCake Factory's cookie cups have found several fans for its novel concept.
Ansel filled his chocolate chip cookie cups with Tahitian vanilla-infused milk for added flavour. But to prevent the milk from completely soaking through the cookie, he lined his cups with a layer of chocolate. As soon as they were introduced, cookie lovers flocked his bakery in New York City and the Instagram flood of tiny chocolate chip cookie cups with milk began.
The recipe is the same as any standard chocolate chip cookie, but the dough needs to be stiffer than normal for the cup to hold its shape on baking. The dough is lined along the edges of a tiny shot glass-sized moulds and is baked. The chocolate chips too, are smaller in size, as regular sized chocolate chips may melt excessively or create holes in the wall of the cups.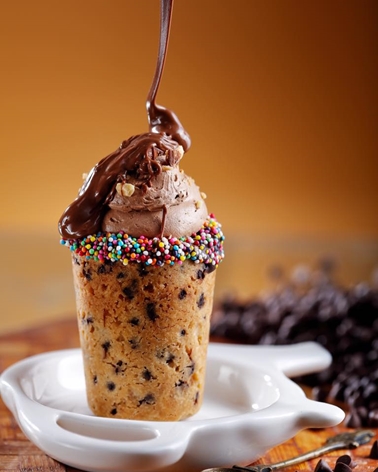 Nutella mousse-filled cookie cup shot at CupCake Factory, Bandra