Royal Pigery, Entally Market. This is among the places where it's at when it comes to pork sausages in Kolkata. Entally was once home to the outcasts and scavengers of Colonial Calcutta — definitely not bhadralok territory. It later became the place from which Mother Teresa started radiating hope, and was also a hub of the Anglo-Indian community (and hence, the sausages). The unique flavour of Royal Pigery's meat and the technique used for preparing the fresh sausages has travelled to faraway London where a handful of shops are apparently selling their take on the "Entally Sausages." Royal Pigery is located in the wet section of Entally Market, and does brisk business in all kinds of cuts – from minced pork for momos, keema and collar to chops, ham and, of course, the signature sausages.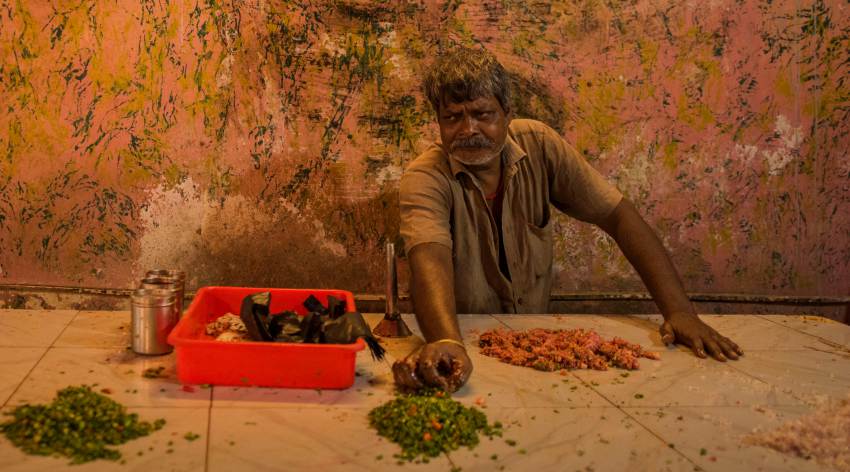 "How will it be?" Get your bespoke sausages made at Royal Pigery. Photograph by Rana Chakraborty
Sanjay Kuthi runs the shop along with his 'brothers', and it works like a well-oiled machine. One man welcomes you, another asks you about your requirement, someone else draws your attention to the piles of minced pork with fatty bits, chopped coriander, green chillies, jars of spices and salt, and asks you, "Kemon hobe?" (How will it be?). You are supposed to  say – jhaal (hot) or not, yes or no to onions, and whether you prefer it without too much salt. Greasy hands then briskly proceed to measure, mix and push the meat into the sausage casings, tie them and pack them up quickly before the next customer walks in.
"We have been doing this for three generations now," says Kuthi. "Demand has gone down, there are too many supermarkets selling frozen sausages. But you will never get this taste," he says. "The casing is organic, comes at Rs 5,000 a kilo. Supermarket sausages are filled in some kind of plastic case."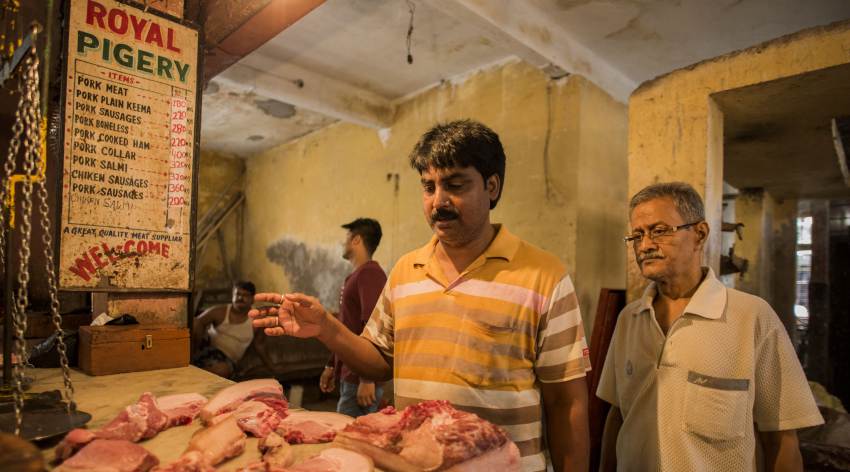 A thousand spices go into the sausage mix, says Sanjay Kuthi of Royal Pigery.
Photograph by Rana Chakraborty
But he is wary about the store and the sausages being photographed. "People have tried to copy us, they have failed. This is our trade secret. There are 1,000 spices in that mix," he says. The Entally Sausages, priced at Rs 200 a kilo, are fresh, free of chemicals and preservatives, and hence, have a terribly short shelf life. The Kuthi brothers tell us that it is best boiled and then stored, if at all. "Ideally have it the same day," they say. A thousand spices or not, our Entally Sausages tasted divine after being fried in just a bit of oil. The fatty bits melted, giving us a spicy 'gravy' to polish off with parathas, while the sausage was all juice, all flavour.
The sausage trail took us next to another institution of sorts – Kalman Cold Storage on Free School Street. For the uninitiated, this is the Colaba of Calcutta, a network of alleys lined with hotels with colourful backstories, backpackers' cafes serving everything from lasagna to Bangladeshi Yakhni Pulao, homes with history, and shops selling rare LPs and antique pianos. The legend of this hole-in-the-wall-enterprise selling sausages, bacon, ham steaks and more – has travelled far and wide. Set up in the 1950s by Kalman Kohary, a Hungarian trapeze artist, the 'cold storage' is now run by the family members of Kohary's accountant, the late Bishnupada Dhar. The Hungarian died some time in the 1970s, but sold the shop to his accountant, who promised to run the show the way "Kalman Shaheb" would have wanted.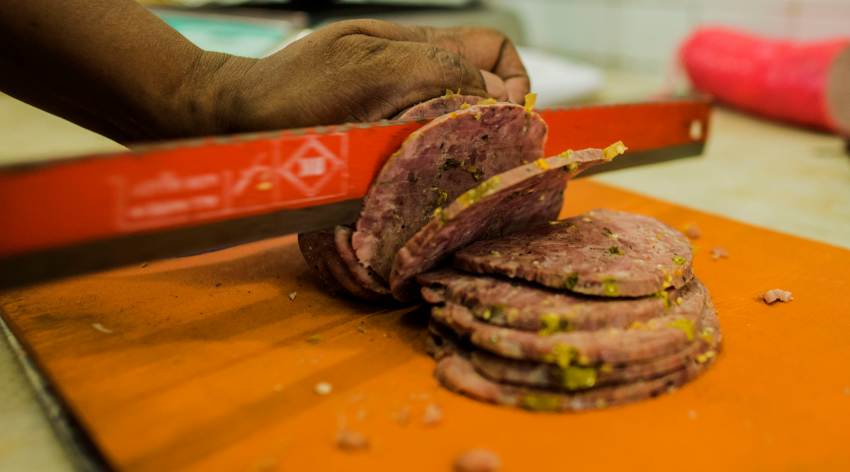 Kalman Cold Storage was set up in the 1950s by a Kalman Kohary, a Hungarian
trapeze artiste. Photograph by Rana Chakraborty
This store has two large freezers, and there is a tiny room at the rear for cutting and chopping sausages. And it buzzes with customers – students, teachers, tourists, restaurateurs. "Everything is good here," says Mrs Saldanha, a retired convent school teacher and old Kalman loyalist, who often packs an extra bag of Kalman's goodies for her sons in Delhi and Bengaluru.
But we have our eyes on the sausage – specifically the Hungarian sausage (Rs 400 a kilo), made popular by Kalman Shaheb. It is stringy, chewy and spicy – garlic, black pepper and salt – and smoked for over 12 hours, says Jay Dhar, who now runs the place with his sister, the widow of the late Bishnupada Dhar. The pigs are from Allahabad and Krishnanagar, we are told. The sausages are processed at the family's workshop in the eastern fringes of the city, and can be stored for weeks. "It is popular with trekkers," says Jay. They are chewy and juicy, and the flavours explode in your mouth. This stuff can keep you walking for hours in a happy daze. "Have it as is as a snack, or add it to your salad, this sausage is versatile," he says. We agree.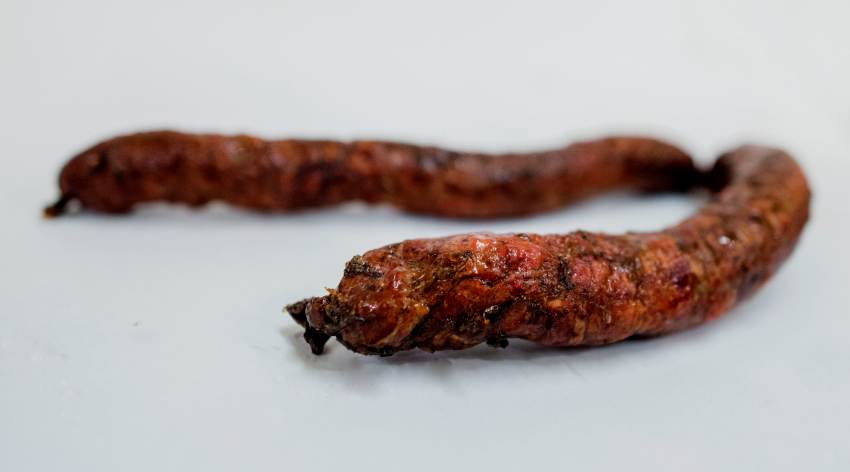 Kalman's Hungarian sausages are made just the way 'Kalman Shaheb'
made them. Photograph by Rana Chakraborty
"Business is good," says the soft-spoken Jay. The student community that is exposed to different cuisines has been driving his sales northwards. "People are also well travelled these days and like to experiment with their food." On festive days there is a long queue for turkey, duck and pork. "Almost all the city's Anglo-Indian community shops from here," says Jay. There are others, too. For instance, Kalman's beef steaks are a hit with certain Bengali media honchos, while the Hungarian sausages are universal favourites. "This is a cosmopolitan city. People eat all kinds of food. So far we have not experienced any kind of political pressure to stop selling anything. We hope it stays this way," says Jay. We do, too.