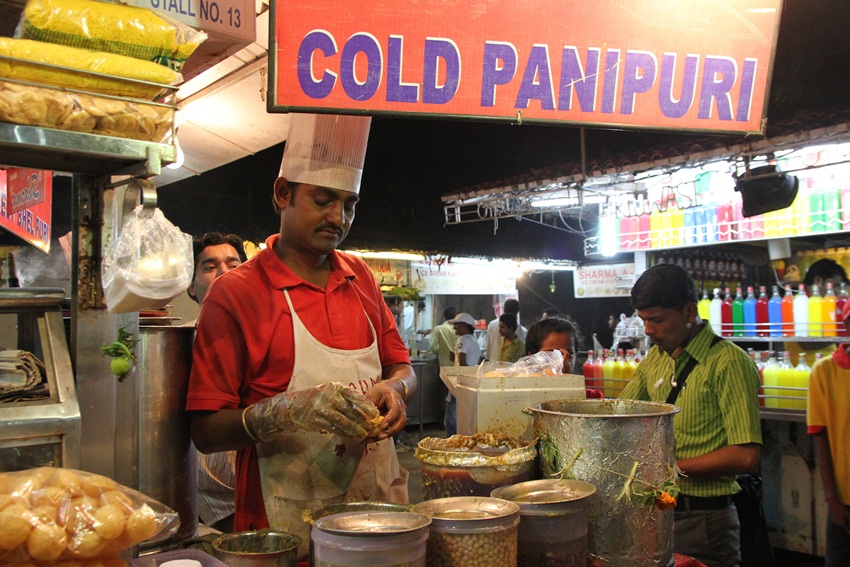 Crisp puris, flavoured water, boiled chickpeas and boiled sprouts, topped with a dash of spice powders are what make for Mumbai's favourite snack: Pani Puri. Photograph by Marco Zanferrari/Flickr
The second summer is back in Mumbai and instead of letting the oppressive heat bring you down, head to these pani puriwallas to cool off. Crunchy puris filled with boiled chick peas, sprouts and chilled mint and coriander-flavoured water and sweet tamarind chutney make for a great anytime snack. While Delhiwallas might argue that the Mumbai pani puri is no match for their gol gappes and the good folk of Kolkata will take a bet that the gol gappes don't live upto their puchkas, these are the best places to get pani puri in Mumbai.
Punjab Sweet House
When we last visited Punjab Sweet House, a group of Delhi-ites were packing up two plates of pani puri before they could board their flight to Delhi. The recipe for Punjab Sweet House's pani puri is almost four decades old, we're told (the place was set up 40 years ago) and they use mineral water to make their pani. The puris made of semolina and wheat pack a crunch, but what Punjab Sweet House always gets the hot and sweet mix right. There's just the right amount of mint and coriander in the chilled flavoured water and the tamarind water is never too sweet.
Where: Shop No. 3 & 7, Dheeraj Arcade, Pali Naka, Bandra West, Mumbai, Maharashtra 400050
When: 11 am-3 pm, 7.30 pm-11 pm
Phone: 022-26402221
Sindh Pani Puri House
The Sindhi Camp in Chembur is famous for all kinds of snacks, but as the name of this establishment suggests, there's always a queue at Sindh Pani Puri House for their No 1 snack.
Where: Shop No. 13 , Chembur Colony, Dr Choitram Gidwani Road, Chembur, Mumbai, Maharashtra 400074
When: 4 pm – 10 pm
Phone: 088981 31313
Elco
Set up in 1968, Elco, now a landmark in the suburb of Bandra started out as a small pani puri place. While the restaurant serves all kinds of chaat, sweets and snacks such as dosas and samosas, it is their pani puri, also made using mineral water, that is a huge draw.
Where: 2/A, Elco Market, 46 Hill Road, Bandra West
When: 9.30 am–11.30 pm
Phone: 022 65157171
Karachi Sweets
Located off the buzzing Hill Road, where another prominent pani puri stop stands, Karachi Sweets serves all kinds of chaats and sweets. But the pani puri is what takes us back every single time. Made by Ramsurat Singh Chaudhary, a fine gent from Allahabad, Karachi Sweets has been dishing out the city's best pani puri for 35 years now.
Where: Shop No. 13, Home Land Apartments, Lane Opp Bandra Medical Stores, Hill Rd, Bandra West, Mumbai
When: 8.30 pm–10 pm
Phone: 022 26434905
Chandru Pure Ghee Sweets
This 28-year-old eatery in North Mumbai is known for its Sindhi snacks such as dal pakwan and kadhi, only available on Sundays. But every day, the biggest crowd gathers around their pani puri counter.
Where: 6, Shiv Shopping Centre, Opposite Pratap Society, 7 Bungalows, Andheri (West)
When: 8 am-9.30 pm
Phone: 022 26340278
Here's a recipe for making the flavoured water that goes into the pani puri at home