Sassy Spoon, in Bandra, is all set for Diwali; the Radio Bar introduces the Build Your Grill concept; and in Bangalore, Keventers makes a splash.
Mumbai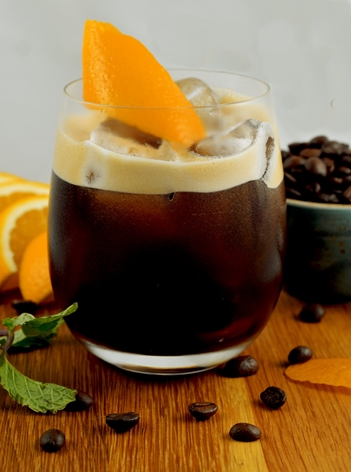 The zesty Morning Brew with its whiskey and espresso kick is a clear winner
The Sassy Spoon in Bandra was known for its charming décor, twinkling fairy lights and food that was a notch different than what you'd find at most eateries in the city. In its latest avatar, the Bandra outpost has been relaunched as a more chic-vintage space with faux bougainvillea flowers streaming down the outdoor seating area – giving an impression of a charming summer garden. The menu has been revamped and includes a bit of this and that, offering ample options for vegetarians and non-vegetarians alike. Start with the Green Apple with smoked Scarmosa and fennel beer ricotta melba, it's a warm hug served in a wide cup. Chef Irfan's take on our favourite baida roti – Murtabak with Indonesian style Chicken Rendang stuffing is flavourful, fragrant and perfect to pair with their drinks like Morning Brew (a zesty, caffeine rich mix of espresso, vanilla, whiskey and house-infused orange liquer) or the fizzy kokum-based Soul Cooler with lemon, green chillies and cilantro.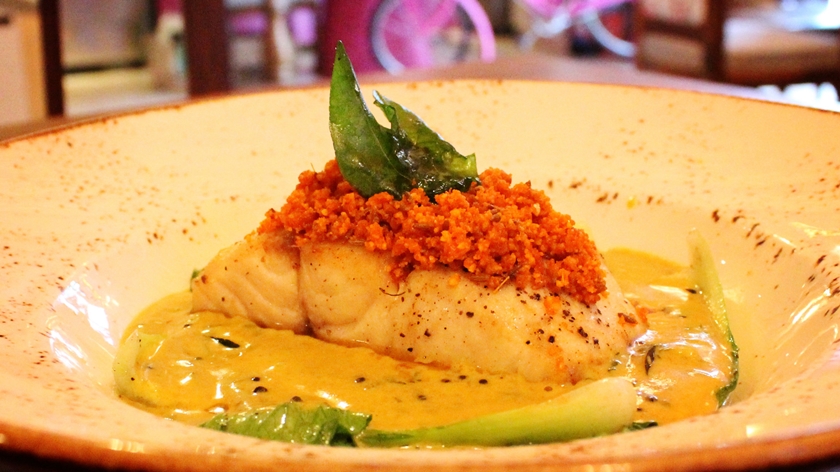 Peanut crusted rawas in a moily style sauce scores a solid 7/10 – flaky fish and light, aromatic sauce
The tagine of grilled veggies is worth a try- fresh veggies with herbed couscous but the coconut twist is a touch too much. We loved the Aglio Olio Risotto served with curried prawns and could make a meal out of that alone. For seafood lovers, there's a peanut crusted rawas on a bed of pak choy with a light moily style sauce – the fish is flaky and the sauce creamy, fragrant yet light. Defintely leave room for dessert – the Raspberry chocolate mousse is sinfully decadent while the Whisky Tart is loaded with rich dark chocolate and packs in enough hooch to have you giggling with delight. The PBJ Monster is finished with a light cream and is decorated with enough bells and whistles to get you those Instagram hearts.
Where: Classic Corner Building, Next to Holy Family Hospital, Hill Road, Bandra West
Call: 61054556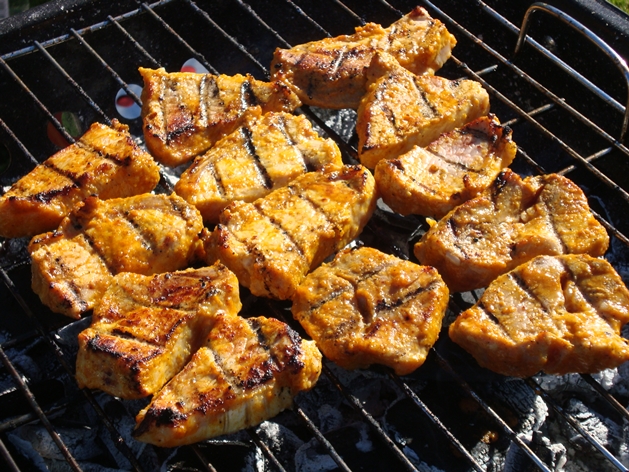 At Radio Bar, you can now pick your juicy cuts and have them grilled as you like. Source: David J/Flickr
Radio Bar in Khar has undergone a major overhaul and the inspiration comes from the Australian concept of Build your grill that's currently the rage there. This means that while you sip on rounds of beer at this chic pub, you can take a pick from the market bar and DIY your way through a selection of meats and ingredients for the grill masters to fire up. Those looking for easy bar bites have a list of 30 options to choose from or you could just give in to your carb craving and call for one of their thin-crust, stone oven-made pizzas. Vegetarians, have heart, the new menu has ample options for you to go town.
Where: 355, New Castle Hotel, Khar West, Khar
When: Oct 19 onwards
Call: 3996 7491
Bangalore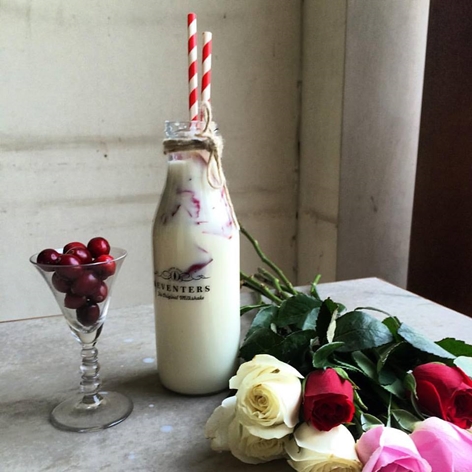 At Indiranagar's Keventers expect new and old favourites, like this Melting Roses. Source: Keventers/Facebook
Milkshake lovers in Bangalore, there's a perfect remedy for the October heat. Delhi's oldest and most loved milkshake place – Keventers has opened as a little takeaway kiosk at Indiranagar. On the menu are classics and modern 'shakes packed in cool bottles. Since it is a koisk, there isn't much to say for the ambience, except for the fact that they've paid ample attention to detail even in the little space – vintage knick-knacks and accents on shelves that add a bit of old world charm as you eagerly wait for your milkshake. Their classics aside, make sure to try the Choco Peanut Butter for all its nutty creamy goodness as also the Mint Oreo Crumble that packs in Oreo cookie bits and a refreshing mint flavour to soothe parched throats on a hot day. They also have sugar free versions of Cold Coffee for the health-freaks and we hear those 'shakes use sugar free ice-cream and deliver quite a kick with all that caffeine – a perfect end to a meal at work. Among newer flavours, the Bangalore outpost has Bubblegum and Strawberry Fields (strawberry and chocolate) are better suited to millenials. And unlike Delhi, no one frowns when you decide to take the signature Keventers glass bottle home.
Where: 949, 12th Main Road, Indiranagar, Bangalore
Call: 7204001455
Featured image: The Sassy Spoon Bandra's revamped interiors