Artisanal arrack is quite popular in England, and is used in cocktails. Photograph courtesy Rockland Distilleries
When my cousin travelled to Sri Lanka last month, I asked him to get me a bottle of good Sri Lankan arrack. I have always wanted to get my hands on a bottle since I had some at a friend's place on a muggy Mumbai afternoon many decades ago. We had the arrack with coconut water, the way the Lankans have it, and I found it to be a subtle, refreshing drink. As far as indigenous drinks go, I have been acquainted with toddy, mahua and even narangi, in a dustbowl in Bihar, but I have never really got to know arrack. But, as they say, better late than never, especially if you consider my advanced age.
Arrack is older than I am, older than all of us put together, and, possibly, the world's oldest distilled spirits. It was made and drunk mostly in South Asia, including India, Sri Lanka, Java and the Philippines. Here, of course, I am referring to coconut arrack, which is different from araq made from fermented fruits in Africa and the Middle East, and Indonesia's Batavia arrack, which is distilled from molasses. So, for those of you not in the know, what is arrack? Now, there are four wonderful things you can do with coconut toddy: drink it; cook with it; make vinegar out of it; and distil it to create arrack.
Over the years, various states in India have banned arrack, and then gone back on their decision, but there is no ambiguity about arrack in Sri Lanka, and the liquor still flourishes over there. The little island is the world's largest producer of coconut arrack, and a lot of it is fine stuff. Apart from Mendes, premium arrack is also produced by the Distilleries Company of Sri Lanka, International Distilleries and, among others, Rockland. The nearly 100-year-old Rockland is the last of the country's family-owned distilleries, and it was to them I turned to get a better understanding of the spirit.
"Arrack is the national spirit of Sri Lanka, and has been so from the days of our kings. It's to us what Scotch is to Scotland," says Amal de Silva Wijeyeratne, who helms Rockland Distilleries, which produces, among other spirits, Ceylon Arrack.
A fair few things go into the making of good arrack, says Wijeyratne. "Halmilla plays a key role in the ageing of arrack. It is Sri Lanka's hard wood, the equivalent of oak in Europe. It can be found in some parts of south India and in Sri Lanka. But the wood is only half the story. A pure 12-, 15- or 18-year-old arrack won't be the best straight off the vat. The art of distillation is of primary importance as well as the skill of the master blender."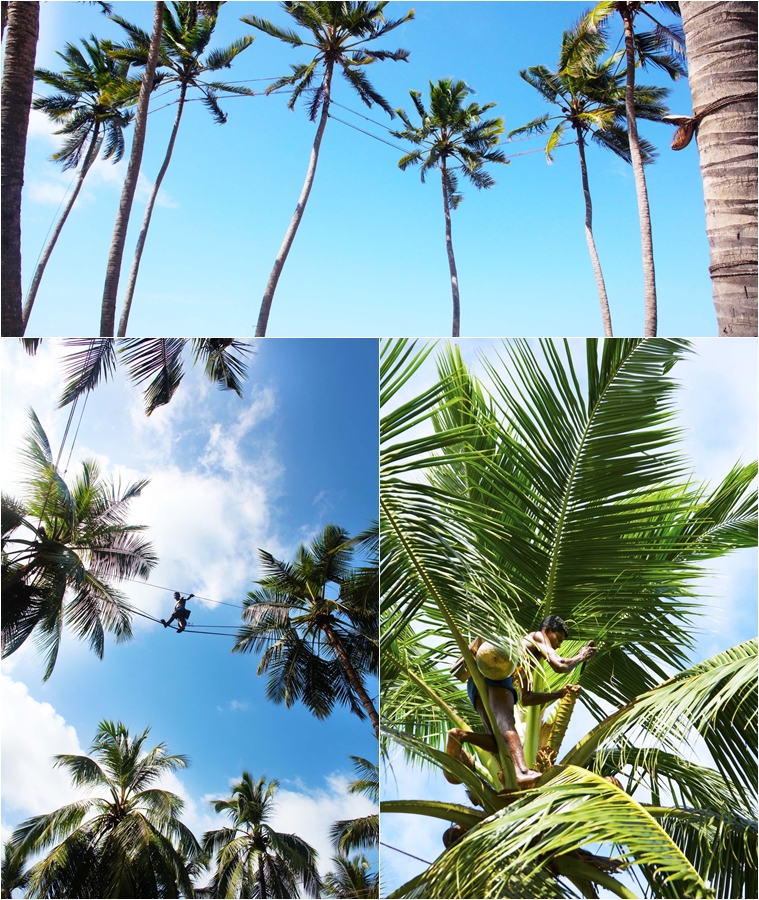 Arrack is made from the fermented sap of coconut flowers. Photographs courtesy Rockland Distilleries
Over the last five-odd years, Ceylon Arrack has served notice abroad, especially in the UK, and it can be found, says Wijeyratne, in chai cocktails and champagne cocktails in upmarket Indian resturants such as Dishoom and Hopper. Rockland's arrack is also used in the making of punch, and that is not surprising since historically arrack was the base spirit for punch. Wijeyratne has a few tips in case you are going to be in Colombo or Galle sometime this year. He wants you to steer clear of congeners and flavourings, and have arrack, especially his brand, with coconut water, or ginger beer/ale.
When my cousin sent the bottle across, I was all agog with excitement. He had picked up the Mendis Founder's Reserve, aged for 15 years. I got some ginger ale, organised coconut water and chilled it, and set about preparing for a languid evening. The Mendis Founder's Reserve has a fruity nose, and is decidedly more complex than you'd expect arrack to be. It was also pleasantly smooth, and reminded me of a good rum, and, maybe, cognac. I had my first drink with ginger ale. Then, I poured some more Mendis into my glass, topped it up with chilled coconut water, and, as I sipped the smooth drink, I remembered an afternoon from my youth.
Ruby Punch
Ruby Punch, a recipe first published by master mixologist Jerry Thomas in 1862, has stood the test of time, its imaginative blend of Port wine, lime and tea proven irresistible to drinkers throughout the decades.
Ingredients
Whole punch bowl
700ml – Ceylon Arrack
280ml – Taylor's Ruby Port
280ml – Fresh lemon juice
210ml – Sugar syrup
1,050ml – Black tea, brewed and cooled
Method
* Shake all ingredients together with ice and then strain over fresh ice. Ruby Punch can be made as a one-off cocktail, but it's more fun to make a large batch.
* Serve from a generously sized punch bowl.