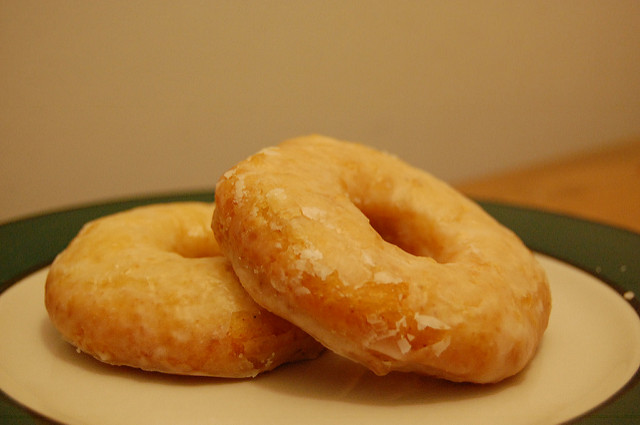 Move over the classic glaze, there's a new player on Instagram Source: stu_spivack/Flickr
From rainbows to sushi, donuts seem to be an extremely versatile treat if you're looking to bust your creative chops. Forget sprinklers that take you back to your childhood, bakers the world over are going crazy making the galaxy donut. Yes, the donut glaze gets a celestial makeover this time, featuring a smattering of stars in all sorts of colours and patterns. Also referred to as "Nebula doughnuts", these starry delights have quickly found favour with Instagram foodies who, until now were obsessed with all things rainbow. The galaxy trend isn't new; there have been appearances in fashion a few years ago with stardust patterned dresses and the like. But someone got a brainwave and adapted the trend to everyone's favourite snack.
Making the star-studded glaze takes a bit of finesse with food colour and edible glitter, and if you've got your icing basics right, whipping up a batch (using store-brought doughnuts or homemade variants) isn't too much of a task. In fact, San Murphy, an Instagrammer has created a vegan recipe for these doughnuts which has captured many a heart and inspired several home-bakers and bloggers to create their own versions. Murphy cautions about the prep being the most crucial step to this icing – you need to have an understanding of the right colours and their saturation. Once that is taken care of, all you need to do is play around with different food dyes in a bowl of icing, swirl with spoon or toothpick to make patterns and dip your doughnut into the icing. A dusting with edible glitter or confectioners' sugar completes this nebulous creation.