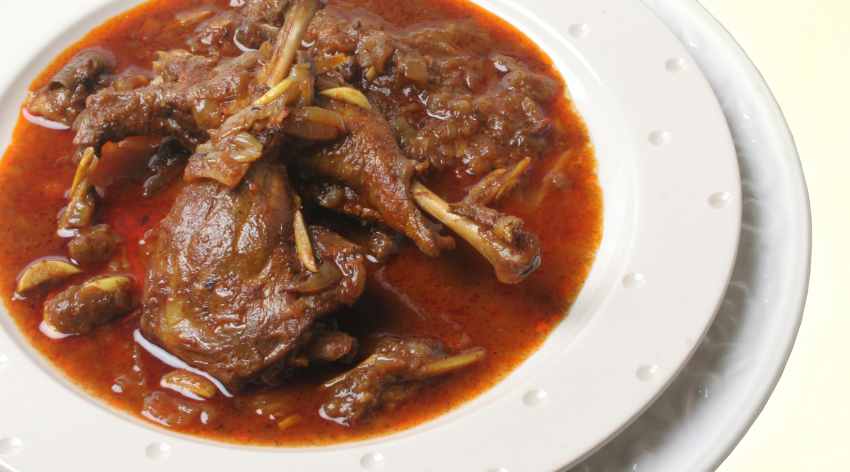 Photograph by Michael Swamy
The moile is traditional recipe, most made by East Indians. It's usually made with meat. But, during Christmas and Easter, duck comes into the picture. I learnt this recipe many years ago from my grandmother Ethel da Silva. She was a pretty good cook, and would it make it a point to have the whole family at the table whenever she cooked this dish. And, she did that usually around Christmas. She would be there when the duck was bought; she would clean it carefully herself, and would supervise the singeing of its feathers, and would marinate it. She was also most particular about the quality of the bottle masala that would be used for the dish.
The bottle masala, as most people would be aware, is a uniquely East Indian thing, and justly famous around Mumbai. This blend of 36 spices is something special for East Indians and differs from village to village and family to family. It is usually made in summer, and while nowadays there are a few places which sell bottle masala, making it on your own, I believe, is still the way to do it. This spicy mix, which I consider a family heirloom, is what made all the difference to the duck moile, and contributed to the flavours that linger in my mind. I can still remember the aromas wafting from the kitchen, my granny setting the table, and the family taking their seats around it. It is among the things that made Christmas really special for me as a child.
Michael Swamy is a Mumbai-based chef and the author of, among others, The East Indian Kitchen
(WATCH) How to make duck moile
Duck Moile
Serves: 4-6
Ingredients
1 kg duck
4-6 tbsp ghee/oil
3 medium onions, sliced in rings
12 garlic flakes, sliced in fine julienne
1″ piece of ginger, sliced in fine julienne
6 green chillies, sliced in fine julienne
2 tbsp bottle masala
750 ml chicken stock
60 ml brown palm vinegar
1 teaspoon    salt
1 teaspoon    black pepper powder
Method
Wash duck and cut into 16 pieces.
In a pan, heat oil and sauté onions over moderate heat, till golden brown.
Add garlic, then ginger and chillies and sauté till fragrant.
Mix in bottle masala and fry well, till ghee/oil separates from it. Sprinkle in a little water if required, to prevent burning.
Add duck and fry on high heat to seal the pieces. Stir for 5 minutes before adding the stock.
Bring to a boil, lower heat and allow to simmer for 1 hour.
Add vinegar, salt and pepper in the last 5 minutes of cooking.
Serve hot with crusty bread or steamed rice.
Variation: Use chicken in place of duck.