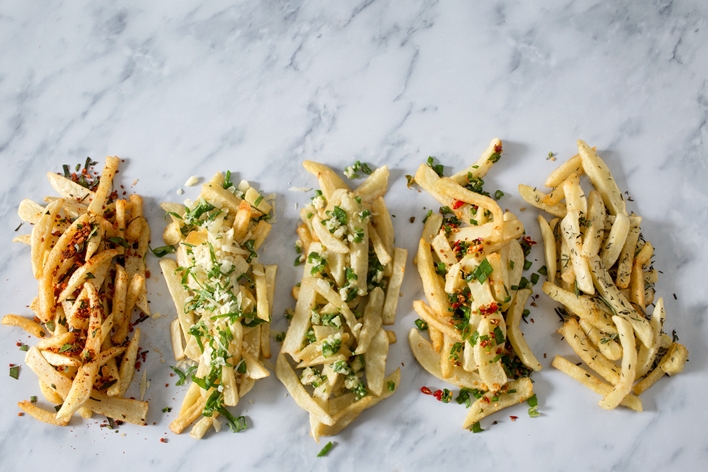 Kaboom serves 5 different types of fries, one for each day of the week
There's something about fries that sets the taste buds drooling, just a mention is enough. Whether you like simple French fries, dressed with a bit of spice or a whole load of cheese, nothing says junk food goals like fries does. So we've got a list, that every fries-lover worth his salt (pun unintended) must get his hands on in Mumbai.
Parm Fries, Kaboom
The Kamala Mills and Lower Parel outposts of Kaboom have a unique concept – an international menu (replete with a mascot) for every day of the week. This means, that you get to sample five different types of fries to get you through munchies at work. Out of the abundance served here, we are fans of the Parm fries (served evert Tuesday) that are decorated with Parmesan cheese and just the right amount of salt. On days when we feel less indulgent (read guilty) we find solace in a serving of Middle-eastern style Thyme rosemary fries that are aromatic and light.
Where: Unit no. 13, B Wing, Trade World, Gate no. 2, Kamala Mills Compound, Lower Parel
Cost: Rs 120
Animal Fries, 145 Kala Ghoda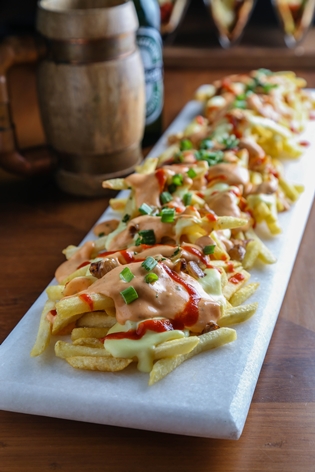 If like us, you prefer your fries with a lot of spice and a whole load of all things nice, call for a community-style serving of Animal Fries at this chic Kala Ghoda cafe. Stir fried onions and a generous drizzle of Sriracha sauce transforms regular salted fries into something quite magical and soul-satisfying.
Where: 145, Kala Ghoda, Fort
Cost: Rs 410
Pulled Barbecue Chicken Loaded Fries, Three Chicks and a Bear
If you're looking to make a meal out of fries (frankly, who wouldn't), a plateful of Loaded fries at this cheery Lower Parel eatery is the man for the job. Served in a skillet, these perfectly golden babies have juicy barbecue pulled chicken and an insane amount of cheese that will have your taste buds pleased in every single way. We're also fans of their home fries that are thrice fried, have their skin intact and are lightly seasoned with their special spice mix.
Where: Lodha Supremus, Survey 453, Senapati Bapat Marg, Railway Colony, Lower Parel
Cost: Rs 240
Crispy Chili Potato, Mamagoto
The fries at Mamagoto are a play on texture and flavour. Crisp on the outside, these wok tossed potato delights are seasoned with scallions, bell peppers and a special mix of Chinese spices. They're tangy, spicy and sweet, all at the same time which means we'll be calling for repeats.
Where: B 40, Unit 1 -5, Patel Commercial Premises Cooperative Society Ltd, Opposite City Mall, New Link Road,Andheri West
Cost: Rs 269
Chilli Cheese Fries, The J
Ask any student in Churchgate where to score some junk food that doesn't burn your pocket, chances are they'll direct you to The J. A haven for fries-lovers, the Chilli Cheese Fries have remained consistent in taste all through these years. Served in cheese jalapeno and fiery chilli garlic sauce, these can best be described as a flavour bomb. The sauce has a tendency to make the fries slightly soggy in a bit, so ditch that Instagram/Snapchat post and get busy polishing off the sauces off your fingers. They also have these available as wedges, which is kind of the same thing, but just feels a whole lot better.
Ps: Pizza fries marinated in marinara sauce with grated mozzarella and liquid cheese jalapeno sauce are also something you can try.
Where: 3, Vaswani Mansions, Dinshaw Vachha Road, Opposite HR College, Churchgate
Cost: Rs 100
House Fries, Doolally
If there's something that Doolally does right apart from their amazing selection of craft beers, then it has to be their House Fries. Thick cut chips, salted and perfectly golden, these are served with five dipping sauces. Yes, five sauces – sambal, chimichurri, wasabi mayonnaise, herbed cheese and aioli. We can't think of a better partner for all that beautiful beer.
Where: Shop No. 5/6, Geleki, ONGC Colony,Reclamation, Bandra West
Cost: Rs 250