The no-junk pizza made of buckwheat flour, coriander pesto and topped with grilled vegetables and popped lotus seeds
If you've eaten at any of the old-school Mumbai restaurants such as Laddoo Samrat, you would know that dishes on their upvaas (fasting) menu such as sabudana vada (sago fritters) are available through the year, catering to the many Maharashtrians and Gujaratis who fast every week. Unlike in North India where those who observe a religious fast restrict their diet to fruit and dried fruits, the West has a vast and distinctive menu that it is truly ambrosial.
This week, a food festival inspired by the tradition of shravan or the time of fasting, begins at JW Marriott Sahar. "There is a science behind what people eat during the fast," says Vishal Atreya, executive chef of the hotel, whose team collaborated with food consultant Rushina Munshaw Ghildiyal for the fest. "It was an attempt to go local and explore both local traditions and ingredients," adds Atreya of the 10-day Fasting Feasting festival that begins tomorrow.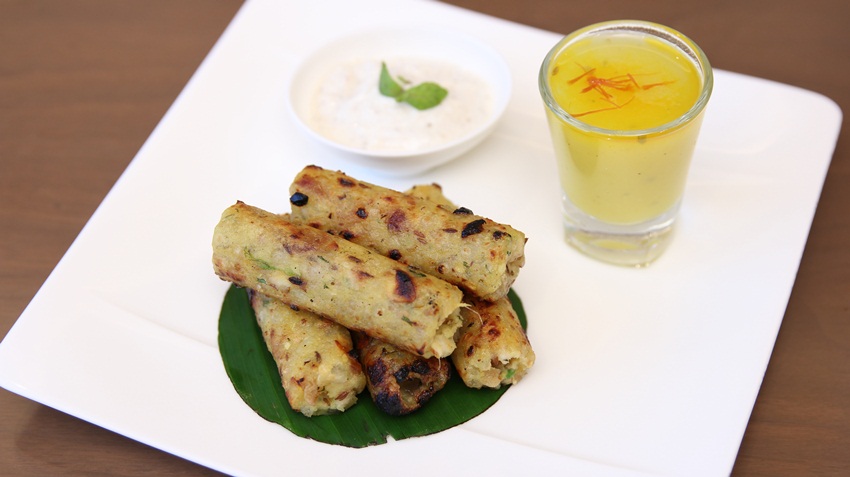 Sabudana seekh
The team visited restaurants such as Soam in Babulnath and Vinay Health Home in Girgaum to sample farali khana or fasting food. "It was great working on this because we used ingredients such as singhade ka aata and kuttu, which are actually very good for health and are not recognized as mainstream foods." Cooking for the festival could have been tougher than any MasterChef pressure test, but Ghildiyal tells us that Atreya's team not only made traditional dishes but also put a spin on international dishes such as pizzas and burgers.
There are some 150 ingredients including staples such as garlic and onion that cannot be used when you cook during shravan, but this was also the reason cooks turned more innovative, says Ghildiyal. "While growing up, I remember that both my dadi and nani used to fast and I was fascinated by the food they ate," says Ghildiyal, "While dadi's food was functional, nani used to make food that could make any child happy. This was also because all the food that you ate when you were on a fast had to first be offered to the gods and nani used to worship the bal swaroop of Krishna (the mythical Hindu god's avatar as a child)." One of the happy-making things Ghildiyal recalls was the "kandh ni packet": purple yam stuffed with a coconut filling that was tasty and "incredibly pretty to look at."
Chef Atreya believes that some of the dishes on the menu will make for fantastic snacks. "They could be handy bites between two big meals." Here are some dishes that we recommend
Buckwheat pizza
The base is made of buckwheat (singhade ka aata), there's a coriander pesto sauce in it with grilled vegetables and fried lotus seeds for toppings. This is a pizza that even your great grandmother would approve of and if you're a fan of food journalist Michael Pollan, you know that this is a good pick.
Barnyard Millet Arancini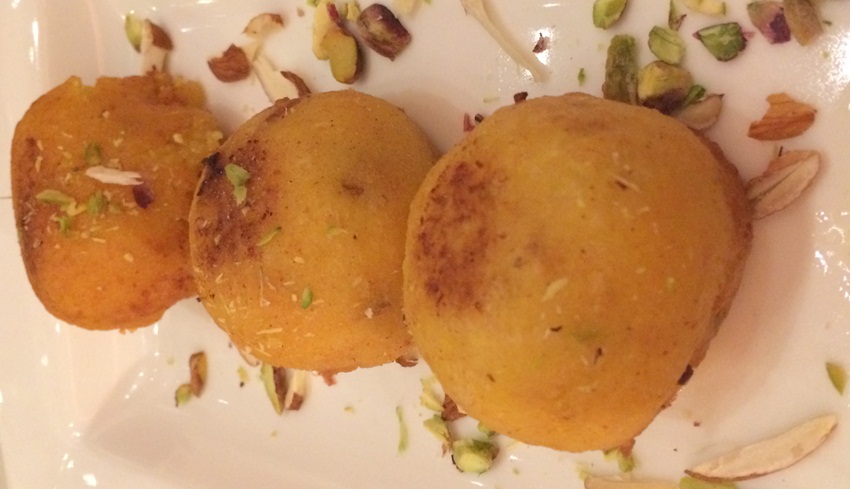 Baryard millet or samo, also known as vrat ka chawal is rarely cooked in urban homes today. Lower in calories than rice and higher in nutritional value, samo features as a dessert in the Fasting Feasting menu. It's been cooked Italian-style into a sweet arancini with a jaggery, ghee, saffron and pistachio filling that is covered in barnyard millet flour and fried. Not so low on calories anymore, but it's better than processed junk.
Sabudana seekh
This is sheep in a wolf's clothing. It might vaguely look like a kebab but you know it's nothing like it. To its credit, the sago pearls have been intricately stuffed, mildly spiced and when eaten hot with a mint chutney, the sabudana seekh makes for a great snack. The best part is that it isn't soaking in oil like most sabudana dishes.
Sitaphal milkshake with saffron ice cream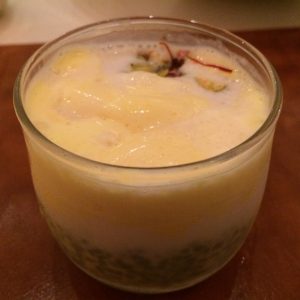 So this is a mini falooda without the vermicelli. Go for the sitaphal milkshake along with holy basil seeds and ice cream if that's the only dessert that you'll be eating. Did anyone say fasting again?
The Fasting Feasting festival is on from August 3-12 at JW Marriott Sahar, open only for dinner between 7pm-11 pm.