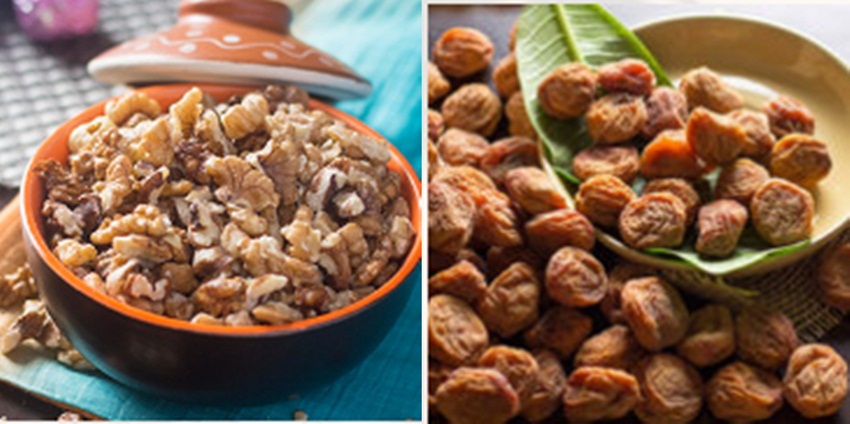 Photograph via Original Indian Table
If you're a locavore, chances are you'll love the Mix Diwali Gift Box from Original Indian Table, a website launched earlier this year that retails indigenous produce straight from the farmers. So instead of the usual mix of ghee-laden sweets, you can try the Mix Diwali Gift Box that contains walnuts from Himachal Pradesh, black sesame seed jaggery bites  from Gujarat, Himalayan lemon rind rock salt from Uttarakhand, 5 rice blend from West Bengal plus millets and rice chevdo from Tamil Nadu.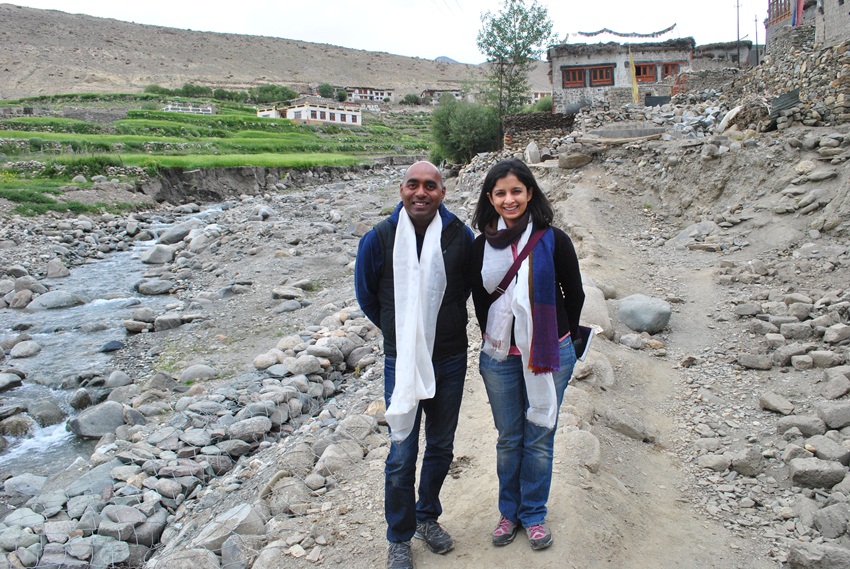 (left) Puneet Jhajharia and Ishira Mehta of Original Indian Table in Ladakh. Photograph via Original Indian Table
Original Indian Table is the brainchild of Ishira Mehta and Puneet Jhajharia, who both quit corporate jobs to set up CropConnect, a startup that connected farmers to urban markets, in 2013. But beyond linking farmers, CropConnect took on the larger responsibility of reviving and promoting locally-grown food such as jamun powder from Jharkhand and black rice from West Bengal and Karnataka. "Currently, we source from 13 farmer groups working with over 8,000 farmers across nine states. Four of the farmer groups are women owned of which we are particularly proud," says Mehta in an email, "Through Original Indian Table we want to empower and incentivise millions of small holder farmers in India to grow indigenous crops that are not only better for their soil, but also more nutritious for our consumers."
One of the most disconcerting trends that the Original Indian Table team noticed was a decline in the health of farmers and their families because cash crops have taken over their farms instead of nutrient-rich local crops. Says Mehta, "We were recently in Jhajjar district, Haryana doing a mapping study in association with one our partner farmer groups on traditional cropping and diet patterns and their change and impact over time. The study revealed severe health challenges due to wide-scale cultivation of cash crops at the cost of nutrition rich local crops for e.g. Chickpea which was the largest source of protein in this vegetarian belt is rarely grown anymore as most farmers have shifted to cash crops like paddy using heavy chemicals. This protein deficiency has led to massive health challenges in the local population like weakening muscles and bones."
The trip was an eye-opener in that it demonstrated the link between agriculture, health and tradition. "This link and Indian traditional wisdom of "food is medicine" is what we endeavour to revive through Original Indian Table," says Mehta. The website, which started retailed locally produced foods with four curated boxes, has now launched over 15 products including a range of diabetic-friendly products for customers who suffer from diabetes or maybe prone to the disease. Restaurants such as Kala Ghoda Cafe and Bombay Canteen in Mumbai and Olive Bar & Kitchen in Delhi, also source a range of products from Original Indian Table.
The big goal is to change how Indians eat. "Our goal is to have more indigenous products like millets and varieties of rice on people's table on a regular basis instead of a special occasion or during a fasting period," says Mehta.
To order, log onto originalindiantable.com