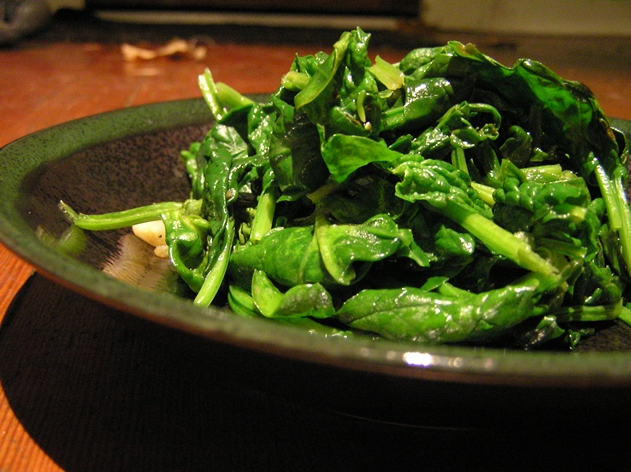 Sauteed spinach with garlic is an easy, quick dish to have with grilled meats. Source: Laurel F/Flickr
We've all grown up seeing Popeye empty an entire can of spinach before taking on his nemesis. And Popeye actually did it right – as one of the easiest available greens, spinach is full of healthful goodness, has a neutral taste and is extremely easy to store as well. The high iron content is one of its biggest USPs for health freaks, runners and gym rats alike. While we strongly would advise including spinach as a part of your healthy diet, there's no need to forgo on the taste factor while eating right. And we all love our saag paneer, but there's only so much of it that you can have. Here are four easy, hassle-free ways to sneak spinach into tasty dishes.
Spinach pesto
Whether you're loading up on carbs for a heavy workout session or simply enjoying a plateful of pasta for the joy of it, give spinach pesto a shot. It's just as easy as making the classic pesto but brings in a whole load of nutritive value to reduce some of that guilt from adding a touch too much cheese.
Watch this video on how to make spinach pesto in just 5 minutes.
Spinach tomato basil soup

One of the simplest ways to include spinach in your diet is to add it to soups. If you're the type to prepare meals in advance, the spinach tomato basil soup makes for a great meal option. The addition of spinach and cheese makes for a filling meal, and you'll probably only need a slice or two of whole wheat toasted bread as a side.
You'll need: 6 tomatoes (pureed), 2 tbsp butter, 1 large onion chopped, 1 tsp minced garlic, 1.5 cups milk, 1 tbsp sugar, 2 cups fresh spinach torn, 1/4th cup chopped fresh basil, ½ tsp salt, 1/4th tsp freshly ground black pepper, 1 tbsp grated parmesan cheese.

Directions: Melt butter over medium heat, saute onion and garlic for 3 minutes. Stir in milk and cook for another 2 minutes, stirring occasionally. Add in tomato puree and sugar, mix well and bring to a boil. Reduce heat to low and simmer while keeping the saucepan covered, for 5 minutes. Add spinach, basil, salt, pepper and simmer uncovered for another 2 minutes while stirring occasionally. Sprinkle with Parmesan cheese while serving (optional).
Spinach-fruit smoothie
Whether you're running late for work and don't have time to sit and have breakfast or need to refuel with healthy options as a part of your diet plan, a smoothie is easy, quick and very difficult to mess up. Try the spinach banana smoothie the next time you're assembling ingredients – it tastes good, and makes for a wonderful base with almost any kind of fruit you fancy, from simple bananas to strawberries to mango, pear, apples – the combinations are endless.
Watch how to blitz up a spinach banana smoothie in a jiffy

Quick pan-tossed spinach
When cooking with spinach as a main ingredient of a dish, make sure you do not move it around much in the pan. Simply warm cooking oil in a pan, add in several handful of spinach and let it wilt with the heat. Use a pair of tongs to turn it over. Add 3 cloves of fresh minced garlic, season with fresh lemon juice or any other acidic dressing like balsamic or cider vinegar. Season with salt and pepper, remove from heat and serve hot.
Watch how to make it here