SBOW Mumbai's menu will include dishes from a face-off between a 'saas' and 'bahu'
There's a lot of Parsi stuff happening at restaurants across the country for Navroze, or Parsi New Year, which falls on August 17.  And, if you are in town over the weekend, you don't have to wait for the actual day to gorge on some sumptuous Parsi food. In Bangalore and Delhi, SodaBottleOpenerWala's non-vegetarian bhonu includes a sweet and sour brinjal pickle, Saria, the Parsi papad, a classic Salad Shirazi, Chutney eeda na pattice (egg pattice with a dab of green chutney), Masala ni dal and Kachumbar and Jardaloo chicken among others. The Vegetarian Bhonu has a  Beetroot cutlet, Vegetable Pulav and a Brinjal and drumstick curry in place of the non-vegetarian items. In Mumbai, they are getting a mother-in-law to face off with her daughter in law. The 'saas' is journalist Bachi Karkaria and the 'bahu' is Akshata Karkaria, the bakery and R&D chef at SodaBottleOpenerWala.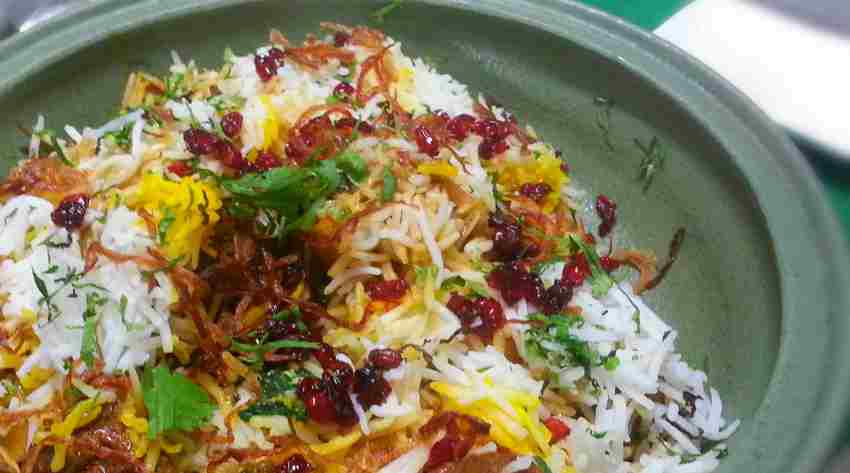 Mutton Berry Pulao at Cafe at the NCPA
Bachi will be cooking a Tarela Souffle and Gos (mutton) no saas , while Akshata will offer her brilliant Russian enthu cutlet (chicken), and Shepherd's Pie among other dishes. The dishes made by the two 'rivals' will feature on the SBOW menu until August 21. Meanwhile, at the Cafe at the NCPA, chef Farrokh Khambata is hosting a grand feast (Rs 1950) that, apart from classic Parsi non-vegetarian dishes, will also have Patra nu Paneer, Pankho crusted Cottage Cheese, and Titori in Green Masala.