Special chicken bhujing at Agashi Bhujing Centre in Virar. Photograph via Agashi Bhujing Centre's website
Almost five kilometres away from the cacophony of Virar station is Agashi Bhujing Centre, a no-frills eatery with no seating. They don't have a menu card, but you don't need one. The hungry queue up here for one dish: Chicken bhujing. Full of flavour, chicken bhujing is spiced and roasted chicken tossed together with beaten rice (poha) and served with a side of sliced, raw onions and a piece of lemon. "My grandfather, Babu Hari, was a 'tadi' (palm toddy) vendor and created the dish at the behest of customers looking for a spicy, flavourful starter – this was in 1940. It was my father, Sudhakar Babu Gawad, who started this bhujing centre and we haven't made any changes to my grandfather's recipe," says Chirag Gawad, the third-generation owner of the eatery.
While the bhujing is available in four different varieties – chicken, mutton, chicken boneless and chicken special – the recipe for the famous chicken bhujing stands out. A special masala that has been hand pounded lends it its unique taste. And it is quite a tedious process too – eight steps to be exact – we're told. The meat is first marinated in the special spice mix which includes turmeric, cumin and coriander powder, and is skewered along with a few potato pieces. A large brick kiln with hot coals cooks the meat – this is the 'bhujne' (roasting) process of the dish which gave it its name – a strong British influence was responsible for the addition of 'ing' to the name. Shallow frying with onions is next, and the meat is set aside for serving.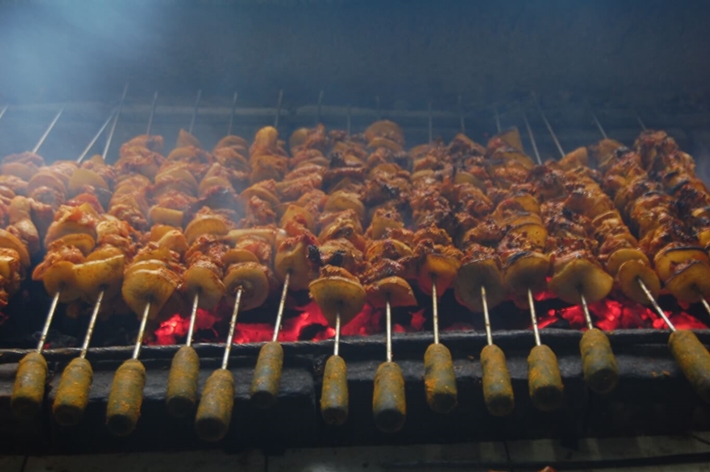 Skewered chicken and potatoes being roasted over a coal-filled brick kiln.  Photograph via Agashi Bhujing Centre's website
How does the dish finally come together then? The roasted chicken is reheated, and fistfuls of beaten rice are added along with a generous dash of garam masala (cinnamon, red chilli powder, cardamon, and coconut). The beaten rice and chicken are tossed together. The heat from the chicken cooks the poha just enough. Spicy, meaty and flavourful, Gawad claims that other restaurants have tried to copy his grandfather's recipe, but his is the real deal. "We don't serve by plate, the minimum quantity you can buy is half a kilo," adds Gawad. A kilo of the signature chicken bhujing will set you back by Rs 320 and we think it's absolutely worth the price and the trip all the way to Virar.
Where: Shop 3&4, Shrutika Apartment, Agashi Bhandarwada, Virar West, Virar,
When: 8am to 1pm, 4pm to 9pm
Call: 8888199009