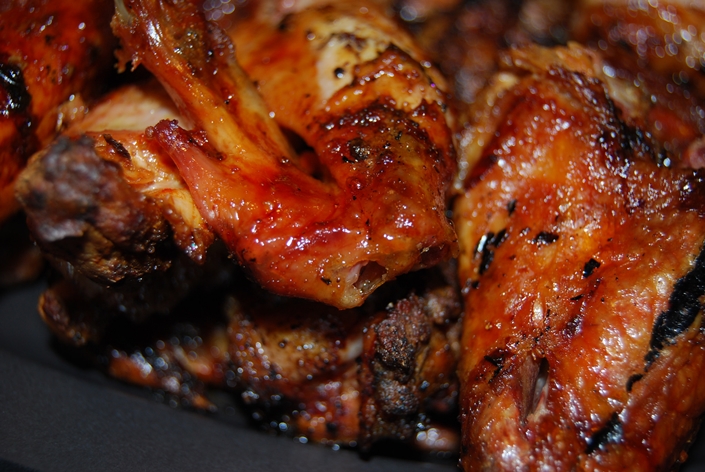 Image source: dirtsailor2003/Flickr
Every meat lover enjoys chicken wings that are equal parts greasy and spicy. For loyalists, it is the sticky-succulent goodness of the sauce that separates a decent dish from a great one. For those looking to up their chicken wings game, a bottle of Sriracha is the answer. The spicy, fiery red hot sauce of Thai origin has the perfect balance of heat and colour for beautiful-looking chicken wings. Of course, the dish isn't for the faint hearted and must come with its fair share of warning. But for those who love spice and are in the quest for some A-grade flavour, these chicken wings are what you need to try.
Ingredients
10 chicken wings, split to create 20 wings – 10 mini drumsticks, 10 winglets
For the glaze
4 tbsps honey
2-3 tbsps sriracha sauce
Juice of 1 lemon
4 tbsps soy sauce
Instructions:
Pre-heat oven to 200°C
In a bowl, combine all the glaze ingredients and mix well.
Add chicken wings. Toss well, using hands to coat all the chicken pieces. Set aside for 10 minutes and allow the chicken to marinade.
On a non-stick or greased baking tray, place marinated chicken wings and spoon a small amount of glaze over each wing.
Transfer tray to pre-heated oven and allow to bake for 20-25 minutes.
Take the remaining glaze in a small saucepan and whisk over a low flame, for 2-3 minutes until the glaze gets thicker in consistency.
Turn the wings halfway through the baking time to cook evenly. Use the thickened glaze as a basting paste and spread over the pieces evenly.
Remove wings from oven when they're cooked through and have a sticky coating on top. Cool for 5 minutes before serving.
Note:
Make sure to cover hands with plastic gloves when folding the chicken in the marinade mix
You can also add chilli jam to add a slightly sweet flavour to the glaze
Recipe source: simply-delicious-food.com/