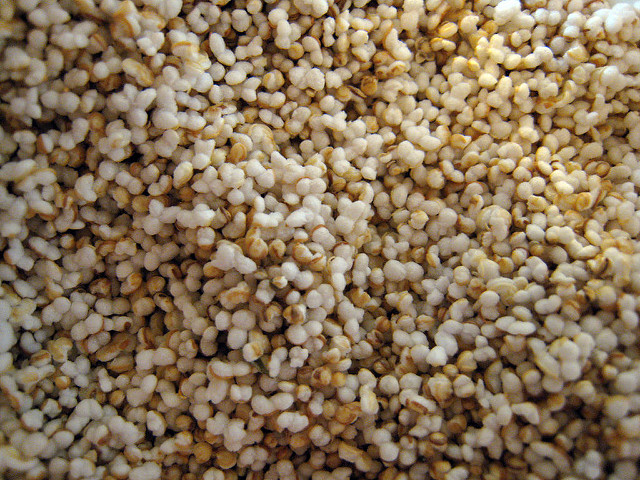 Amaranth seeds are highly sought after for their high protein, high calcium and gluten-free properties. Image source: John Lambert Pearson, flickr
Amaranth or rajgira has gained massive popularity in recent times, owing to the whole super food fad that's captured the fancy of health nuts all over the world. An ancient seed – yes, it's a seed, not a grain – amaranth was cultivated by the Incas of South America first. Despite their diminutive size, the seeds pack in almost three times the average amount of calcium, and is also high in iron, magnesium, phosphorus. Unlike other grains, it is a rich source of lysine which is an essential amino acid. The health benefits of amaranth are many, and include healthy heart, skin, bones. Packed with fibre, these high energy seeds are ideal for diabetics as well as those looking to shed some weight. Moreover, they're completely gluten free, making them an ideal choice for those with a gluten intolerance as well as people who wish to exclude excess gluten from their diets.
Amaranth seeds have a fairly neutral taste and have remarkable adaptability when it comes to incorporation with a variety of dishes. Cooking with amaranth isn't all that difficult and we've picked out a few dishes that you can start off with.
Amaranth with walnuts and honey
The high fibre content in the seeds makes them a perfect pick for a power-packed breakfast dish. Moreover, the recipe is extremely simple and you can rustle it up within minutes. Addition of walnuts and honey only serves to amp up the nutritive content, giving you omega-3 fatty acids, essential minerals plus a natural substitute for sugar that's full of antioxidants and immunity-boosting compounds.
Mixed daal with amaranth seeds
Loaded with legumes, this daal ought to go on your balanced meal chart. A mixture of daals like moong dal, split bengal gram, red lentils are good enough to get you started. A cup of amaranth seeds takes the nutritive content of the dish to whole new levels. Amaranth seeds are extremely tiny in size, so make sure you use a fine sieve to drain the water after washing. Seasoned with ginger, green chilli and mustard seeds, the daal is a comforting, easy recipe that doesn't need elaborate cooking skills.
No-bake amaranth cereal bars
For gym rats looking to refuel post workout, or munch on something healthy between meals, this cereal bar is a fuss-free recipe. It's loaded with healthful goodness from fibre-rich, low calorie oats, nuts, chopped dried fruits and peanut butter along with honey. Hand made peanut butter is easily available and would be an ideal substitute for the colour and calorie packed store bought stuff. You can also throw in a 3 tablespoons each of roasted pumpkin seeds and sesame seeds for added flavour and nutritive value.
Amaranth soup
For most people watching their weight, dinner is usually a light soup with a piece or two of whole-wheat bread. You need not restrict your soup meals to just a three or four variants. Amaranth soup is easy to make and the tomato puree base adds a lot of flavour to a healthy recipe.