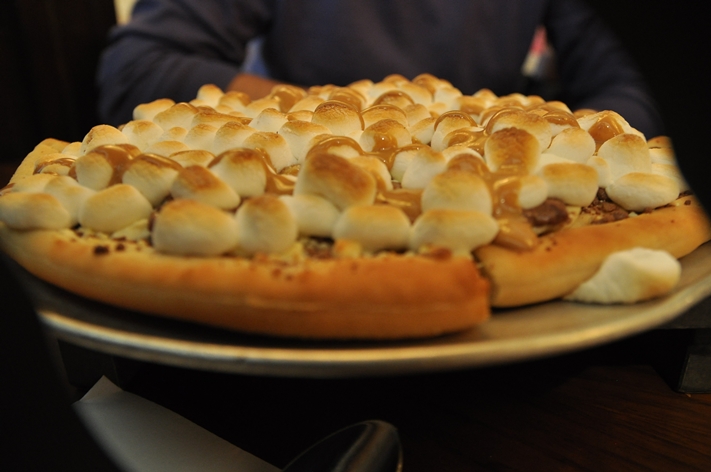 Toppings for dessert pizzas vary from chocolate sauce to s'mores. Image source: Krystal Nina Laigo/Flickr
For most of us, pizzas mean a crisp bread pie topped with sauce, meat (or veggies) and oodles of cheese. In recent times, the trend of adapting savoury food to sweet has caught on and the pizza is no exception. The pizza has crossed over to the dessert side and has found takers all over the world. Because, who in their right mind will refuse pizza for dessert, right?
A quick look at Instagram feeds and popular hashtags on the platform will reveal the multitude of combinations existing for dessert pizzas. Think Napolitan pizza crusts slathered with decadent chocolate ganache or a thin, crisp crust topped with sprinkles, chocolate chips and a dollop of ice cream. It does not stop here, patissiers the world over are experimenting with a bunch of ingredients and some of the most popular toppings include marshmallow, dark chocolate sauce, Oreo cookies, sprinkles, fresh fruit with cream, among others. The trend, thankfully, has made its way to the city and we've found just the right spots in Mumbai to go and sate your dessert pizza craving.
1441 Pizzeria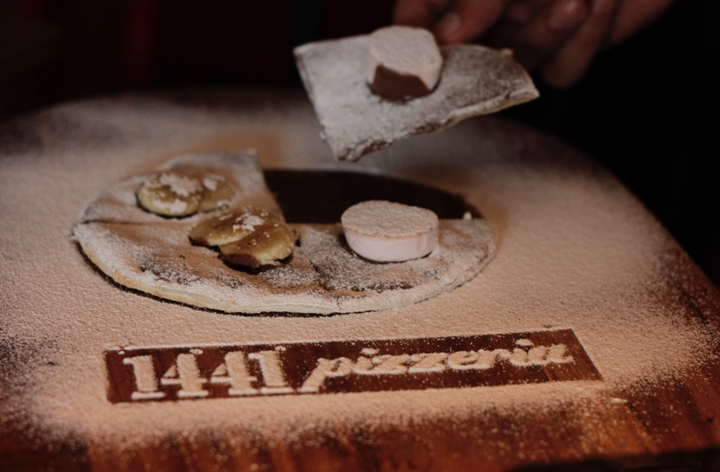 Kala Ghoda's gourmet pizza joint pays homage to all things Italian with its Nutella pizza. Served warm, the pizza base here is generously topped with the sinfully good hazelnut spread. Melted marshmallows, seasonal fruits and a dusting of confectioner's sugar only serve to make a great dessert even more indulgent.
Where: Ground Floor, 5, 58/64, Hari Chambers, S B Road, Fort, Mumbai
When: 11 AM – 11 PM
Call: 022 6502 1441
The Rolling Pin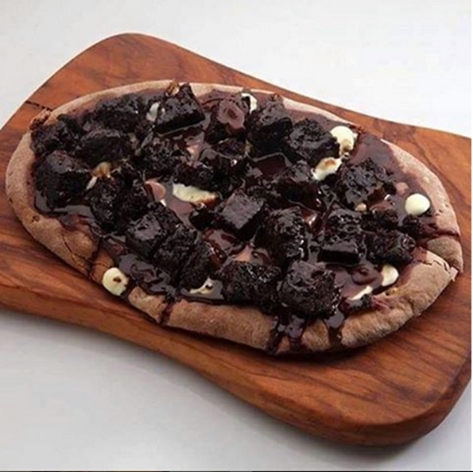 Lower Parel's favourite boulangerie and patisserie is famous for its chocolate creations and their dessert pizza does not disappoint. Perfect for chocolate addicts, the Chocolate Pizza here is packed with all the good stuff– there's rich chocolate sauce, chunks of chocolate brownie plus white and milk chocolate chips for added measure.
145 Kala Ghoda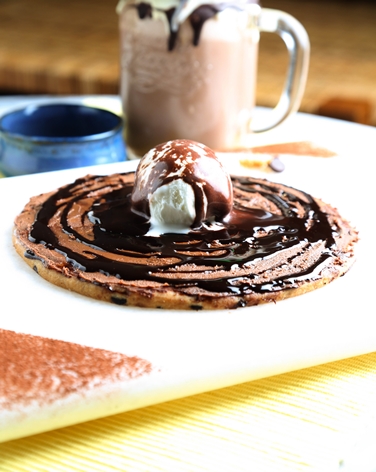 At 145 Kala Ghoda, the dessert pizza marries cookie dough to make all your calorie-loaded dreams come true. Drizzled with Nutella, the "pizza crust" is a rather large chocolate chip cookie and is served with a dollop of ice cream to help you slip into a sweet food coma.
Where: 145, Kala Ghoda, Fort, Mumbai
When: 12pm to 1:30am and 10am to 1:30am on weekends
Call: 022 40396638
Love and Flour by Sarah Patka

Mumbai-based homebaker Sarah Patka (@loveandflour on Snapchat and Instagram) takes the dessert pizza a step ahead by allowing you to DIY your way through your dessert order. Go crazy with toppings like KitKat, Oreo cookies, Twix, chocolate flakes, chocolate chips or what have you.Available in flavours like Nutella, s'mores, peanut butter and Belgian chocolate, the crust is a deep dish chocolate chip cookie base. Love and Flour is delivery-only and it's best to place your order with a prior notice of at least two to three days.
Where: Delivery-only, between south Mumbai and Jogeshwari
Call: 9930152303