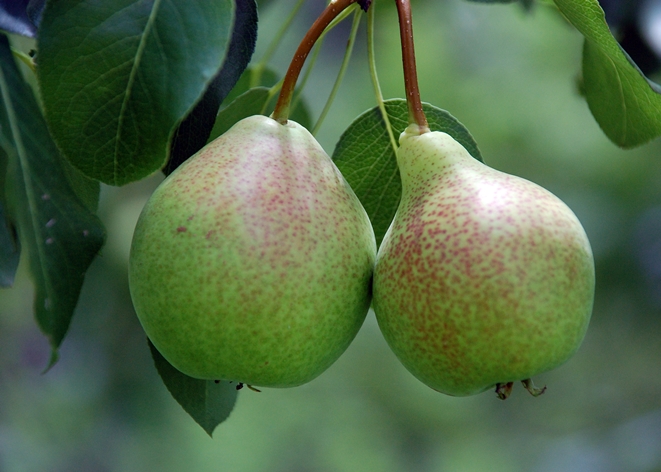 Rich in fibre, low in calories, pears make a great snack for those trying to lose weight. Source: Lena/Flickr
We're talking about the fleshy and sweet fruit, not the body shape. Not only do they taste great, but are also full of nutrients and goodness. So the next time you feel like snacking between meals or want to grab a bite in the middle of the night, bite into a pear.
Pears have a high fibre count – as much as 18% of the daily requirement in a single serving. This includes both soluble and insoluble fibre, making it ideal aid to enhance digestive health by acting as a bulking agent in the intestines.
Like most fruits, the skin of pears is rich in nutrients. Research has confirmed that the skin is rich in antioxidants, anti-inflammatory flavonoids, and other compounds by as much as three to four times as compared to that in the flesh.
Pears are rich in active components like potassium, vitamin C, vitamin K, copper, magnesium, manganese as also B-complex vitamins, which help regulate a host of bodily functions and help maintain overall well-being.
Watch how to make pear smoothies for breakfast:
 

The impressive potassium content in pears makes it a wonderful food for a healthy heart, since potassium is known to act as a vasodilator. Vasodilators help lower blood pressure, enhances blood flow through the cardiovascular system which ultimately reduces the risk of artherosclerosis, strokes, heart attacks.
Iron content in pears is also quite high, which makes it great for those suffering from anaemia or have low haemoglobin in the blood.
The fruit is one of the lowest calorie foods you can include in your diet, if you're watching your weight. An average pear has a little over 100 calories and is packed with fibre, making it a healthy, filling snack that also provides ample energy.
High fibre foods have long been associated with a reduced risk for type 2 diabetes and pears are no exception. In fact, the soluble and insoluble fibre content in pears also provides protection against heart ailments.