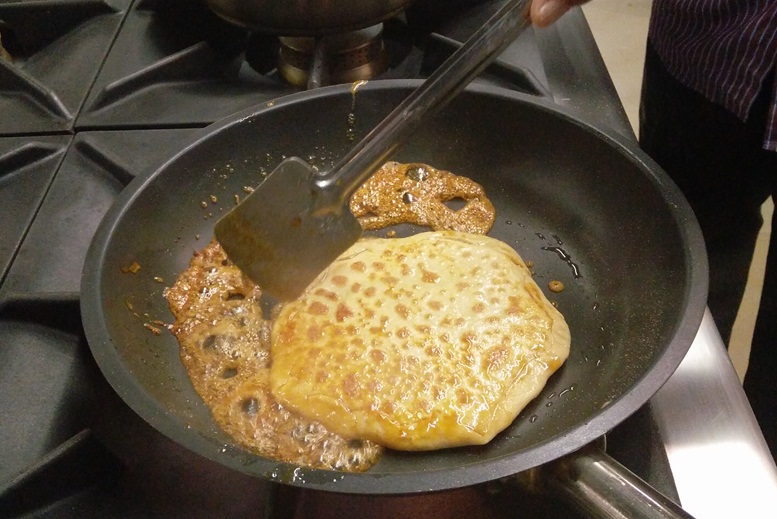 Caramelised paratha or gud ki roti. Photograph via Gauri Devidayal
I come from strong Punjabi pedigree which genetically means I have an overactive sweet tooth. I never took much of a liking to the ghee and malai-heavy Indian desserts, but could easily consume my body weight in chocolate. But there was one exception.
One of my clearest childhood memories is that once in a while, on a special occasion or when they had friends over for dinner, my father would slip away from the dining table towards the end of the meal and head to the kitchen. It was meant to be a surprise for everyone, but I knew exactly what he was whipping up. The irresistible gud or jaggery ki roti – a caramelised paratha, with just the right balance of sweet and salty, hot off the pan and then flambéd  tableside for a bit of drama. It was served with a dollop of malai for good measure.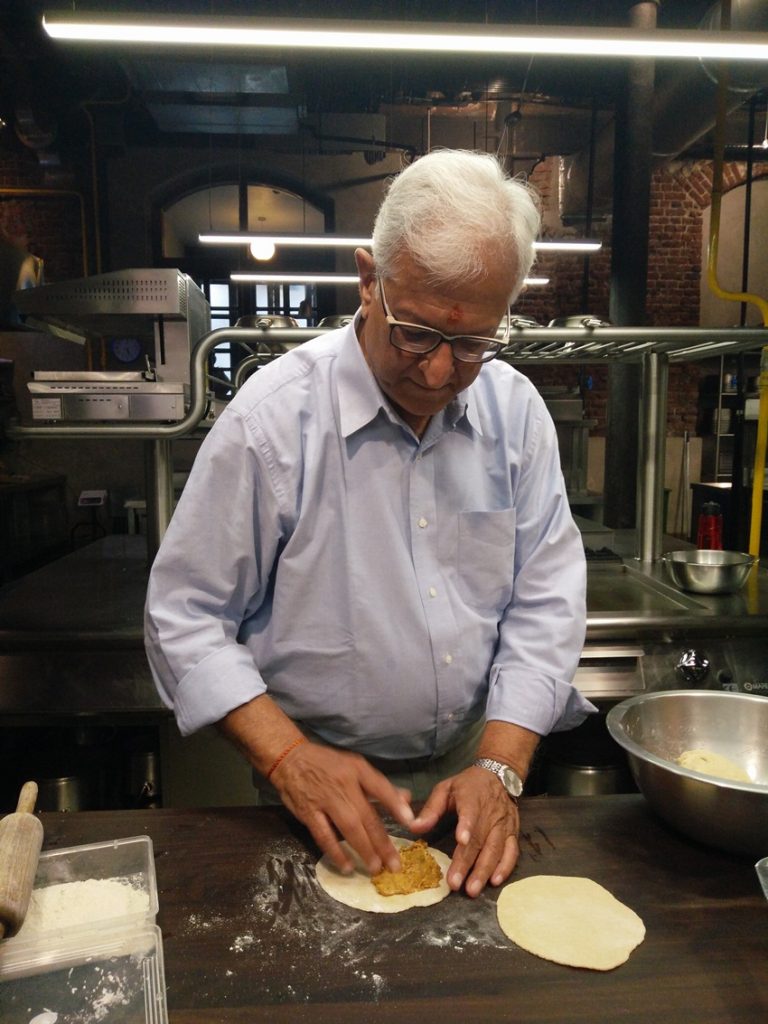 Bhagwat Devidayal at The Magazine St Kitchen. Photograph via Gauri Devidayal
It wasn't just the delectable dish that I remember, but the fun I used to have watching my father make it since it was such a rare sighting to see him in the kitchen. And I'm yet to meet a single family friend who doesn't remember this and didn't love it as much as I do.
Recipe
Gur ki roti
Ingredients
2 cups – Wheat flour
3/4 cup – Finely grated jaggery
2-3 tsp – Ghee
Salt to taste
Method
Add salt and 1 teaspoon of ghee to the flour.
Add lukewarm water and knead until the dough is soft. Keep aside the dough for 20 minutes so that it gets fermented.
Heat the tawa. Take some dough and roll it. Dust with dry flour and roll into roti, which is 3-4 inches in diameter.
Spread some ghee on top of the rolled roti. Now place 1-2 tsp of grated jaggery on the roti and roll it back into a ball, sealing from all sides properly so that the jaggery filling is intact.
Flatten the ball so that the jaggery is evenly filled.
Dust it again with dry flour and roll gently into a thick roti, which is 5-6 inches in diameter
Place the roti on the heated tawa.
When it gets a little brown from beneath, flip the sides.
When second side gets browned as well, spread some ghee on the upper side.
Spread it all around, flip the side and spread some ghee on the other aside as well.
Roast roti until it gets browned on both the sides.
Secret Ingredient: Heat some cognac and slather on the roti – it tastes super delicious!