About a kilometre and a half southwest of the Bikaner Junction railway station, lies the old city of Bikaner surrounded by a seven-kilometre-long eighteenth-century wall accentuated by five gates—the main entrance being the triple-arched Kothe Gate… On one side of the gate are intricately constructed Rajput havelis, while through the archway you can see the bustling Bhujia Bazaar on the other side. Kothe Gate delicately forms a beautiful barricade separating the old city from the new. Strolling through the narrow, winding lanes of the bazaar gives a picturesque view of the streets lined with little hole-in- the-wall shops selling samosas and kachoris (varieties of fried dumplings filled with potatoes and spices), always served with heaps of freshly fried bhujia. The atmosphere is filled with the delicious aromas of bhujia, snacks and sweets, building a deep anticipatory tug of hunger.
In every nook and corner of the bazaar, halwais or professional sweet makers, are producing piles of fried, delectable and addictive bhujia. Their hands move swiftly as they skim boiling oil that is bubbling over the tops of deep-frying karahis or pans, pulling freshly fried bhujia through a specially designed, perforated disc-like ladle. The action needs practised skill as a skim too deep might result in burnt painful hands and a skim too far from the top will leave the bhujia un-tossed. Yet, they work with a languishing nonchalance that only comes from years of practice. 'In the beginning, working with hot oil to remove the bhujia felt like torture, but with time one gets used to it,' said Chhote Ram, the owner of a small sweets and snacks shop, while proudly showing off hardened scabs on his hands. 'Bhujia sells,' he says, as if justifying the pains of making the snack. 'It is good business. Here, even a one-year-old child eats bhujia with every meal. It's a staple.' The demand for bhujia is evident in the fact that there are over 300 small bhujia shops and local brands in Bikaner alone. Locals treat it like a prerequisite to every meal, as if the people have been eating this form of bhujia for centuries.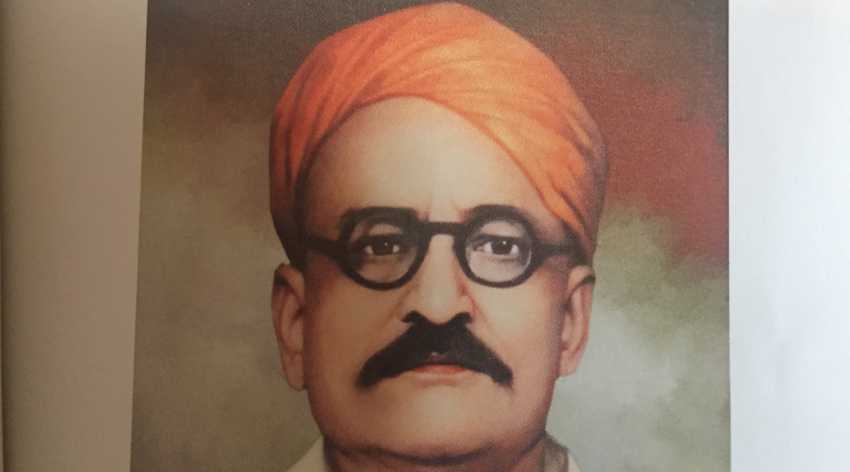 Haldiram's only picture is in the form of a portrait in the company's Nagpur office. Photo courtesy: Bhujia Barons
Around 1885, during the reign of the benevolent Maharaja Dungar Singh, the first batch of bhujia was made in Bikaner. It was, in fact, well over a hundred years ago when bhujia made its foray into this market! It is in these very streets of Bhujia Bazaar that the first Haldiram shop was set up and has now been collecting dust for decades. Yet, the story doesn't quite start here. Across the street, opposite that very shop stands an older shop by the name of Bhikharam Chandmal. It is on the floor of this tiny, dingy workshop that the 'magic' we now know by the name of 'Haldiram's bhujia' began to take form…Ganga Bhishen Agarwal, aka Haldiram, was born at a glorious time in Bikaner, when progress was the new theme song in town, and Bikaner was beginning to evolve from the rural desert sprawl that it was into a flourishing trade town. He was the grandson of one Bhikharam Agarwal, son of Tansukhdas Agarwal, a poor and unimaginative merchant living in the Bachaut Ka Mohalla area in Bikaner…While he was a favourite among all relatives because of his responsible demeanour, he was closest to his aunt, Bikhi Bai. The kids fondly called her Bikhi Bua. Bikhi Bua only visited Bikaner during festivals and spent a few days at a time with her maika (parental home) at the house in Bachaut Ka Mohalla. It so happened that Bikhi Bua's mother-in-law made a rugged, fat and firm form of bhujia as a snack at home, which Bikhi Bua prepared for Haldiram and his brothers during her visits. Everybody at home loved that spicy, tasty snack! Bua, in introducing the family to the snack, had unwittingly set wheels in motion that forever changed the fates of this family and the history of Bikaner itself.
Today, Haldiram has garnered a market share of over 40 percent of the country's
Rs 5,500 crore traditional snacks market. Shankar S/Flickr
The immediate success of Bikhi Bua's bhujia with this young audience forced Bhikharam and his wife to learn how to make it just to keep the kids happy when Bua was away! Somewhere between 1908 and 1918, Bhikharam, realizing its potential, began making larger quantities of 'fat bhujia' to sell at his shop in Bhujia Bazaar. The initial sales were for a few measly paise per kilo. The bhujia was spooned into small paper funnels made from old newspapers. The product didn't exactly make waves but it brought him a little extra cash to keep his family just about fed and warm in the winters…
When Bikhi Bua visited next, Haldiram was a young man, ready to make his mark in the world. At age twelve, he sat with her, intent on mastering the art of making bhujia and be the best at it. Making bhujia in those days was a task seeped in backbreaking, dangerous work. They used wooden ladles to pour in the batter into large woks, skimmed the oil with their bare hands on to thick, perforated, underdeveloped discs, scooped the bhujia up and placed it on old newspapers to dry. Haldiram overcame his fear of getting burnt, and learnt to deal with the hot oil; a feat that he accomplished in a mere fifteen- to-twenty-day period. Practice makes perfect, and boy did he practise! Legend has it that he made several batches a day, and within those initial few days, he had almost as many scabs on his hands as veteran halwais and snack makers today.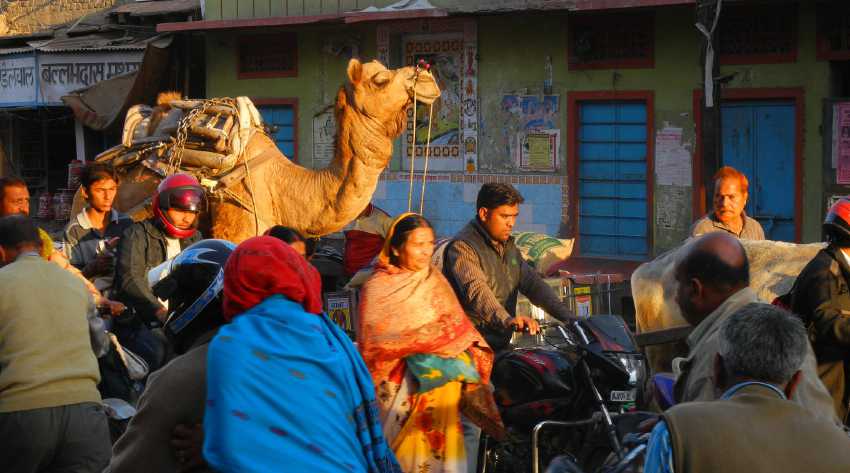 The first batch of bhujia was made in Bikaner around 1885. Alex Drainville/Flickr
With Haldiram adding to the production, the family began making a little more money. The boy soon became a part of his grandfather's business and went to the shop daily. He was hard-working and ambitious; taking on greater responsibilities rapidly. However, what differentiated Haldiram from his grandfather was that he wasn't easily content with making a few paise per sale of bhujia, nor was he impressed by the taste and quality of their product. He wanted more, and this driven boy demonstrated unmatched resourcefulness and an uncanny appreciation of the customer's tastes for those times and meagre means.
'When Haldiram had an idea, he followed it through to the end,' said his nephew, Poonam Chand, now approximately sixty-five years old. The two simple yet significant changes that he made to bhujia revolutionised the product and turned it into the delectable, irresistible snack that it is today. The bhujia that Bikhi Bua had taught him to make was made with dough that was a mixture of besan, or chickpea flour, and moth ki dal, a lentil grown in Rajasthan. Moth ki dal was a staple with the Rajasthanis. They ate lentil curry filled with moth; or dry vegetable dishes mixed in it; or fried snack balls rolled in it. Almost every meal had something made from moth. This has to do with Rajasthan's geography, especially of the region of Marwar that was not endowed with fertile soil. The moth plant, surprisingly, does well in the desert and is available in abundance, making itself by necessity a local favourite. Yet, Bikhi Bua's bhujia had mostly besan in the dough, as besan gave it better consistency and was easier to fry. Contrary to his mentor's teachings, Haldiram refused to take the easier way out. He figured that if the bhujia were made from moth, people would simply find it irresistible. They would then buy the product not only because it filled their stomachs, but also because they couldn't get enough of the taste… With a lot of determination and refusing to take no for an answer, the young padawan made a version of bhujia with moth and sold it separate from the family's original 'moti' bhujia at the same shop. Rapidly, its popularity grew and within a week, he was racing to match his production with the overwhelming demand.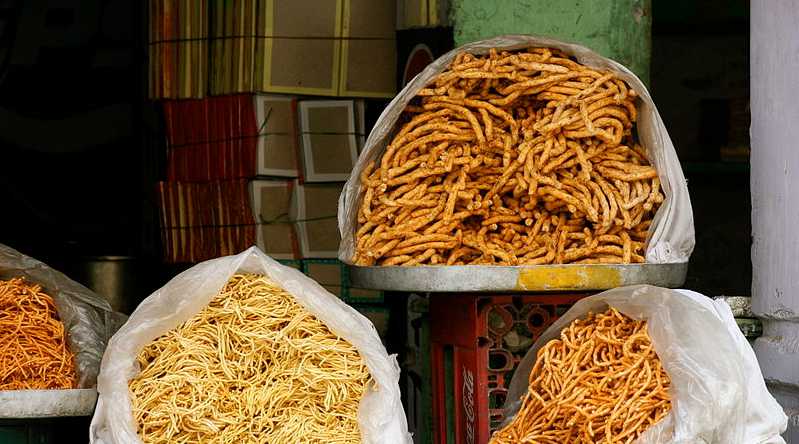 Bhujia is usually made from besan, but the Bikaneri version uses
ground moth lentils. Creative Commons
Blessed with an intuitive understanding of spices and their flavours, Haldiram set out to explore the true definition of 'delicious' when it came to bhujia for his customers. He figured that if the bhujia could be crispy and crunchy, it would add to the fun element of eating it and satisfy the customer's need for a quick bite. To make the bhujia thin and crunchy, he needed to dilute the batter further. He also needed a perforated mesh with holes tiny enough for the outcome to be light, skinny and crispy, closer to the bhujia we know today. In spite of his busy schedule at the shop, Haldiram found the time to endlessly wander the market to identify the right mesh maker. When found, it is said that he spent hours with the mesh maker, overseeing the hammering and puncturing of the thin sheets of steel, to ensure the holes would be small enough and the mesh curved just right to serve the purpose. Energised by innovative ideas that constantly sprang to his mind, it is said that the young Haldiram began many 'bhujia experiments' in his spare time. A keen sense of smell and taste helped guide this young magician to blend just the right spices in the right amounts while seasoning the bhujia. A year and multiple batches later, his thin, crispy, moth bhujia was ready to be taken to the market.
The new bhujia was an instant winner. Haldiram got his first sweet taste of success as the sales grew to more than anything the family had ever seen! Customers would come to the shop and ask especially for 'Haldiram's bhujia', and buy not only more often, but in greater quantities too! It was the beginning of young Haldiram's fame, and little did he know how much of it he was going to get!
 Edited excerpts from Bhujia Barons by Pavitra Kumar, Rs 399, Penguin Random House India