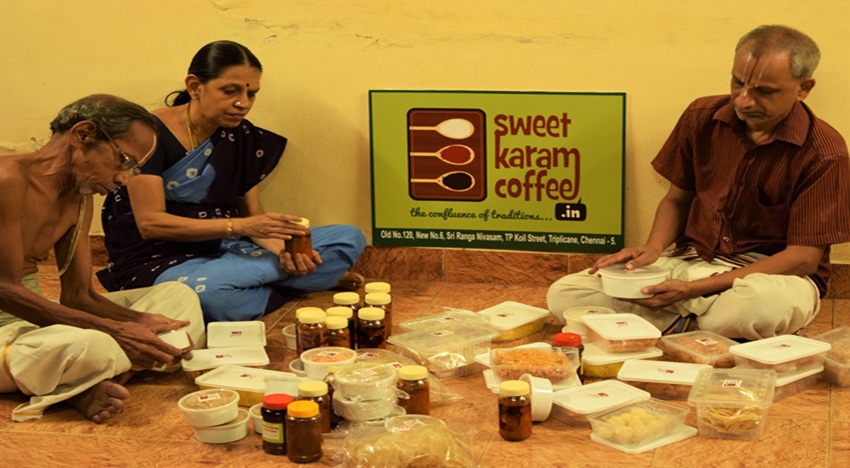 (from left to right) Veera Ragavachariyar, who makes Iyengar traditional desserts, V Jayanthi and B Venkatakrishnan, who set up Sweet Karam Coffee in 2015 Photograph by SKC
In most South Indian households, snack time is a serious affair. A bite of sweet is followed by something karam or savoury, a sip of coffee and the snacking goes on. Most ponnu paakkara transliterated as "seeing the girl" ceremonies are held during this snacking hour. Relatives of both the bride and groom-to-be engage in this sweet, karam, coffee ritual for hours on end depending on the spread that has been laid out. The assortment of snacks and sweets includes jangiri, a distant cousin of the jalebi, mixture, which contains peanuts, boondi and sev, seasoned using curry leaves and of course, the ubiquitous laddoo. The groom and his relatives are always keen to know if the prospective bride can prepare all of these sweets and snacks at home. But B. Venkatakrishnan, who set up sweetkaramcoffee.in last year, is in business because few South Indians make these traditional snacks or sweets at home nowadays. Says the Chennai-based entrepreneur over the phone, "Usually, both the husband and wife are working and it is these office going couples who don't even have the time to go pick up things who order from us."
A look at his website and seven of the 20 products delivered only in Chennai were sold out. Traditional sweets such as Pal kozhukattai – baby dumplings of coconut and jaggery soaking in cold milk that will make you stick your spoon back into it and keep going, and Porulvilangai urundai – laddoos made from two kinds of dals, parboiled rice, jaggery and grated coconut, were both sold out. Says Venkatakrishnan, "We deliver products across South India but we have a special Chennai section because some of these products have to be consumed on the same day." A lot of these products are Brahmin specialities and some of them such as the Akkaravadisal is an authentic Iyengar speciality that was traditionally prepared in temples. Imagine a sweet pongal cooked in milk in the form of a payasam and you have Akkaravadisal.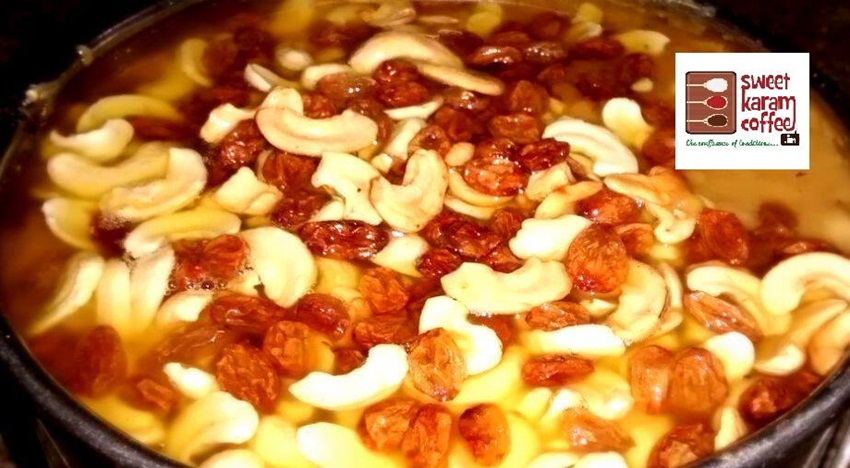 Akkaravadisal, a traditional Iyengar dessert made using milk, dry fruit, lentils and rice Photograph by SKC
Sweet Karam Coffee's (SKC) most popular products are their Puzhikachal or tamarind paste, which when mixed with rice makes an instant, tangy main dish that holds its own, spicing things up on days when there is no curry or gravy on the table. There are also the different kinds of podis or spice powders, which are hot sellers. There are a range of podis made from sesame seeds (Ellu podi), curry leaves (Karuvepalli podi), and some others that are rarely found in stores such as the Angaya podi, a digestive that new moms are encouraged to eat post delivery and also helps cure colds and coughs. "I think these products are in demand because they are traditional and homemade," he adds.
Before SKC launched, Venkatakrishnan, 51 and his wife V Jayanthi, 45 ran a catering service in Chennai along with a few close relatives. "There was a big demand during festivals such as Diwali and Pongal," says Venkatakrishnan. The SKC journey began much smaller about five years ago with Jayanthi supplying meals including breakfast, lunch and dinner to the elderly around her home in Chennai in Triplicane. "Now while we get most of our orders from Chennai, we get so many orders from Bengaluru and Hyderabad," says Venkatakrishnan.