Patrik M Loeff/Flickr
So, what exactly is Pondicherry cuisine? I've been dining frequently at Pondicherry for over a decade, and I've asked this question to chefs, restaurant owners and culinary experts in this former French enclave near Chennai. I still haven't found a definitive answer. The East Coast Road that connects Chennai with Pondicherry (aka Puducherry) changed Chennai's relationship with Pondy in the last decade. It suddenly made it possible to drive down all the way to Pondicherry for lunch, or even a late breakfast. In the early 2000s lot of those hungry travellers usually headed straight to Rendezvous.
Where French and Pondicherry cuisine met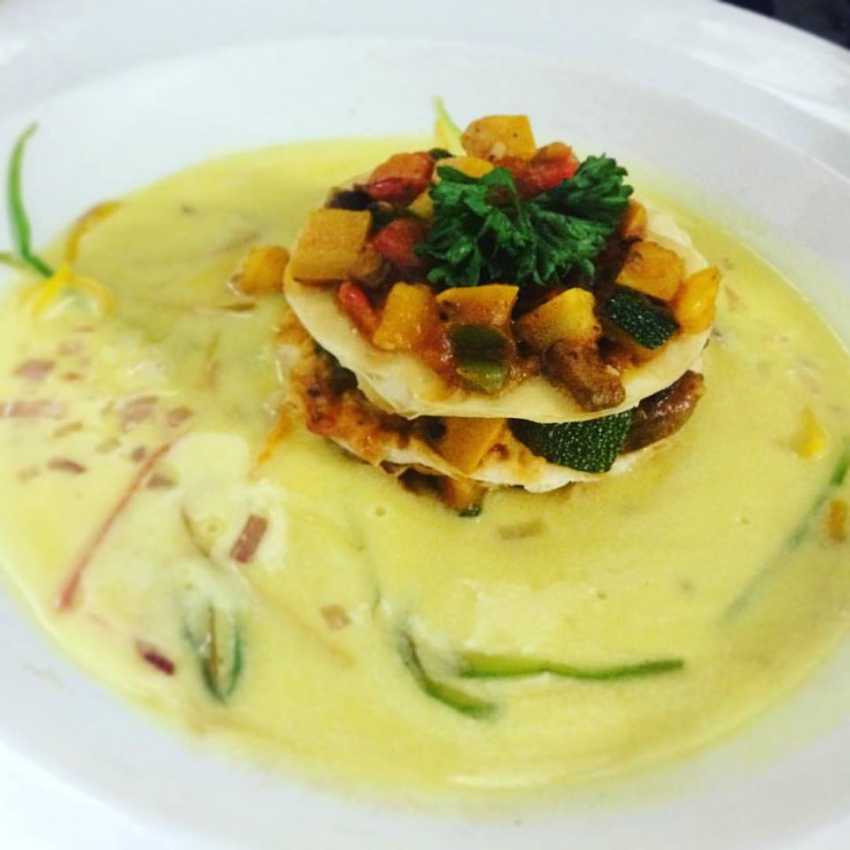 Ratatouille at Rendezvous. Photo via Facebook
For a lot of foodies in Chennai, Rendezvous became a reference point for the Pondicherry brand of French cuisine. The brainchild of Vincent Mathias, the restaurant's voluminous menu had space for Mangalorean and Konkani dishes, but it was their interpretation of French cuisine – their French Onion soup was a bestseller — that helped Rendezvous build its hallowed reputation. That halo slipped somewhat in the 2010s after the passing away of Mathias. There were a few other restaurants like Le Club and Sat Sanga that were instrumental in creating awareness for Pondicherry's brand of French or Continental cuisine. One of the favourites was Fish Bouillabaisse (a traditional fish stew) that originated in Marseilles. The broth is first cooked before adding the seafood in the French version, while the broth and seafood are cooked before the water is added in the Pondy version. Now, Mathias' daughter Valerie Mathias Johnson and her husband Chef Leevin Johnson have teamed up to launch version 2.0 of Rendezvous.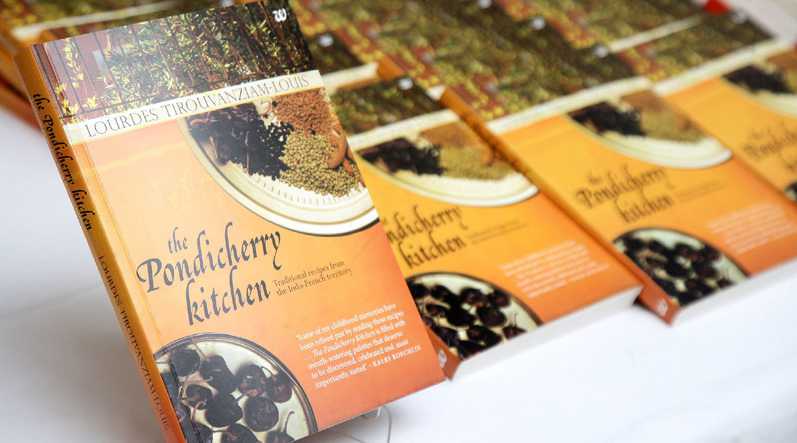 Lourdes Tirouvanziam-Louis's The Pondicherry Kitchen describes the cuisine as a melting pot of influences as diverse as Mughal and Malaysian. Photograph via ambafrance-in.org
A melting pot 
Lourdes Tirouvanziam-Louis is probably the most authoritative voice on Pondicherry cuisine. She describes it as a melting pot with influences as diverse as Mughal, Chettinad and, of course, European mercenaries, with the French topping that list. Louis also speaks about South East Asian influences in the cuisine thanks to an exodus of a large number of Pondicherrians to Malaysia in the 19th Century. These migrants brought back recipes from there and adapted them to the local taste. She cites the use of coconut milk (instead of coconut paste) as an example.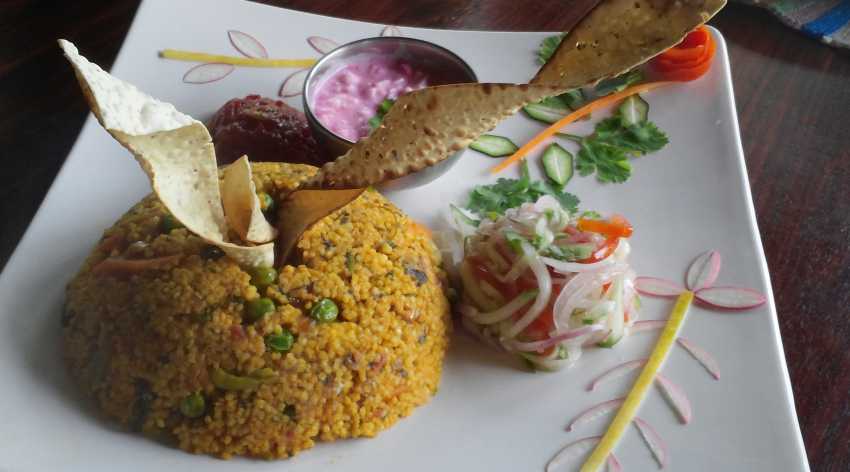 Vegetable millet biryani at Dune. Photograph by Ashwin Rajagopalan
Pondicherry's version of Creole
I first heard of Creole cuisine in Pondicherry at the turn of this decade. For many, Creole might be synonymous with Louisiana and the Big Easy (New Orleans), a blend of French and Southern American cooking styles. In Pondicherry it seems to have acquired an identity of its own. Louis believes that it's not accurate to use the term Creole to describe this new wave fusion cuisine. But the chefs at Carte Blanche at Neeemrana's de L'Orient, one of the many heritage homes that have morphed into boutique hotels, prefer using the term Creole. For them its another case of French cuisine blended with a local cuisine. Their Pachai Yera Curry (Green prawn curry) has room for basil, rosemary, coriander mint and green chilli.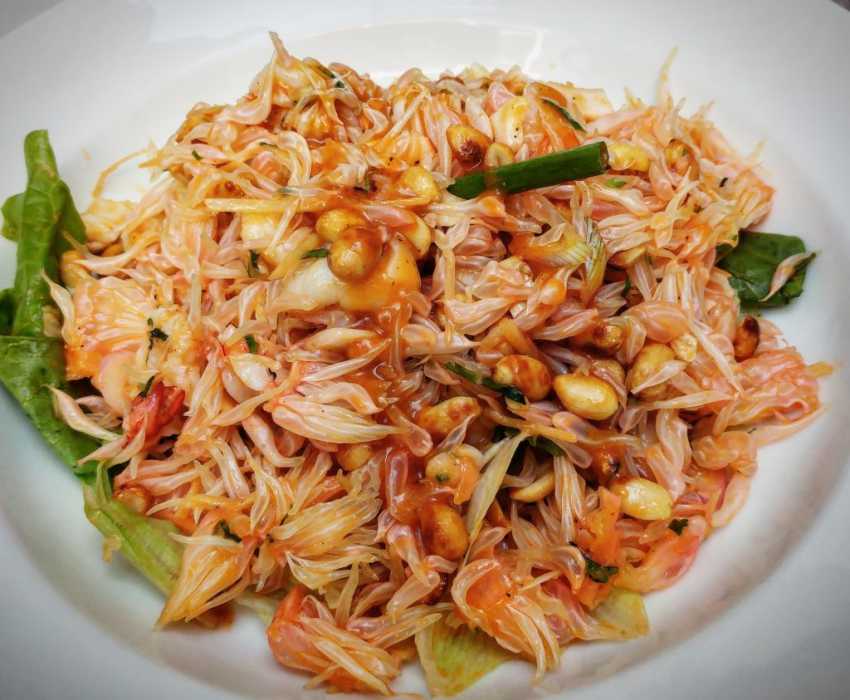 Prawn and pommelo salad at Villa Shanti. Photograph by Ashwin Rajagopalan
Among India's first fusion cuisines?
Louis' believes that restaurants in Pondicherry still have to catch up with their counterparts in France. "The best meals are in Pondicherry homes. The ingredients (especially meat and seafood) in restaurants are not as fresh as the ones procured for cooking at home." She visited many homes and chatted with elderly men and women for authentic recipes that have been handed down for a few generations. Quite a few of these figure in her book, The Pondicherry Kitchen.  The book describes Pondicherry cuisine as Indian with flavours and tastes imbibed from French cooking styles. The petits pates (minced lamb) is a case in point. Fewer spices are used and sometimes these ingredients are used differently – cloves and cardamom are not ground in some recipes while rich ingredients like poppy-seed paste are used to play down the spices.
Liberté – Pondicherry style
There are not too many fine dining restaurants (CGH Earth's Le Maison Perumal is one of the glowing exceptions) that serve traditional South Indian cuisine from Pondy's homes. But the lack of any major hotel chain has seen quite a few chefs and boutique hotels innovate and reinterpret Continental cuisine. Villa Shanti, one of Pondicherry's newer boutique hotels, is one of them. Their version of the Thai glass noodle salad substitutes the glass noodles with pomelo. Then there's Dune, one of Pondicherry's quirkiest beach resorts, that serves a Vegetable Millet Biryani.  But despite sincere attempts by culinary experts such as Louis, there's no easy way to define Pondicherry cuisine. Fusion and innovation come close, though, and happily, it tastes good.