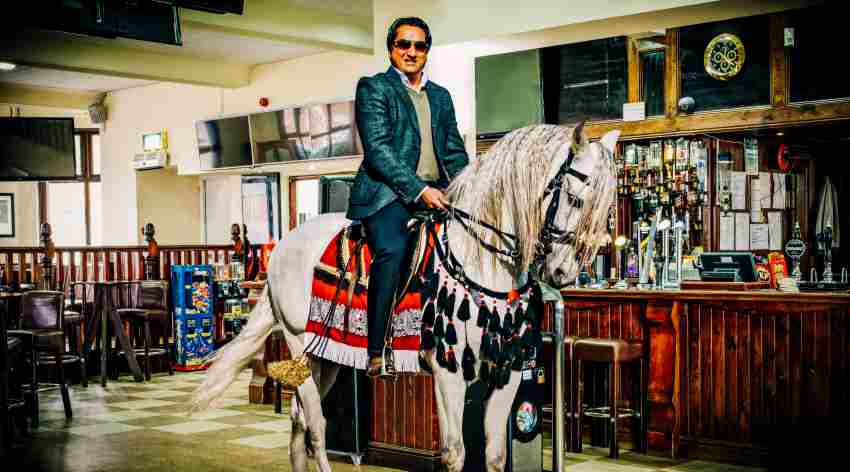 Landlord Amrick Singh Saini at the Four Ways pub. Photograph by Jagdish Patel
In the 1950s, after the Second World War, Britain decided to open its borders to immigrants, mostly from its former colonies. The Royal Commission on Population had decided that immigrants of "good stock" would be welcomed "without reserve". And so a large number of people from the Caribbean, India, Pakistan and Bangladesh (then East Pakistan) sailed to Britain in search of a new life in the West. Britain needed cheap labour to rebuild its economy, which, after the Second World War, lay in tatters.
Life was tough in postwar Britain if you were Asian or black. Racial prejudice was strong and living conditions were mostly awful. Most immigrants from the Indian sub-continent worked in the factories in West Midlands, in and around Birmingham and Wolverhampton. Not surprisingly, they were mostly excluded from that defining feature of British social life, the pub, and, were served alcohol, if at all, via side hatches.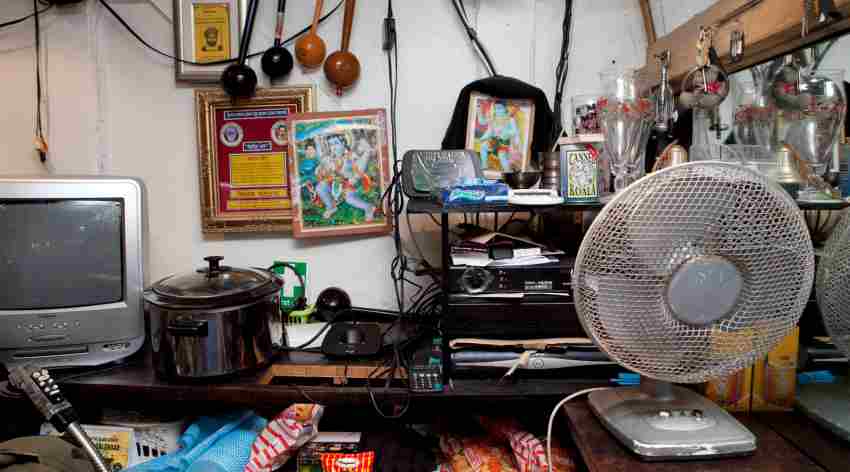 Indians started buying out British pubs in and around West Midlands in the 1970s. Photograph by Anand Sra
Today, though, things are markedly different. A large number of pubs in the area, some as old as 60 to 70 years, are owned by Indians. They are all cosmopolitan spaces, and an initiative called the Creative Black Council, funded by Arts Council England, is documenting the transformation through a documentary, oral histories, and photographs. "About a year ago, we were approached by a photographer who wanted to do something around the desi pubs, and the idea evolved from there," says Parminder Dosanjh, the artistic director of West-Bromwich-based Creative Black Country. Over the last six to eight-odd months, artists working with the Creative Black Country have created pub signs and stained glass windows that reflect the unique position the pubs occupy in Britain.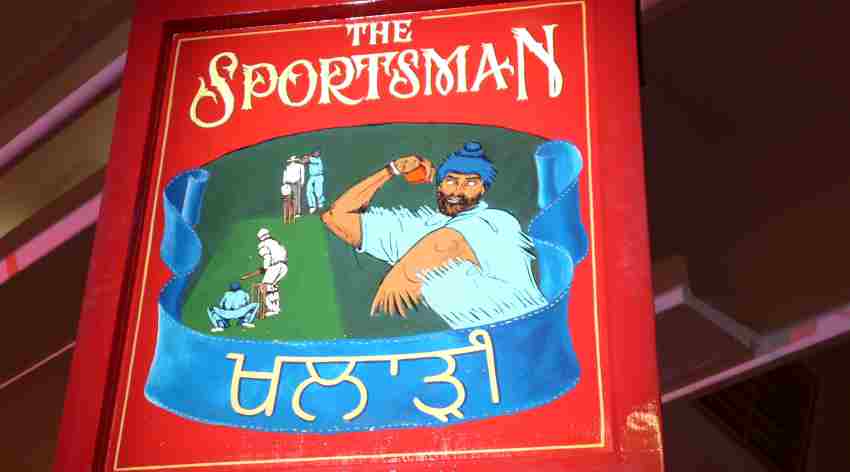 The pub signs designed by artists feature both Gurmukhi and English
"We have commissioned six artists to work with six pubs, and they have created artwork bespoke to each pub. Traditional handcrafted pub signs, stained glass window, mosaic, portraits and beers mats. Each tell the story of the pubs and their landlord. Desi pubs is about survival, food, friendship and community. It is uniquely British Asian and wouldn't happen anywhere else in the world," says Dosanjh.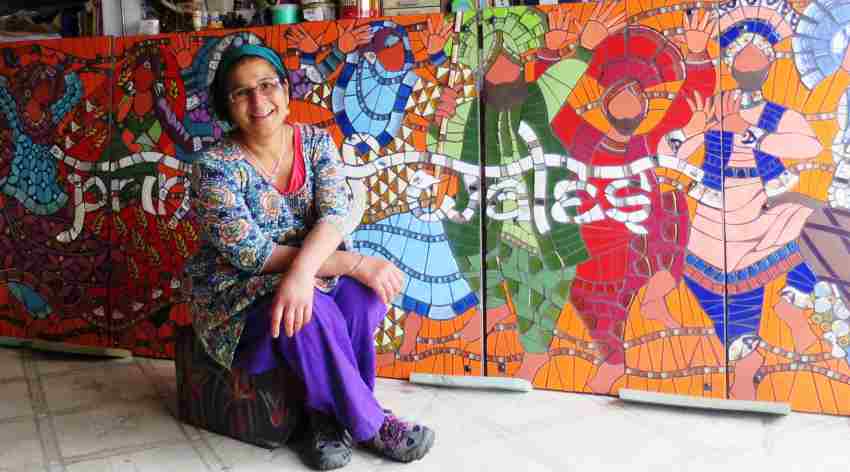 Caroline Jariwala with her mosaic artwork at the Prince of Wales pub, in West Bromwich
The new landlords of the pubs are mostly second or third-generation immigrants from India. "I don't think my father would have got a drink at these pubs. But now, these are family spaces. I take my niece or daughter there, and there are people from all over — West Indians, British, people from Africa." The desi pubs have a distinct character, says Dosanjh, which they acquired once they were sold to Indians. "The shift started around the mid-1970s, as ownership started changing hands, and expressions of the new owners' identities started showing through in the interiors." So, in some pubs, you have framed photographs of Bollywood heroes — Dharmendra, for instance — while at others, the owner's love of bhangra shines through.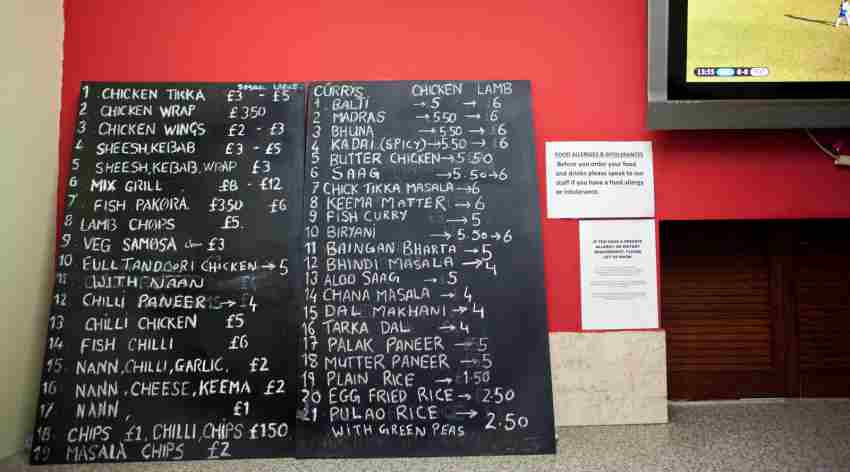 Robust Punjabi fare has helped the desi pubs thrive in England
Most importantly, says Dosanjh, the desi pubs continue to thrive even as several traditional English pubs shut down. "A lot of it has to with the hospitality and homely atmosphere, and, of course, the food. Curry and beer go extremely well, and plus, there is the fish tandoori, the pakoras…" In May this year, the art works were exhibited at the Alchemy festival, which is dedicated to the cultural relationship between Britain and the Indian sub-continent, and later this year, the pub signs and the stained glass windows, among others, will be put up in the respective pubs that inspired them. "We are also drawing up plans for a Desi Pub crawl this autumn," says Dosanjh.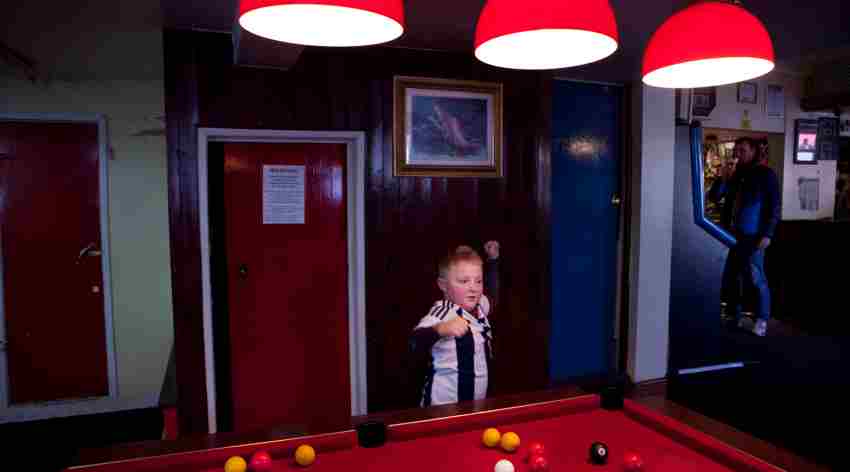 The Prince of Wales in West Bromwich. Desi pubs today are cosmopolitan spaces. Photograph by Dee Patel