The versatile granola can be both an appealing breakfast option, or engaging mid-day snack.
Photograph by Stacey Spensley/Flickr
In his book 'Food Rules: An Eater's Manual', Michael Pollan says: "Don't eat breakfast cereals that change the colour of the milk." He goes on to explain, "This should go without saying. Such cereals are highly processed and full of refined carbohydrates as well as chemical additives." The first Indian city that seems to have heeded his advice is Bengaluru. The city might love its ragi mudde and chow chow bhaat, but it is also a step ahead of the rest of the country as far as home-made breakfast cereals are concerned.
Ecologist Shivani Shah made her first batch of granola this month. Shah says, "I realised that the days I don't make a slightly elaborate good Indian breakfast, or when I am travelling, I would end up with a make-do breakfast, and that compromise was making me quite unhappy." Now, when Shah travels, she plans to pack breakfast in a jar.
According to the India Breakfast Cereal Market Outlook, 2021, the Indian breakfast cereal market has grown at a compound rate of 22.07 per cent over the last five years. Whether it is cold cereals such as corn flakes, chocolate or wheat flakes and muesli, or the hot oatmeal and wheat-bran variety, these foods seem to have become a convenient and permanent fixture at the breakfast table. Yet, the average box of supermarket cereal is often highly processed, enhanced with corn syrup and reinforced with synthetic vitamins.
Making granola isn't a tedious task — toss the ingredients together and roast them in an oven, or on a stove. "An average breakfast cereal in its simplest form contains cooked and toasted grains, a sweetening agent such as sugar or honey, plus a flavour," says Dr Chinthu Udayarajan, a senior food scientist at Synthite in Kolenchery, Kerala. "Flavour could be out of a bottle, or bits of fruits such as raisins, dried banana or strawberry, or even a pinch of cinnamon powder." Shah pretty much follows that basic recipe — she roasts rolled oats, mixed nuts and seeds on the stove and adds coffee powder and coffee, along with dates and raisins for a bit of sweetness. The result is a delicious, toasty mix of nuts, fruit, seeds and oats.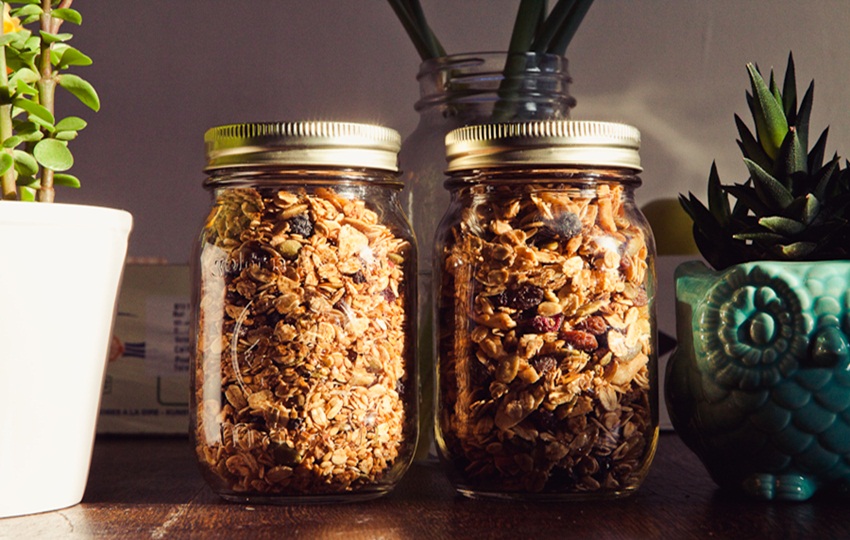 The average box of supermarket cereal is often highly processed, enhanced with corn syrup and reinforced with synthetic vitamins Photograph by Gabriel Li/Flickr
The versatility of the granola makes it an appealing breakfast option, or even a nutritious mid-day snack. When journalist Neha Margosa couldn't find the right mix of granola in stores, she decided to make her own. "I started making my own granola in mid-2015 when I did not have an oven and wanted to experiment with cooking," says Margosa. "I discovered that granola could be easily made on the stove top."
Ingredients can be easily swapped, and delicious quirks such as coffee or bits of chocolate make it more interesting. Margosa, for instance, adds toasted slices of coconut and pistachios, and little coffee decoction to her homemade granola. Maegan Dobson-Sippy has been making her own granola for the last six months. "I adapted a BBC Good Food recipe slightly to take into account what ingredients I can easily get," says Dobson-Sippy, a freelance writer. "For example, I substitute maple syrup for date syrup, and vegetable oil for coconut oil."
The flip side of home-made granola is that it doesn't last as long as the one out of a box. "Making cereal at home means we have control on what goes in — that is, fewer and natural ingredients," said Udayarajan. "If we don't use antioxidants, the shelf life of the cereal could be reduced by half."
However, all three granola makers agree that their home-made version is far more cost-effective and healthier than the ones available in the market. "Oats, chocolate and nuts are much cheaper when bought in bulk," says Margosa. Shah agrees with Margosa. "Yes, it is cost-effective eventually, given that it is full of nutritious ingredients and even literally comparable to the cost of a simple dosa breakfast at mid-range Sagars (chain of restaurants) in the city."
Home-made granola recipe
(Adapted from BBC Good Food)
Ingredients
2 tbsp coconut oil
125ml date syrup
2 tbsp honey
1 tsp vanilla extract
300g rolled oats
50g sunflower seeds
4 tbsp sesame seeds
50g pumpkin seeds
100g flaked almonds
100g raisins
50g coconut flakes
Method
* Preheat oven to 150 degrees C.
* On the stove, toast coconut on a skillet lightly.
* In a large bowl, mix coconut oil, date syrup, honey and vanilla extract. Add the remaining ingredients, except the dry fruit and coconut. Toss to mix well.
* On two baking sheets, spread the granola mixture evenly. Bake for 15 minutes. Now, add the coconut and dry fruit and bake for another 10-15 minutes.
* Remove from oven and immediately transfer to a flat tray or plate to cool.
* The granola can be stored in an airtight container for a month. Eat with cold milk or yogurt and sliced fruit.