The Chilli Tossed Tuna Poke at Toast & Tonic. Photograph via Toast & Tonic's Instagram account
A poké, pronounced poh-key or poke-ay, is a bowl filled with the flavours of the sea – glistening, raw cubes of tuna or marlin. Drizzled with sesame oil, seasoned with seaweed and garnished with kukui or candlenuts, the poké is a traditional Hawaiian salad that takes its name from the Hawaiian word for cutting or slicing.  Over the last few months, the poké  has found favour with gourmands in Los Angeles. There are pokérias, poké bars and poké shacks popping up all over the West Coast and poké has fast turned into a food trend this year according to a trend report released by Baut+Whiteman, an internationally recognized restaurant consulting company.
And who but master chef extraordinaire Manu Chandra would think of bringing the dish to India? When we last visited his restaurant Toast & Tonic in Bengaluru, which launched in February this year, the poké was very much a part of the menu. Of course, Chandra had given the Hawaiian dish his own twist. Toast & Tonic's Chilli Tossed Tuna Poke With Seaweed is served on a bed on sticky Gobindobhog rice with a dash of passion fruit-pineapple vinaigrette and topped with mustard microgreens, fried onions and chia seeds.
In Mumbai, you can get yourself a poké at the newly opened Bastian, set up by Kelvin Cheung and Boo Kwang Kim, who have also always been on top of food trends. At Bastian, the Tuna Poke comes with a sesame soy sambal dressing with fresh lime juice and avocado.
For vegetarians feeling left out, you can make your own poké at home (until some inventive soul at Bombay Salad Co decides to make it for you) with cubes of beetroot and avocado, seasoned with sesame seeds, spring onions and crumbled nori with a soy dressing. (see pic below).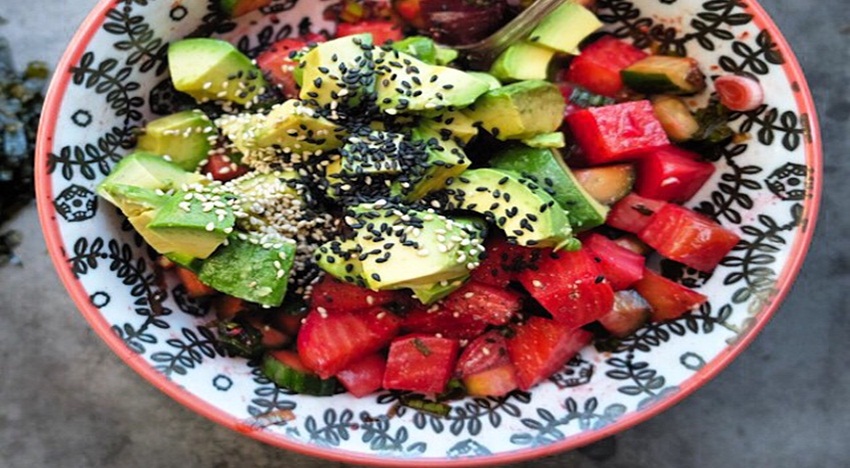 Photograph by Tracy Benjamin/Flickr