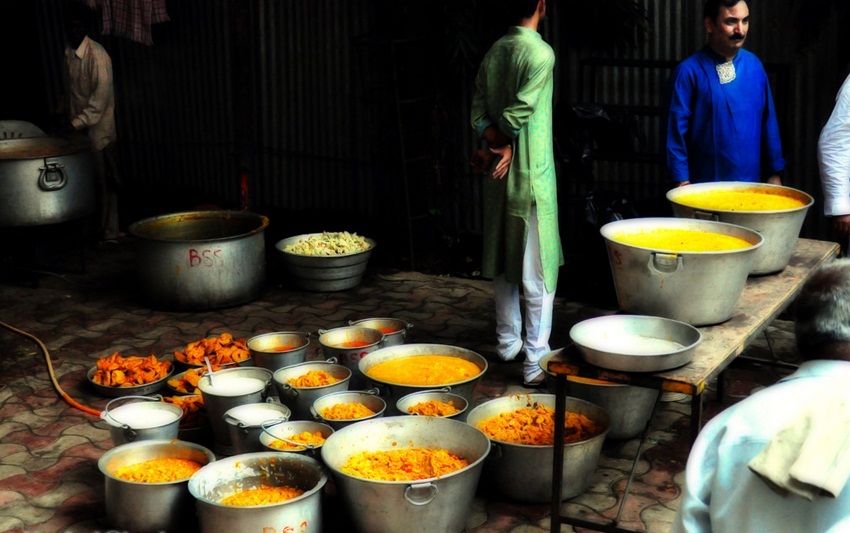 The wait before the bhog is served at a Durga puja pandal. Photograph by Kushal Ghosh/Flickr
Mahalaya on September 30 marks the beginning of Durga puja in India. One of the most important festivals on the Bengali calendar, Durga puja or poojo as it is known in Bengali, is a celebration of faith and food. Except for Satyajit Ray's fictional character – the legendary detective Feluda – we don't know of any Bengali turning down the opportunity of bhog or a good poojo lunch. We asked three accomplished Bengalis to pick their favourite poojo pandals for the atmosphere and of course, the food.
Delhi
"There are two parts to this eating – there's the communal eating that happens during Anando mela, which is celebrated on the fifth day, ahead of Shoshthi, when the goddess arrives at her parental home and her eyes are drawn," says Gurgaon-based development consultant Pritha Sen, "Housewives cook and sell home made chops, sweets and the deep fried snacks that Bongs love at throwaway prices and no profits are expected from it really. The unwritten law on this day is that everybody samples everyone else's food and the bond of caring and sharing is established."
The second kind of eating happens at the stalls which are set up by street food artists and commercial vendors, adds Sen. "There's everything from jhalmuri to puchka to tandoori chicken to Amritsari fish to Chinese food, which is as basic as either noodles with chilli chicken  or fried rice with chilli chicken. There's nothing more than that – no black bean sauce etc."
Here are some of Sen's favourite pandals in Delhi
Ramakrishna Mission
"For their bhog, not from the street food stall though."
Where: RamaKrishna Ashram Marg, Paharganj, New Delhi
Kashmiri Gate
"I would go here not for the Bong-style food, but Old Delhi chaats and chhole."
Where: Alipore Road, Near Indraprastha College for Women, Civil Lines
Dakshin Delhi Kali Bari
"This is also one of the oldest pandals in Delhi. So the kind of food that we grew up eating at one time from say a Ghantewala (Halwai) and churans and all the Old Delhi street food will be available here."
Where: Mandir Marg, near Gole Market, CP
Mumbai
Besides eating at poojo pandals, Mumbaiites make a beeline to hotelier Anjan Chatterjee's Bengali cuisine restaurant Oh! Calcutta for its special poojo menu. Says Shinibali Mitra Saigal, founder of the children's literary festival Kahani Karnival, "We've all become so sanitised in our approach to poojo food I think." Here are her picks of pandals that serve some of the best poojo delicacies.
Bombay Durgabari Samiti
Their completely vegetarian spread is highly popular. I love their bhog, kochuri and labra (a dish of mixed vegetables)
Where: Tejpal Road, Gowalia Tank, Near August Kranti Maidan, Mumbai
Bengal Club Shivaji Park
"They do excellent luchi and kosha mangsho (mutton curry) here. Their mochar chops (cutlets made of banana flower) with kashundi (mustard sauce) is also quite authentic. They also have some really delicious street food at the stalls including sweet stalls that serve warm rasgullas."
Where: Veer Savarkar Marg, Shivaji Park, Dadar West, Mumbai
Balkanji Bari
"There are home caterers at this pandal and they serve excellent beguni, payesh and khichuri. The queues that line up for the food here are neverending."
Kolkata
Those eating at the stalls at the pandals in Kolkata should know that they're eating sting ray instead of bhetki, a much-loved salt water fish, warns Pia Promina-Dasgupta, who co-founded the restaurant Kewpie's in Kolkata. "When people want to walk around the pandals, they just pick up chaat and chops. They are the standard fare at all these pandals," says Promina-Dasgupta.
Here are some of her picks
Mohammed Ali Park
"Their biryani, Mughlai parathas and kobiraji are fantastic. Kobiraji is similar to the Parsi lacy cutlets but frillier around the edges."
Where: 41/1, Tara Chand Dutta Street, Kolkata
Ballygunge Durga Puja Samiti
"Their bhog including the khichuri and labra is very well cooked."
Where: Maddox Square Park, Ballygunge, Kolkata
Manicktala Chalta Bagan Lohapatty
"This is another pandal in North Calcutta known for its biryanis and all the mithai stalls set up by the newer sweet shops such as Banchharam. All the Chinese restaurants also set up stalls at pandals such as this one now, which is more commonly known as the Girish Park durga puja pandal."
Where: Raja Ram Mohan Sarani, Maniktala, Maniktala