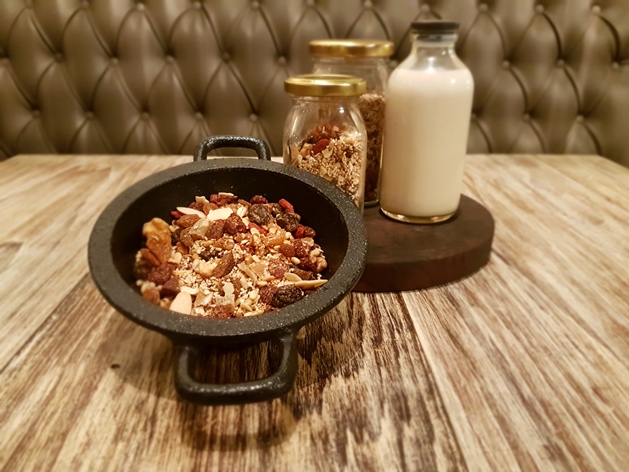 House-made muesli with organic milk to kick-start your day
As folks who love pizza, we are constantly dreaming of a world where there would be a pizza at breakfast, or a tailor-made version so that our mothers wouldn't frown on our (largely unhealthy) food choices. Turns out, there is indeed a place that serves pizza for breakfast. We are talking about Farmer & Sons, in Kala Ghoda. While their new breakfast menu has from an assortment of power-packed house-made muesli mixes, a few vegan offerings (Kala Chia Ghoda with chia seeds and almond milk and pineapple compote) and eggs done almost every way, it is the pizza that had us mighty excited.
We made our way through Kala Ghoda's narrow by-lanes fairly early for a weekday restaurant jaunt and sat ripe with anticipation in the elegant, rustic interiors, sipping on a Citizen Kane (sugarcane juice with lime and ginger). The house-made muesli served with organic milk (Rs 325) is loaded with all the superfoods you can fit in your morning bowl – oats, chia seeds, flax seeds, roasted almonds, walnuts, puffed amaranth, berries and a whole lot more to kick-start your day.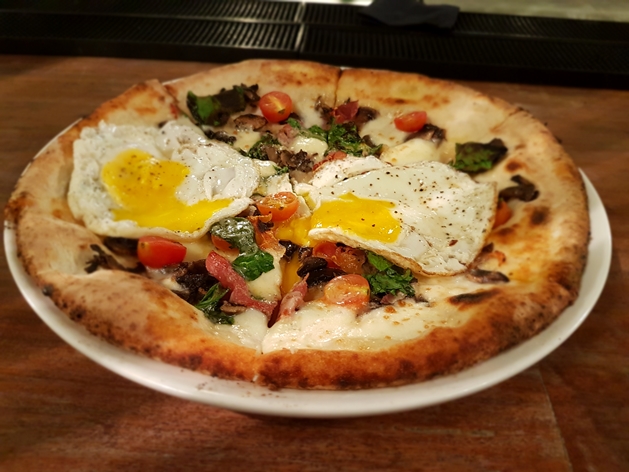 The Breakfast Pizza at Farmer and Sons gets an 8/10
Made Neapolitan-stlye in their wood-fired oven, the Breakfast Pizza (Rs 650) at Farmer and Sons was the highlight. The dough passes the test for Neapolitan pizza bases – it is soft, elastic and extremely fragrant. Plus it's thin enough to not fill you up, because that's where the toppings come in. Three eggs with golden, slightly runny yolks (just as we love them) are topped on the pizza along with spinach, Parmesan cheese, mozzarella, cherry tomatoes and mushrooms. The star among the toppings, the prosciutto, we're told, is currently imported all the way from Italy in order to nail that flavour and keep it all balanced. And we can see why it matters – the prosciutto slices are thin, lightly cooked and are neither too overpowering in their aroma, nor too subtle. Pair this with a sprinkling of Kalamata olives, simple, wholesome tomato sauce and a slight drizzle of olive oil – you're going to want to have this simple, honest pizza for breakfast every day. And at 12 inches, sharing is highly recommended.
Where: 105, Apollo Street, Bombay Samachar Marg, Kala Ghoda, Fort
Timings: 8am to 12pm (for breakfast)
Price: Rs 800 for two people (approx.)
Call: 6500303