Photograph via Ulavacharu
Nalla kodi, as the black Kadaknath chicken is known in Telugu, has just made it to the menu at a restaurant in Hyderabad. Earlier this week, Ulavacharu, a Telugu cuisine restaurant in Hyderabad introduced two dishes made using the Kadaknath chicken: Nalla Kodi vepudu (fry) and Nalla kodi pulusu (curry). The chicken, known for its gamey, black flesh, is believed to be healthier than the broiler variety since its meat contains lesser cholesterol. ""While regular chicken contain a fat percentage of anywhere between 25-28 percent, nalla kodi has about 0.78," says Chef M Pandu Babu, who came up with the recipe for Nalla Kodi fry at Ulavacharu.
The Nalla Kodi vepudu is made with minimal spices, says the chef, and the Nalla Kodi pulusu, is not cooked in tamarind water as is the preparation usually. "We've made the fry like how it is made at home and the gravy is made with onions and tomatoes," says chef Pandu, "The fry is great as a starter, but you can also eat it with rice."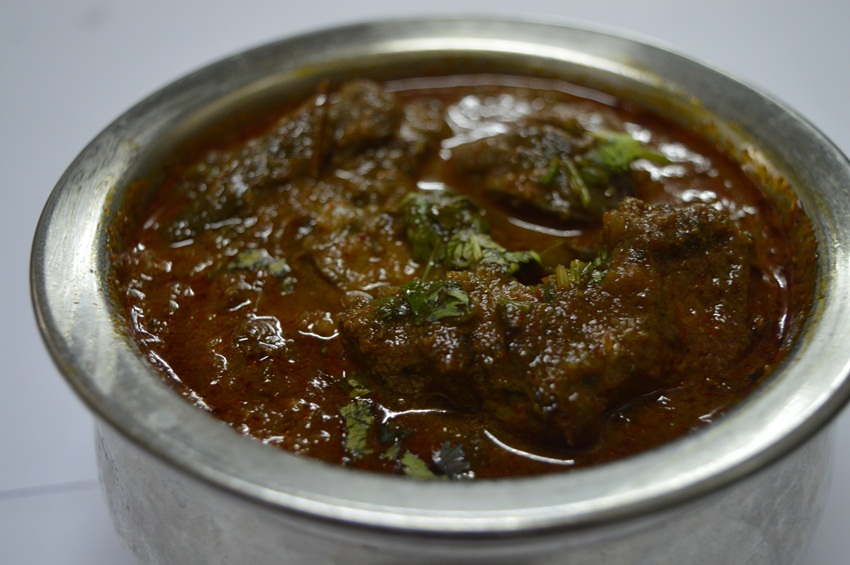 Nalla kodi pulusu Photograph via Ulavacharu
It was the restaurant's founder and managing director, N Vinaykumar Reddy, who decided that he wanted the black-fleshed chicken on the menu. "I went to a farm that bred these chickens when some friends suggested it," says Reddy, "My brother and I are foodies and since we've always tried to make our menu unique (Ulavacharu serves 18 kinds of biryanis), I wanted our chefs to make something different with this chicken." Ulavacharu, which was set up in Hyderabad in 2013 by Reddy and his brother Vijay, won the Best Restaurant Award given away by Telangana Tourism Department last year.