If your weekends involve debating about which watering hole to hit and consuming copious amounts of alcohol, allow us to help you pick the bar bites.
Feta Off Without You and Undercover Greek at Please Don't Tell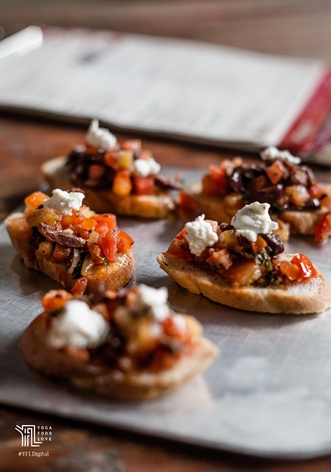 You don't always need to chow down on meats to make the most of your night out. Bar bites can be vegetarian and yes, they can taste great too. PDT's Feta Off Without You is a home-style preparation of smoked tomato with crusty garlic bread and feta cheese. Think bruschetta but with cheese, you're going to have to call for repeats. The Undercover Greek is also a good call – mini pita pockets with falafel patties are served with a light hummus.
Lamb Sliders at Eddie'ss Bistro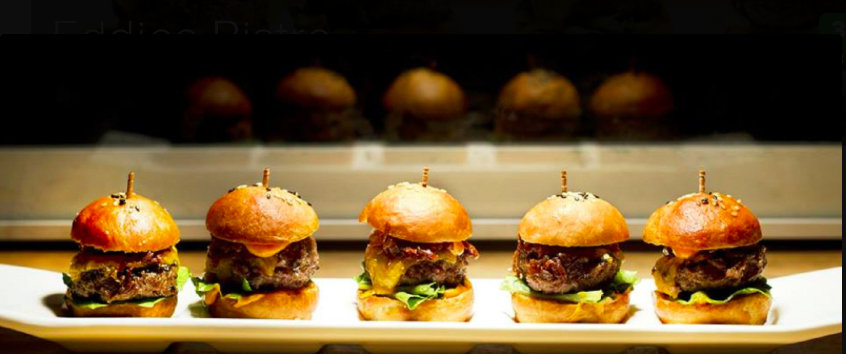 We love the vibe at Eddie's and can't get enough of the masala fries that get over as soon as they reach our table. To keep the food and alcohol ratio balanced in the body, go for the lamb sliders. Slightly sweet buns pack in juicy lamb patties with harissa mayo to round things up. The caramelised onions also add their bit but we enjoy how the mayo adds a slightly pungent touch.
Singapore Chicken at Light House Cafe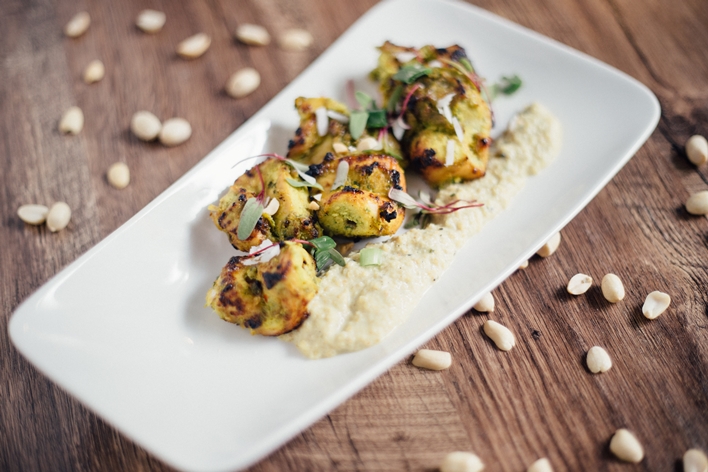 When we're sitting with one too many beers, there's usually a lot of greasy meat involved – which may not always be healthy, given all that beer we're planning to drink. To keep things healthy, the charcoal cooked Singapore Chicken at Light House Cafe seems like an intelligent idea. Plus, the fact that it has a delicious Singapore curry flavour and has just the right amount of heat, which means it tastes great with beer.
Crispy Lotus Stem at Mamagoto
Crispy Lotus Stem at Mamagoto will find favour with both vegetarians and non-vegetarians alike. Wafer-thin lotus stems are tossed in burnt garlic and dried chilli. You can also have them tossed in a hot and sweet sauce and gorge on the tangy, spicy and sweet flavour. Make sure you call for multiple portions, these tend to get over really fast because they're that good.
Fiery Chicken Wings at Pop Tate's
At Pop Tate's, a serving of chicken wings means 21 pieces of it. Yes, 21 gloriously greasy, spicy and absolutely juicy chicken wings. Eating them is a messy, delightful experience courtesy the smokey sauce that packs a lot of heat.
Arbi Tuk at The Bombay Canteen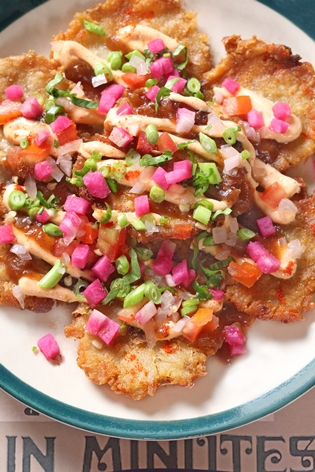 Photograph by Sanjay Ramchandran
One of the oldest items on TBC's menu, the Arbi Tuk is a not-so-oily version of a Sindhi favourite. Made using colocasia or arbi, this dish is served in a chaat-style variant, with chili-spiced raita, mugri or rat-tail radish and tangy imli chutney. It's spicy, sour, bitter and sweet, and tastes great with almost all of TBCs cocktails.