Anand Jangir packing a dabba from Arpan. Photograph by Anurag Banerjee
When 28-year-old Raees Shaikh first visited Arpan, a dabba service based in North Mumbai, almost six months ago, he would stand outside with his mother, taking in the happenings without uttering a word. Today, Shaikh, who is autistic, is almost always chatting away as he shells peas by the kilo and even pitches in to sing a hit Hindi film song pictured on his favourite star: Shah Rukh Khan. "He can do one task at a stretch, so his condition can work to his advantage. He can shell garlic and peas for hours on end. How many of us even like doing these tasks?" asks Sushama Nagarkar, rehabilitation psychologist and managing trustee of Yash Charitable Trust, the NGO that runs Arpan.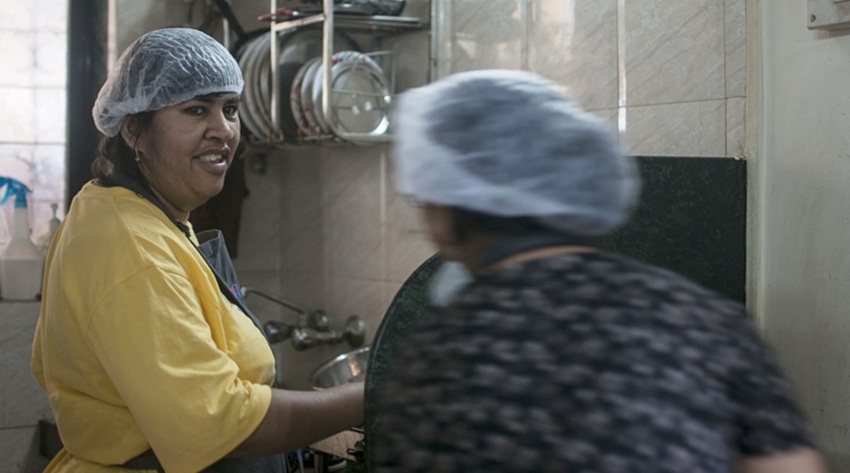 Nazneen Kagalwala, seen washing up, tells us that she can make a mean pasta. Photograph by Anurag Banerjee
Dabbas at Arpan are delivered between Monday to Friday for lunch, and include wholesome home-cooked food including salad, dal, rice, chapatis and a vegetable plus a non-vegetarian dish depending on the dabba you've ordered. All of these dishes are prepared by a small group of people who live with developmental disabilities. The 10-member group includes two supervisors who tell us that they've also seen a remarkable change in a year since Arpan launched in April 2015.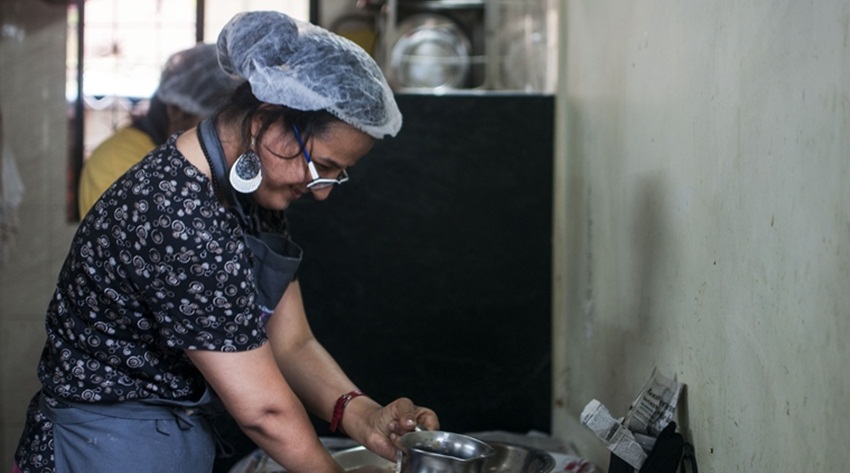 Pratibha Kamath prepares dough for the next day. Photograph by Anurag Banerjee
"Until six months ago, they could do only one task at a time – it would be either peeling or chopping and so on. Now they can make a salad on their own," says Asha Ramdas Divte, one of the supervisors. "Earlier, someone had to accompany them to the market, but now they buy all the supplies be it vegetables, eggs or meat, handle the money on their own and bring back a receipt," adds supervisor Kavita Sumeet Akrey.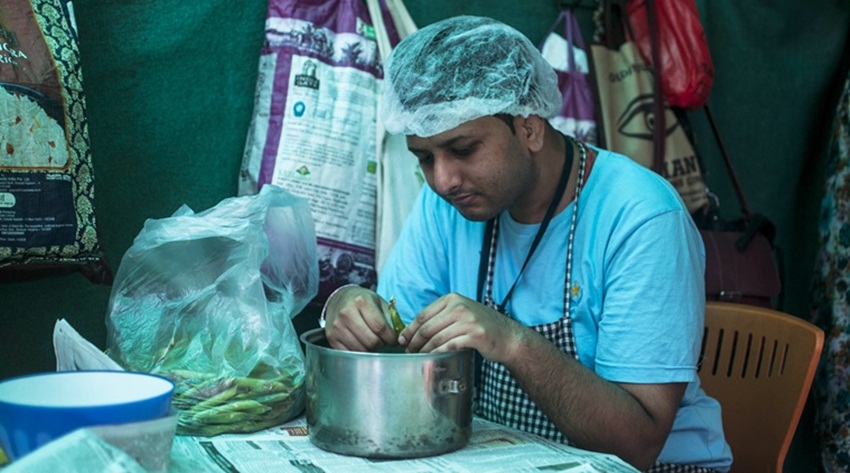 Raees Shaikh at Arpan. Photograph by Anurag Banerjee
When we visit Arpan in the afternoon, the team is prepping for the next day's service. Anand Jangir, 32, has just returned after making eight deliveries around Juhu (Arpan delivers free of cost to Juhu, Santa Cruz West and Khar). "I can make everything but I like making rotis too," says Jangir, who has Down Syndrome, "I wasn't really good at it when I began though." Pratibha Kamath has dough ready for the next day and is washing up. Kamath is full of questions for us: Who cleans up at your house? Who cooks at home? What did you have for lunch? Also autistic, Kamath, can't wait to finish up and get home in time for sitar practice. "I'm going to the US and performing with my father," she adds. It's Nazneen Kagalwala, 34, who points out proudly that "Pratibha plays the sitar." Kagalwala, who has mild intellectual disability, has also gained an immense sense of self-worth because of her work at Arpan. Pointing to a framed certificate on the wall, she says, "We won the third place trophy for a cooking competition. We made paneer rolls."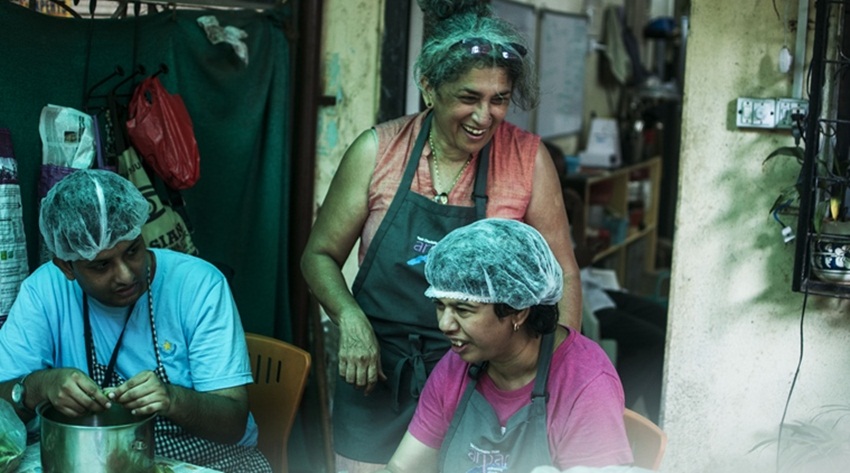 Rehabilitation psychologist Sushama Nagarkar (centre) with Aarti and Shaikh. Photograph by Anurag Banerjee
Nagarkar's daughter Aarti, who has autism and also works at Arpan, joins the conversation mid-way: "I love music." Aarti is the one who turns up the radio and switches channels every morning when her team is at work. We're not sure how to respond when Aarti tells us that she'd like to watch sitar legend Ravi Shankar perform. "You can watch videos on YouTube," we tell her. Her mother tells us that it is OK for her daughter to know that the sitar maestro has passed on. It is after all in knowing and accepting reality that has charged her and the team at Arpan with renewed faith in their abilities. So when Jangir says he likes being at Arpan because it gives him a chance to help others, you know that their disabilities have been turned around to liberate them.
Order for dabbas from Arpan here.