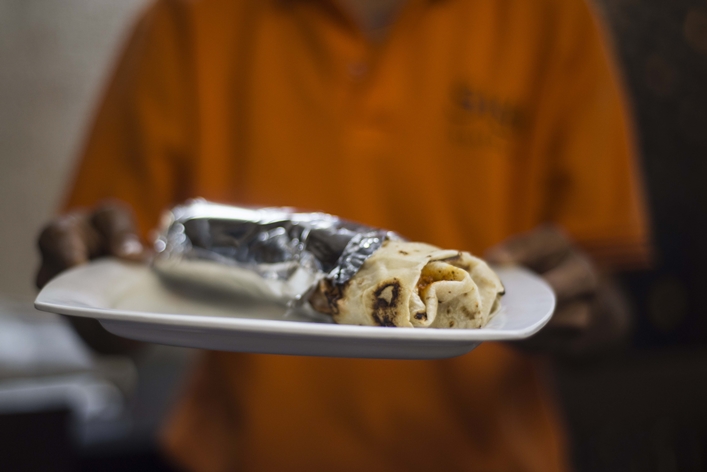 Butter Chicken Rolls at Sigdi, Bandra. Photograph by Anurag Banerjee
Saturday nights are made for greasy, meaty eats, especially if you are on your way back home from the pub. Here are a few of our favourite eateries in Mumbai that are open late into the night.
Ayub's in Fort
You've painted the town red on a Saturday night, and when the revelry dies down, you realise you don't have too much money left for food. So, you head to Fort, to Ayub's, and that is a good idea. They're open till 1:30am and serve almost the same fare as Bademiya at prices that are reasonable. It also is a lot quieter. Go for the rolls (Chicken Tikka highly recommended) and kababs if you're looking for a quick snack, or go the whole hog with a plateful of their Mutton Kheema-Egg Bhurji mix gravy.
Where: 43, Dr VB Gandhi Marg, Fort, Mumbai
Cost: Rs 110 onwards
Khurshid bhurji and Pav Bhaji near Cooper hospital

Open till the wee hours of the morning, this tiny late-night eatery has everything to sate your post-party cravings. Once you've successfully negotiated you way around the cars parked on the footpath, go straight for the delicious bhurji and buttery pav seared to perfection on the humble griddle. Another option that will not fill you with regret the next morning is the veg pulao that's light yet filling.
Where: Near Cooper Hospital, Cooper Hospital Lane, Irla
Cost: Rs 100 onwards
Sigdi, Bandra
If your midnight cravings are specific and demand buttery, scrumptious rolls, Bandra's Sigdi is the place to go to. The three-storied restaurant shuts shop by 1:30 am but their take-out section remains open till as late as 5 am. Rolls here are delightfully cheap and you can pick a couple on your way back home, or call for some for house party munchies. Our pick among their rolls? The Butter Chicken roll.
Where: Abbas Compound, 29th Road, Off Waterfield Road, Bandra Talao, Bandra West
Cost: Rs 160 onwards for rolls
Fatboy's Kitchen, Andheri
The Black Jack Beef Burger here is a thing of beauty (a ground chicken version is also available). Fresh, soft bread, juicy beef patty, chicken salami, Jamaican jerk seasonings, coleslaw, fried egg and spicy Romesco sauce combine to make this burger a perfect solution to midnight burger cravings. Fatboy's is open till 3am and they deliver until 2am.
Ps: Their double-tier Chicken Club sandwich with chicken ham, fried egg and jalapeno is also an excellent idea.
Where: Shop 7, Near Lion Kartar Singh Hospital, Dadabhai Road, Andheri West
Cost: Rs 310 for Black Jack Beef burger (Rs 250 for chicken)
Haji Ali Juice Centre, Mahalaxmi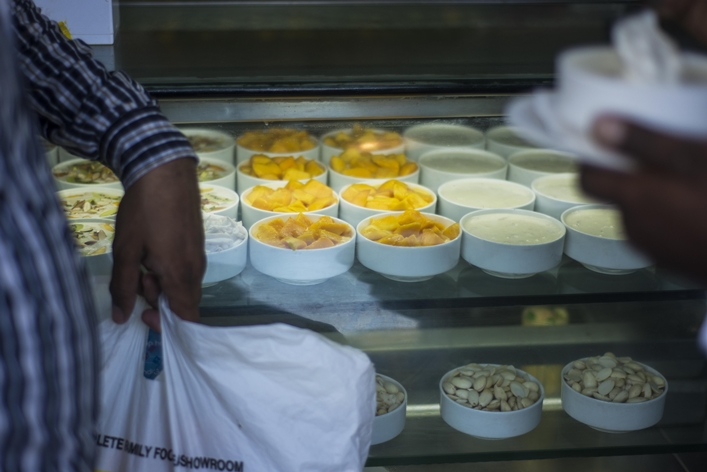 Seasonal desserts at Haji Ali Juice Centre. Photograph by Anurag Banerjee

There's hardly anyone in the city who hasn't tried the milkshakes and fresh juices at Haji Ali Juice Centre. A no-frills space with a few tables (that are almost always occupied), service is open till 3am, and as soon as you get there in your car, you'll have a menu card shoved in your face. While the milkshakes and juices are legendary, don't give their dessert bowls a miss – they have everything from kiwi, strawberries, dry fruits and other seasonal goodies to stick your spoons into.
Ps: We also recommend their cheese toast sandwich if you've got space for more.
Where: Lala Lajpat Rai Road, Haji Ali Circle, Mahalaxmi
Cost: Rs 90 onwards for milkshakes