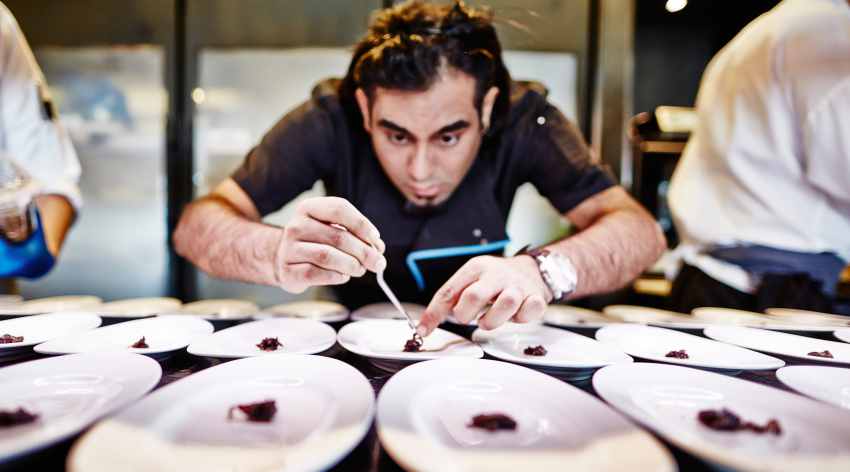 Gaggan Anand will be serving 30 guests at a pop-up in Mumbai this Friday. Photograph by Vasco Celio
This Friday, September 2, about 35 lucky guests will attend a pop-up by Gaggan Anand at the Taj Lands End, in Mumbai. The 15-course, invitation-only dinner is part of the celebrated Indian chef's Asia pop-up tour. Earlier this year his Gaggan's eponymous restaurant, in Bangkok, was ranked number one in Asia's 50 Best Restaurant list for the second consecutive time. The chef, a "Punjabi with a Bengali soul', recently finished setting up The Lab, his research kitchen, in Bangkok, and also owns the Meatlicious and Suhring restaurants in the city. Gaggan, who is into progressive Indian food, will be serving some of his "greatest hits from the last five years". So, what can guests expect from the dinner? We speak to the chef himself the prep and the meal, about the way he approaches food and more.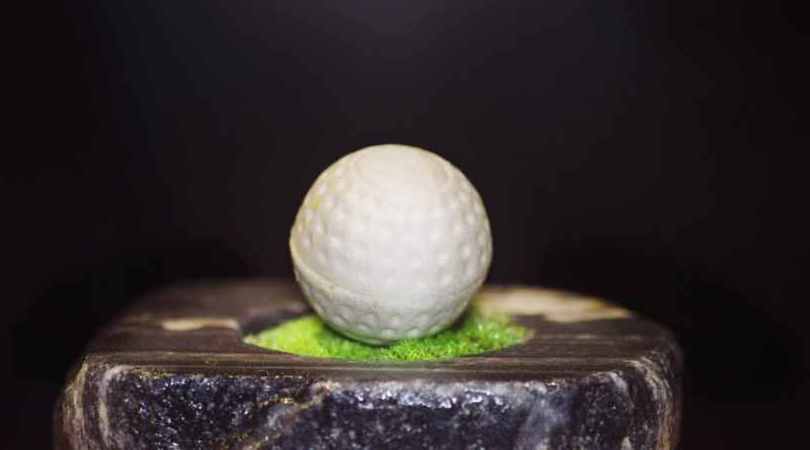 "I can't tell you a lot about the meal, it will be full of surprises. But there is going to be an edible golf ball. The outer coating is rice flour, and there's ice-cream inside." The multi-course dinner will also include a paper that, says Gaggan, will taste like masala chai.
Gaggan will be in Mumbai for barely a day and a half. He will be in Mumbai with six of his colleagues, and his freeze dryers, sous vide machine, liquid nitrogen and tandoor. "We are clearly going to have excess baggage!" says the chef.
 The dinner, says the chef, will include "Gaggan's greatest hits in the last five years along with a few new creations". That would mean something like this Gagganified Sali Boti (below), which is a single-bite course, made out an intense reduction of lamb curry, spherified and served with onion chutney on a fried potato nest.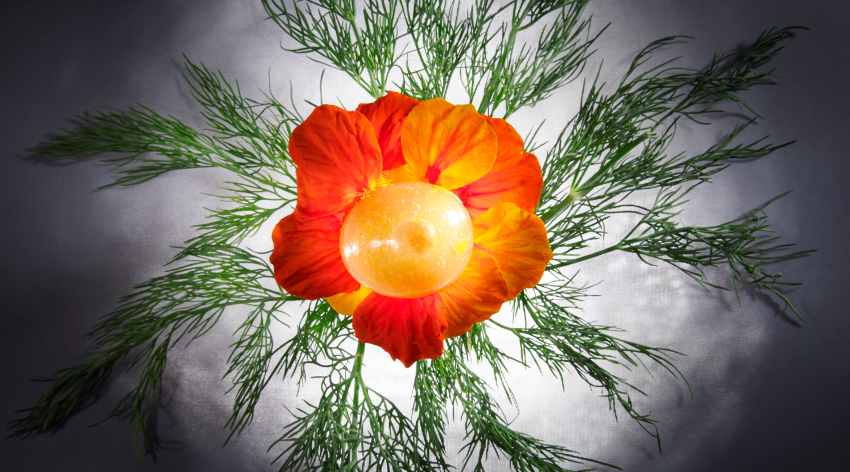 Or, this Red matcha course that is inspired by the traditional Japanese matcha tea ceremony. "At Gaggan, we made it into two parts. First we serve a cold salad of mix tomatoes and grapes and micro tomatoes and melon. It is seasoned with black salt and coriander oil. Second part, the chef prepares a nice warm matcha in front of the guests made out of tomatoes and beetroot consomme and freeze-dried tomatoes."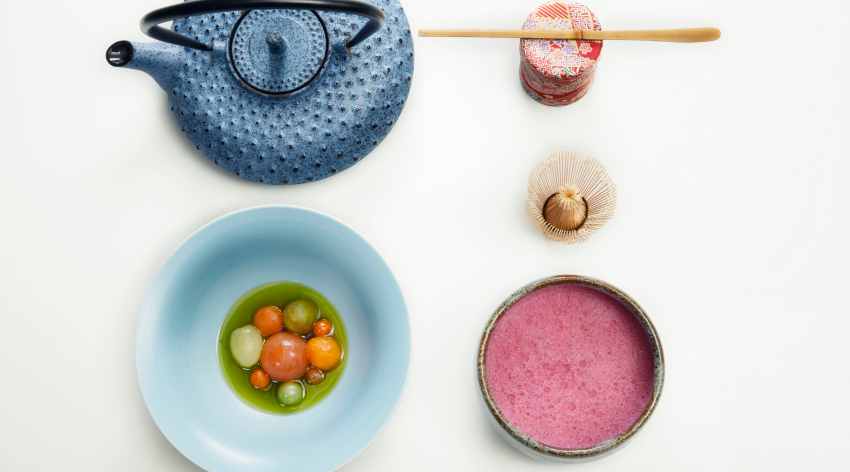 Or, perhaps, even something like this:
The ingredient that excites Gaggan the most is Japanese yuzu lemon. "It's got a unique aroma and flavour, just a bit of it is enough to change the complexion of a dish," says Gaggan, who always spoken of his high regard for Japanese cuisine. The chef plans to relocate to Japan in 2020, after shutting down his restaurants. In Japan, he says, he will open a 12-seater, weekend only eatery.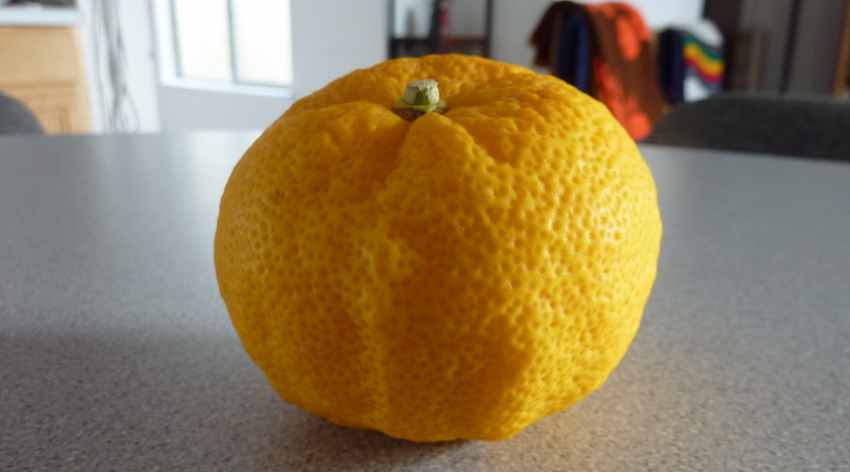 Gaggan would like to spend his 'last weekend' on Earth, wandering around Kolkata, the city where he grew up. "Meet old friends and family, and eat and eat. I think if I got an extra weekend, I'd still go back to Kolkata."
Gaggan is a big fan of Ferran Adria, the man who helmed El Bulli, once the world's most celebrated restaurant (it downed its shutters in 2011). Gaggan was the first Indian chef to intern at El Bulli. "I'd serve up most of the stuff that is on the menu at Gaggan, and I'm sure he'd like it."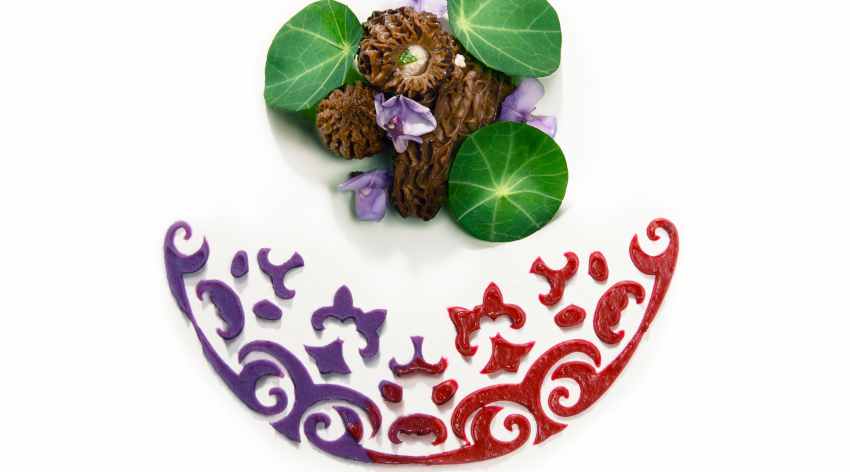 Tandoori lamb chops, with a beetroot and shakarkandi rangoli
Gaggan is no fan of veganism. "I think it's just a fad. This is an entirely American concept, which people in other countries are influenced by, including people in India. As importantly, it's not a very practical or economical diet to follow, and especially in a country like India in which millions go hungry. It's a very upper middle class and rich kind of diet."
The best compliment, the chef says, he has ever received was when "an elderly south Indian lady came up to me after eating at Gaggan, and wanted to know how we made our idlis so soft and fluffy. She wanted the recipe from us." Gaggan's soft idlis are served with sambar foam.