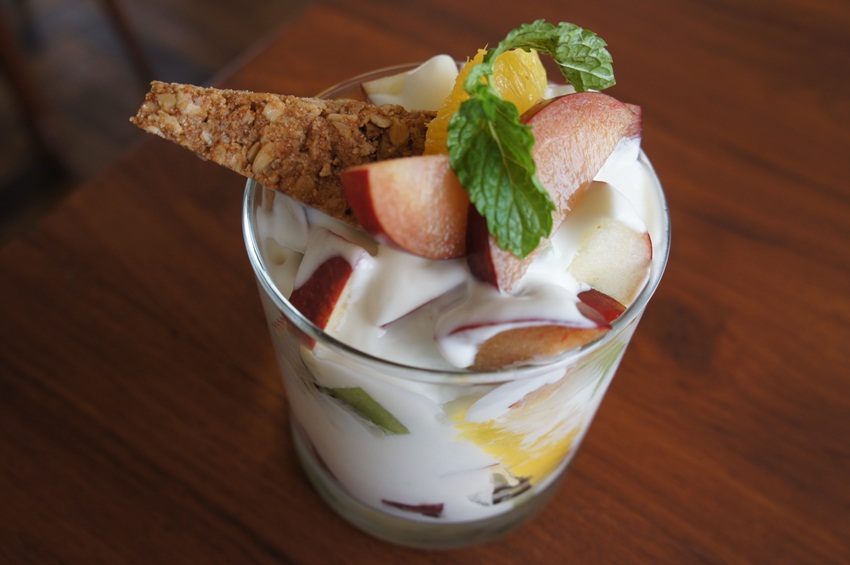 For a healthy start to the day, there's granola with curd and fresh fruits at Smoke House Deli
If you're up early for a morning run or a cycling about town, we've got your hunger pangs sorted. Here are our top five favourite breakfast places in the city for ravenous, early risers.
B Merwan & Co
The 102-year-old Irani bakery and cafe's mawa cakes are equally legendary. If you're in South Mumbai before sunrise, you can get your hands on these sweet little cakes and even a plate of double omelette with toast. Or a sev gathia plate if you're craving something with a lot more crunch, but you know that a breakfast doesn't stand out if it doesn't include eggs.
Where: Ali Bhai Remji Road, Opposite Station, Grant Road East, Grant Road, Mumbai 400007.
Timings: 5.30 am – 6 pm
Phone:022 23093321
Smoke House Deli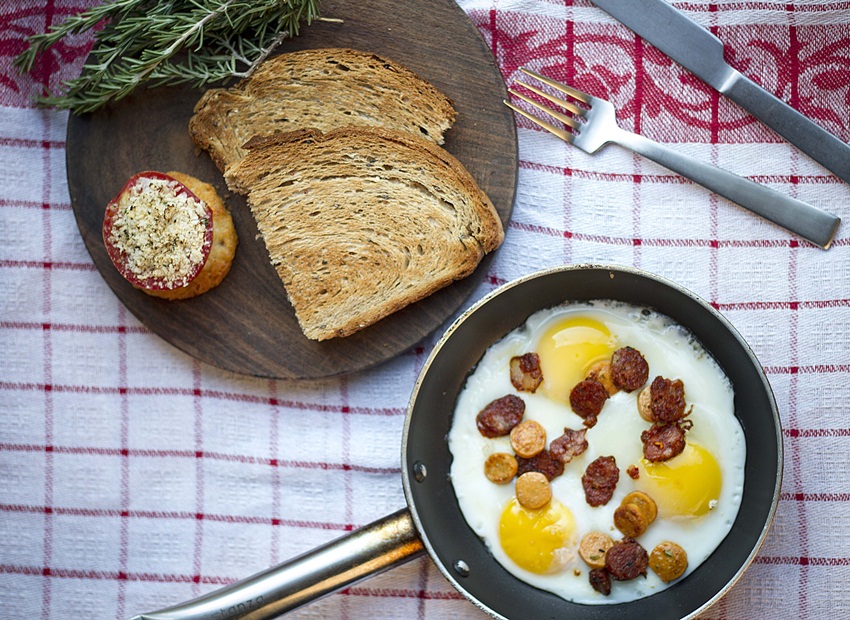 Chorizo and house sausages with eggs
Whether it's a healthy bowl of granola with curd and fresh cut fruit or a more decadent breakfast of champions with skillet fried eggs, chorizo and house sausages served with a side of toast, hash brown and baked tomatoes, Smoke House Deli has it all. We are partial to their scrambled eggs with truffle and capers. The best part? It's an all-day breakfast.
Where: Smoke House Deli, Clove At 33rd Road, B. R. Ambedkar Road, Pali Hill, Bandra West, Mumbai 400050.
When: 7 am – 1 am
Phone:  022-65287800
Pizza By The Bay
Strangely, there's no breakfast pizza on their menu (yet), but Pizza By The Bay makes excellent pancakes. They make sweet apple cinnamon pancakes and also a savoury version with asparagus and mushroom with a side of sour cream and chives. But stay away from the Parmentiere potato gratin, which is pan seared potatoes in bechamel sauce on a garlic rusk unless you want to begin your morning with dragon's breath.
Where: Pizza By The Bay, 143, Soona Mahal, Marine Drive, Churchgate, Mumbai 400021.
When: 7 am – 11 am
Phone: 022 22856115
Eat Around The Corner
JATC (Just Around The Corner) regulars bemoan how the vibe and look of the restaurant has changed, alongwith its name, but it's still an old favourite for a solid American-style breakfast. They do mean waffles and pancakes too. Our only gripe is that you have to order your toast separately when you ask for eggs. Not done.
Where: Eat Around The Corner, 24th & 30th Road Junction, Opposite St Theresa's Boys High School, TPS III, Pali Hill, Bandra West, Mumbai 400050.
When: 7 am – 11 am
Phone: 022 26006717
Ayyappan Idli Store
If you don't have time for a sit-down breakfast or don't mind standing around as in the case of Ayyappan Idli Store,  then this is one of the best places in Matunga East to get soft idlis and other South Indian breakfast dishes such as dosa, vada and pongal. Pongal-medu vada is a classic combination and Ayyapan Idli Store does this well. They also make an excellent pineapple sheera for those who like to begin their day with dessert.
Where: Ayyappan Idli Store, 384, Telange Road, Opposite Nalli, Matunga East, Mumbai 400019
When: 7 am – 10 pm
Phone: +91 8268903435