Pilsners are pale lagers, and were first made in the Czech Republic. Ray Allen/Flickr
Mumbai-based Gateway Brewing Company is getting busy. Just a week or so after launching their apple cider — the Sidecar (nice and tart, and not too sweet) — and the Ale Caesar, GBC's Navin Mittal and co. are all set to introduce a Pilsner. The Pilsner style of beer was first made in the city of the same name in 1842 in what is now the Czech Republic. Essentially a kind of pale lager, Pilsners are big on hops and pleasantly, softly bitter. True to tradition, Hoppy Pils, which is what GBC's beer will be called, is all of that and more, says Mittal. "Expect Hoppy Pils to be nicely hoppy — we've dry hopped it — crisp and citrusy."
Hoppy Pils, which will be launched at The Bombay Canteen tomorrow, is a sort of prelude to GBC's Explorer Tap initiative. With Explorer Tap, Mittal is looking at going collaborative in a big way, and looking at "exploring more new styles, and pushing the envelope." What that means is GBC will actively collaborate with chefs, artists, actors and food bloggers, among others, to create new beers that will introduced at regular intervals.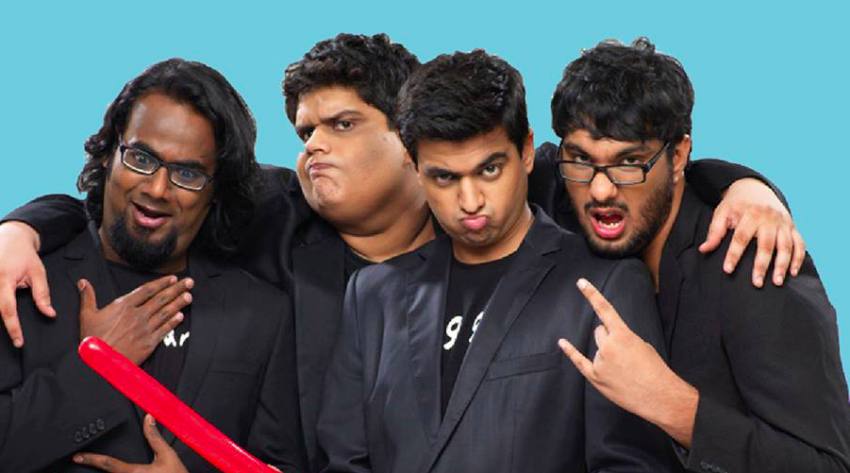 The Explorer Tap will seek to collaborate with a range of people, including stand-up comics. We wonder how a brew worked on by AIB will taste like. Photograph via AIB Facebook page
"As brewers, we are always looking for inspiration and for people who think like we do. Quite naturally, chefs are among those who are exposed to a variety of influences on the palate, and the same goes for people in the food industry and those who write about food, and, I don't know, stand-up comics, maybe." The Explorer Tap, says Mittal, is essentially an invitation from GBC to beer lovers to come and collaborate with them. "If you have an idea that concerns beer and if it is not too unreasonable, we are going to go ahead and make it," says Mittal.  The Hoppy Pils will soon be available at restaurants across Mumbai, and expect more creations from the Explorer Tap to feature on bar menus once things get going.