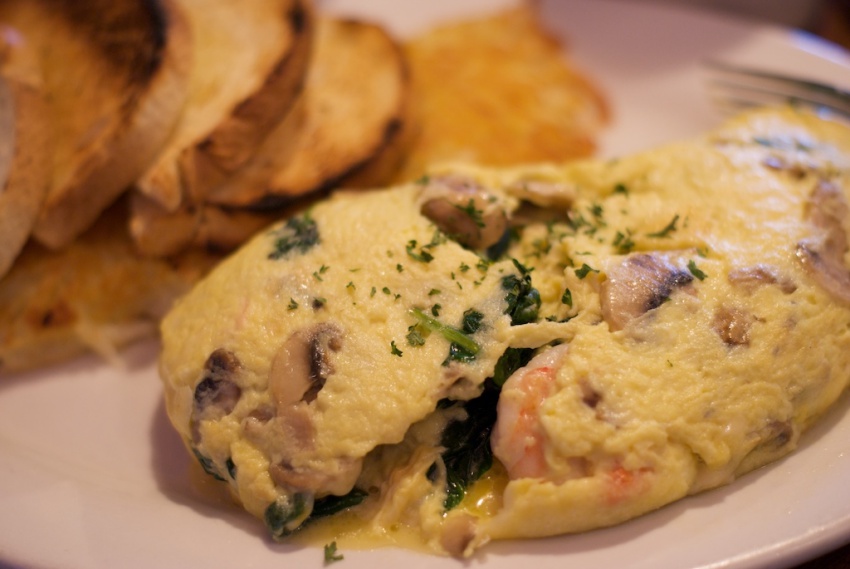 Eggs done anyway you like them at via Farmer and Sons Photograph by Nukelar Burrito/Flickr
Breakfast at Farmer and Sons
South Mumbai-based restaurant Farmer and Sons launches a new breakfast starting Monday, September 19. On the menu are all sorts of delicious things. We love the sound of Carrot Pancakes (Rs 150), with coriander and cream cheese dill, bitter honey, walnuts and pomelo, and Breakfast Pizza (Rs 650), with eggs, spinach, prosciutto, parmesan, mozzarella, cherry tomatoes and mushroom. For those looking for some super healthy food, the Savoury Morning Bowl (Rs 325) is a big winner: It has kale, avocado, cherry tomatoes, figs, orange segments, cucumber, soft boiled egg, coconut or yoghurt and barley.
Where: Farmer and Sons, 105, Mubarak Manzil, Mumabi Samachar Marg, Kala Ghoda, 400001 Mumbai, India
When: September 19, 9 am – 12 pm
Phone: 022 2262 4466
Cost: Off the menu
Artisanal food pop-up by Shophop
South Mumbai has a lot going on this week and the next including an artisanal food pop-up by web store Shophop at the Pop-Up hut. If you've followed Shophop's range of curated products and food brands online, you know that the site has an eye for the cool stuff. For instance, they've spotlighted brands such as Oh! Fudge, which delivers fantastic artisanal chocolate fudge. Besides fudge, you'll also find granola from My Mom's Granola, Lejion Kitchen's jams, dips and spreads from Dibs on Dips and more at Pop-Up Hut.
Where: Pop-Up Hut, Kwality House Alleyway, next to Crossword, Kemps Corner.
When: Until September 30, 11 am – midnight.
Phone: 98193 34698.