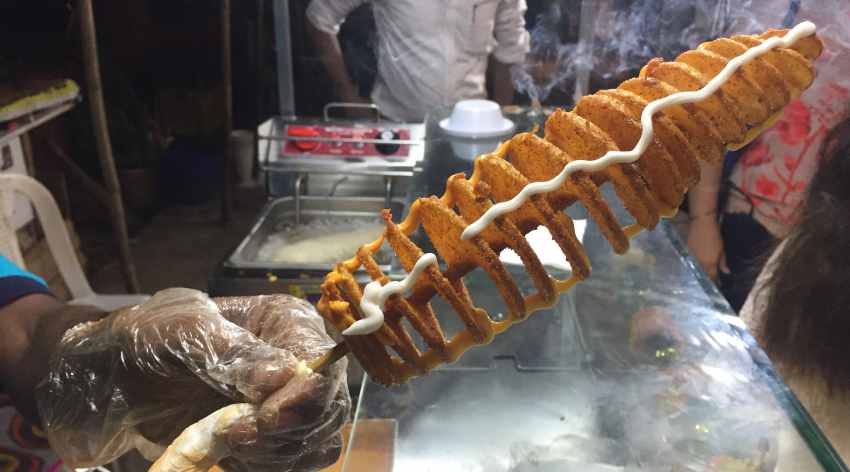 Twistix Potato's spiral fries cost Rs 50 a pop
The sad truth is we should never be having fries. No, not even once a month. Fries are, like, bad for you. They are, well fried; they've got bad fats; they are full of calories and there's nothing nutritious about them. All of this needless information, of course, will never stop us from having them, and it becomes all the more irresistible when you get fries on a stick. That's right — fries curled around a stick, which have recently started making their presence felt in Mumbai. (The more the variety, the merrier — if you haven't tried the PoutineWalla's Butter Chicken Poutine, you should find a way to do that now.) These spiral fries, which cost Rs 50 for a stick, are made by a company called Twistix Potato, and they've just set up shop in Lokhandwala, Mumbai. Now, spiral fries, or fries on a stick, if you will, are not new. In fact, they have been a fairly regular feature abroad, especially in Dubai and the United States, which is exactly where the founders of the outfit borrowed the idea from.
WATCH: How to make spiral potatoes at home
"We had these recently in Dubai, and thought it would work well in India, too," says Dinesh Kotwani, one of the co-founders of the company. Kotwani and co. plan to target malls, theatres and such like with their spiral fries, though we think it should be on the menu at pubs, too. The thing with spiral fries is that they are, well, fries, but a quick taste-test and look-see around the Twistix stall determined a few things: the spiral fries are crisper than regular fries, and stay that way for longer; the thing that makes them different is a 'cutter' that 'spiralises' the fries; and it is the way they are presented/served that makes all the difference. You could have a long chat with your friend about Donald Trump, Bob Dylan, Salman Khan, Coldplay and what not, and still come back to fries that are crisp. Twistix offers a variety of sauces to go with their fries, including Honey Mustard, Cheese, Peri Peri and Sweet Onion, and the guys have plans to open up outlets across the city. Look for 'Twistix Potato' on Facebook for more deets.