Photograph via Kalpana Talpade's Facebook page
The Pathare Prabhus migrated to Mumbai from Gujarat in the 13th century and were the earliest settlers in the city, alongwith the Kolis. Their cuisine includes plenty of seafood and is often flavoured with coconut, tamarind and hot masalas.
Three years ago, home chef Kalpana Talpade was part of the reality cooking show, Masterchef India's season 3, where she had an opportunity to showcase the cuisine of the Pathare Prabhu community, which she belongs to. Soon after, Talpade, who has posted several videos of her cooking on her YouTube channel, also launched workshops to teach Pathare Prabhu style of cooking and has been hosting Pathare Prabhu pop-ups at her home since May this year.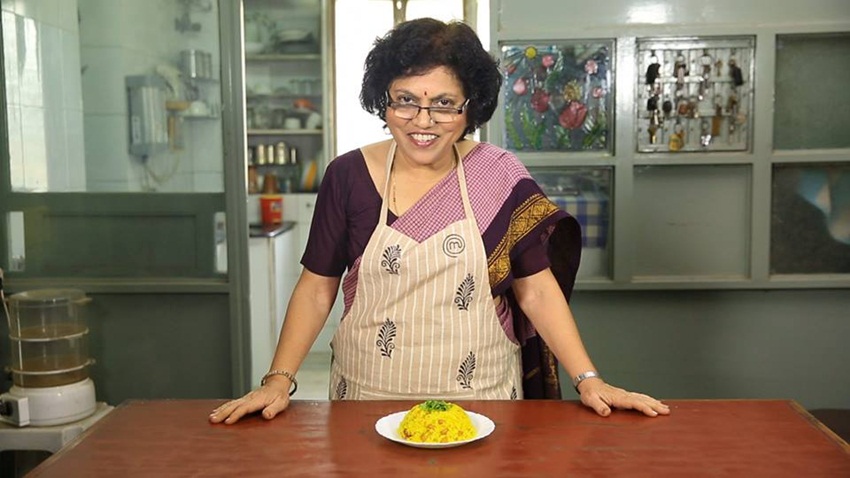 Kalpana Talpade
The pop-ups usually held for 12 people include thali meals that are a feast for fans of seafood. There's Sarangya che Bhuzane, a spicy pomfret delicacy cooked in an onion-coriander-garlic paste, Kolambiche Khadkhadle, which is shelled prawns cooked in garlic, Bombil Methkut, Bombay duck cooked in pickle masala as a curry, Bomblache Mumbra, which is Bombay Duck again, but a baked version with grated coconut and mashed Rajelli banana, fish fry and Tomato chi Sheer, prawns cooked with tomatoes and coconut milk among other dishes.
Phulkas, rice and toop dal, the traditional Maharashtrian dal will also be part of the thali. And to end the meal, there's halwa made from bottle gourd or doodhi.
The Pathare Prabhu thali will be hosted at Talpade's home in Borivali West on August 28 between 12.30 pm – 3. 30 pm. The cost per thali is Rs 1,500. To sign up for Talpade's Pathare Prabhu thali, go here  or call 092210 30532 or mail kalpanatalpade@gmail.com
Watch some of Talpade's videos on her channel Kalpana's Kitchen below