Red Velvet Cheesecake Photograph via Poetry by Love & Cheesecake
We can tell you what a red velvet cheesecake should not taste like. It is not ridiculously creamy (yes, there is such a thing as too much cream cheese) and more importantly, it is never overly sweet. Our pastry test for most patisseries is always this classic and Poetry by Love & Cheesecake is where our search for the ultimate red velvet cheesecake in Mumbai ends. It's a fine balance between soft sponge cake, strawberry confit that is not too acidic and smooth cream.
It helps that the slice of cake that you get is a size that your favourite grandmother would cut out for you and you're no longer behaving like the grinch who won't share her dessert with her only four-year-old kid. You're even willing to spare a bite or two for a friend. Of course, the bill doesn't make your heart bleed either (It's Rs 160 for a slice).
It is a given that desserts at the cafe will stand out since they're being rolled out of the same unit that supplies to Love & Cheesecake, the first in line of patisseries launched by Ruchyeta Bhatia and chef Amit Sharma. However, the recently launched cafe in Khar is testing new waters with its savoury menu.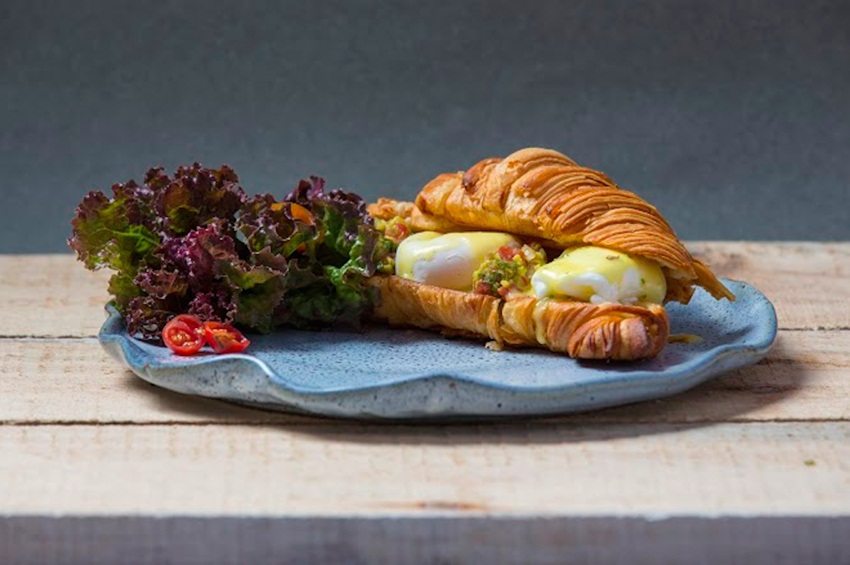 When a French pastry gets a Mexican twist, you have Poached Egg & Avocado on a Croissant Photograph via Poetry at Love & Cheesecake
They do a Poached Egg & Avocado on a Croissant (Rs 310), which sounds horribly wrong, but all the flavours fall into place. There's the runny egg on top of what looks and tastes like guacamole, all stuffed between a sliced croissant. It's tragic for someone who loves their croissant and coffee to witness the soggy death of their beloved pastry. Yes, this can get ugly fast.