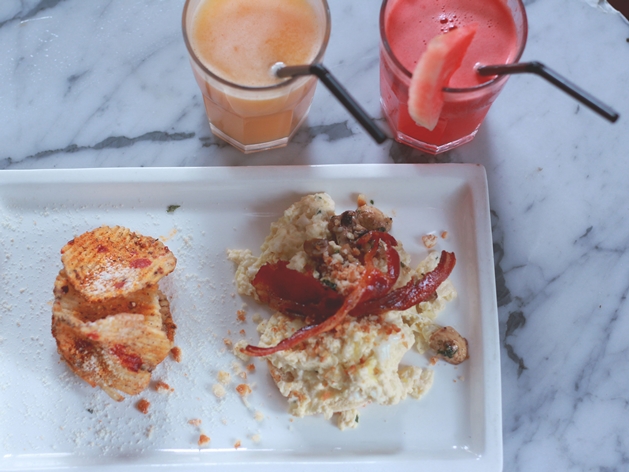 Truffle scrambled eggs with crushed biscuit fries, crispy maple bacon, and caramelized potatoes at 145 Kala Ghoda
When it comes to bacon, we love to begin our day with it and we can have it for lunch and dinner too, every single day. Here's our list of go-to bacon dishes in the city when we want to get our daily dose of salty, crisp strips of pork.
Saddlebags, Social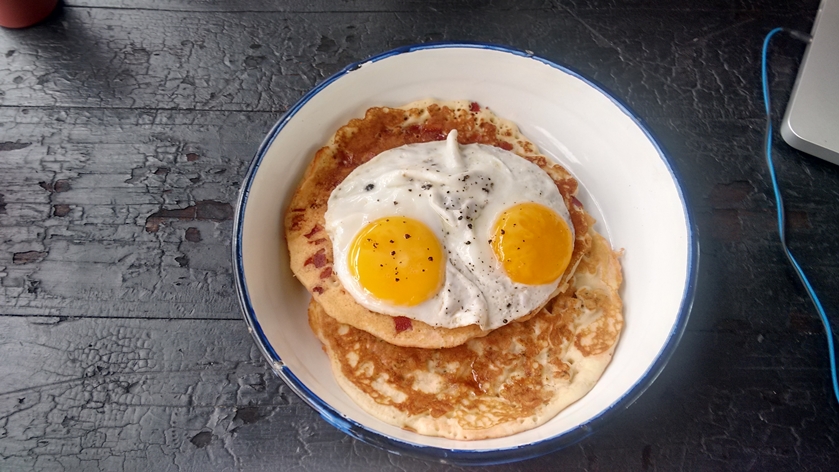 We don't really need a reason to chow down on bacon in the morning (creamy scrambled eggs is the best combination ever) but if you're looking for some variation, head to any of the seven Social outposts dotting the city for breakfast. After a night of hedonistic drinking, try a Social breakfast with a giant portion of Saddlebags. Two massive pancakes with chopped bacon and chicken sausages will get rid of any hangover that you may have. There's also a sunny side up and maple syrup topping, so make sure you bring your appetite.
PS: Their PBJ Amazeballs make for great nibbles. Served with a big dollop of ice cream, this adds a covering of bacon to the classic PBJ sandwich that's fried to a perfect golden brown.
BLT, Indigo Deli
A list that exalts the goodness of bacon ought to have the classic BLT sandwich. But if your quest is for the finest BLT, then Indigo Deli does it best. Sandwiched between a loaf of multigrain bread, Indigo Deli packs in crunchy strips of bacon, lettuce, tomatoes and grilled onions dressed with garlic mayo. Sounds really simple, but we guess the top notch quality ingredients that go into the BLT here make all the difference.
Bacon and parmesan wrapped dates, Terttulia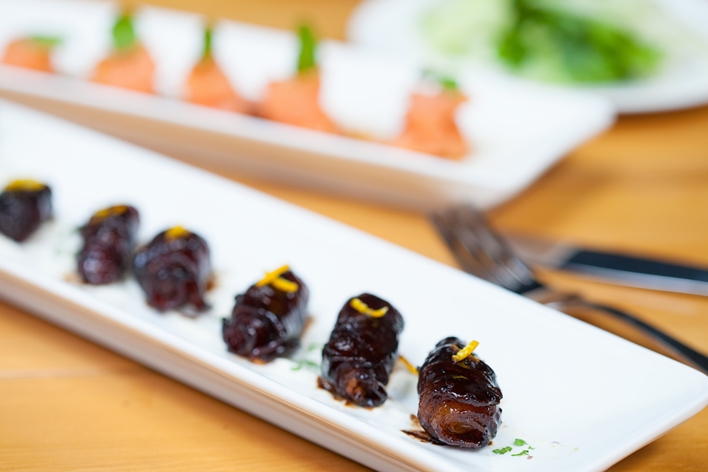 If you like dates, you're going to find all new reasons to eat them, more so for the love of bacon. These bacon wrapped dates also have parmesan added to the mix and are served with mustard crème fraiche which only serves to take the flavour profile higher by a couple notches.
Baconator Pizza, Jamjar Diner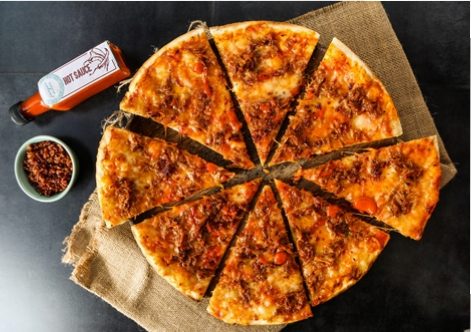 We love pizza and we love bacon, and if someone puts the two together, we're going to kiss our diets goodbye within seconds. Versova's cosy Jamjar Diner does a pig-loaded pizza, combining barbecue-pulled pork and bacon bits in just the right amount. This thin crust pizza isn't for the faint hearted, since it is topped with the diner's special hot sauce, and is filled with the smokey flavours of pork and salty bacon.
Bacon Butty, Theobroma
When Theobroma first made its presence known in the city, we fell in love with their baked goodies. Then they introduced a host of savoury delights and soon, their chip butty burger became a hot favourite. Two, pillow-soft buns slathered with butter and homestyle mayo, thick homecut fries and cheddar pair with a serving of crisp bacon to send your taste buds to a food coma.
Ling's Rice Supreme with bacon, Ling's Pavilion
As one of the oldest and finest establishments serving great Chinese grub, Ling's Pavilion is a hot favourite. A house special, Ling's Rice Supreme allows you the option to add your choice of meat, but we love the version with thick cut mushrooms slices and bacon in it. Add some prawns for good measure, and you have a winner on your plate.
PS: Their bacon-wrapped prawns are also a hit every single time.