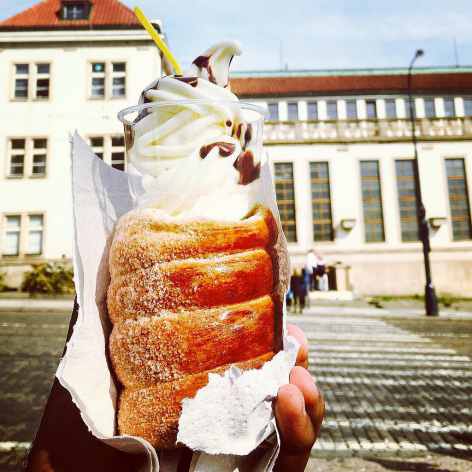 Rajat Rajat/Flickr
If foodies were to make a calendar, the past year would be called the Year of the Doughnut. From cronuts to rainbow doughnuts, this fried dough pastry rules Instagram's tags. It is little surprise that another droolworthy trend to flood our news feeds would be doughnuts. This time, it's European doughnut shops are upping the ante, serving up cinnamon-coated doughnut cones, stuffed with all sorts of decadent fillings like Nutella, whipped cream and fruit.
A substitute to the regular waffle cones, the donut cone is an invention of Good Food Coffee and Bakery in Prague. These doughnut cones are a modern take on Trdelnik, which is a Slovakian pastry featuring grilled dough, walnuts and an unholy amount of sugar.
Several European eateries are following suit, and now, the doughnut cone is one of the most popular desserts in the region. But if you want the real deal, head to Prague. We get a feeling this version of the doughnut won't disappoint. Toronto-based Eva's Original Chimney is popularising the trend in the Americas, which makes us wonder when will we get our hands on it in India.