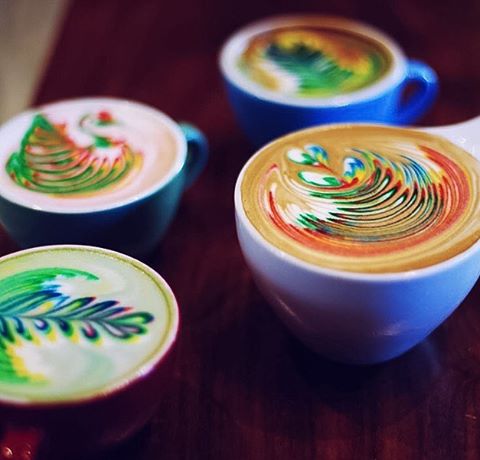 Sambalatte/Flickr
The rainbow trend is everywhere. It's adorning doughnuts, macarons, cakes, sushi (yes, that too), hair colour, makeup – we could go on and on. For those with a serious coffee addiction, there's nothing like getting your morning fix to get you functioning and ready to take on the world. And if you add rainbow art to the mix, the entire exercise of downing your cuppa can become a visual treat.
The trend was kick-started by Mason Salisbury, a Vegas coffee shop barista, who added food colouring to steamed milk to create these gorgeous pieces of art. As with all coffee art, perfecting this takes time as well. However, in an interview with Huffington Post, Salisbury said rainbow latte is an easy way to train baristas for latte art, as its cheaper to use coloured milk, than espresso, for practicing.
It's all over Instagram's most popular tags and you can spend hours just going through some of the fabulous creations.
One of Salisbury's many creations. His Instagram profile is filled with glorious designs that will have coffee lovers wanting more
This is how it's done. Don't be ashamed if you begin drooling, it's perfectly normal.
A standard latte art design becomes magical
Yes, we *heart* it too.
This Macau coffee-house is giving us major rainbow latte cravings.
While extremely popular in the West, some parts of Asia and even Australia, the trend hasn't caught on in India. We're hoping popular coffee chains in India are listening.